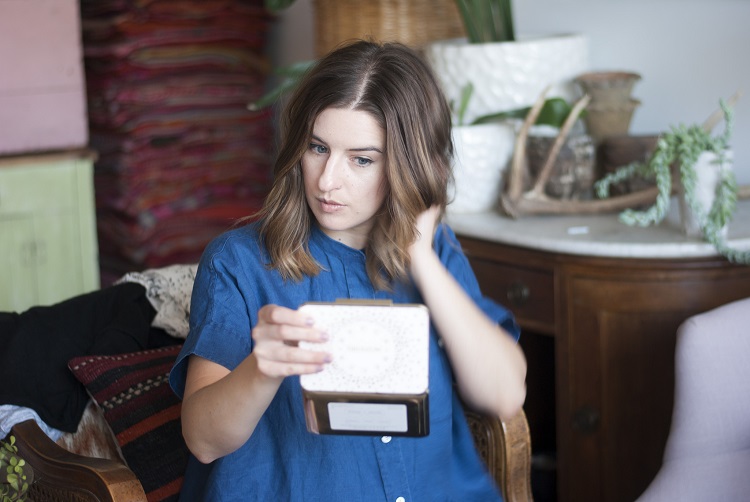 Cleaning out my beauty closet was so satisfying (catch up with that here!) More like random boxes in cabinets, products stuffed in drawers, stacked in bins all for the appearance of having a place. But it was all just taking up space.
Before figuring out what my summer beauty wardrobe is all about, I want to consult with my ever expanding wishlist. In the beginning of the year, I attempted to curb unnecessary beauty spending by writing down what I want. I've heard others have a lot of success with this method – essentially, don't buy without talking to yourself about needs/wants first – and I wanted to see if it could work with me. It did, until it didn't. Like everything you want to get better at, you gotta put the work in. Ignoring the list and not being honest with yourself are a recipe for failure. I'm all about accountability: I'm bringing it online.
I'm putting some parameters around my process. First, no more Instagram shopping. Easier said than done? It's a dangerous place! Seriously, I had a whole post dedicated to this and it is a very real thing. Sometimes those beauty buys end up being my favorite, though, so it just means I need to give myself a pause before adding to cart is all.
Here is what I can't stop thinking about for summer. Beauty on the brain!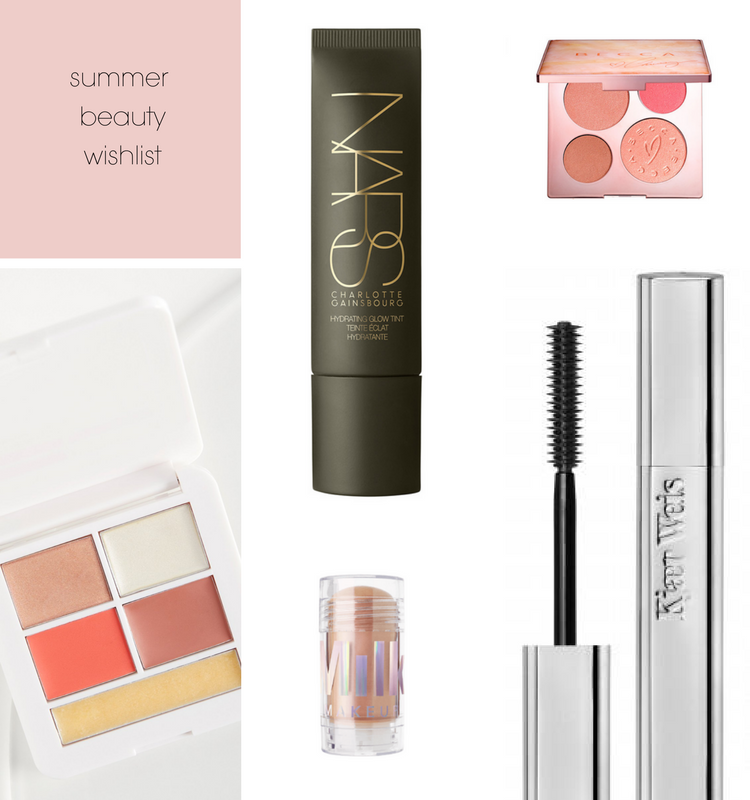 New Becca. Every summer has a palette. Last year, I was all about the Becca Jaclyn Hill Champagne Pop Face Palette. I'd probably still be using if it hadn't broke on me. All of the powders fell out, basically. Super disappointing YET I'm totally eyeing up the Chrissy Teigen Glow Face Palette. I consider it my greatest proof of restraint that I haven't gotten it yet. The Shimmering Skin Perfectors are no joke and there's a new one in this palette called Beach Nectar. I think it might be better than Champagne Pop. I'm honestly surprised it's still available because these things tend to go fast. (read: Please, just go away already and stop tempting me!)
Cream Everything. Especially this RMS Mod Collection Palette. Did you guys know RMS has palettes now? I have so many of her pots of color so seeing them grouped in one chic palette is calling out to me. It has Master Mixer and Living Luminizer, two Lip2Cheeks and even the Cocoa Lip and Skin Balm. It's reminding me how much I love RMS.
Summer-proof lashes. It's like waterproof but easier to remove. I love my Maybelline Lash Sensational but it is really hard to get off. I appreciate that it doesn't budge but it's not even waterproof and I have a three-step routine to get it all off. Traveling can be a real pain. One of my long-standing favs is from Kjaer Weis (see it in action here) – it's organic and chic as hell. I have the outer packaging (it's refillable!) so would just need to get a refill. Another mascara I've heard nothing but raves for is from Wander Beauty.  Has anyone tried? The reviews I've seen make it seem like a hidden gem – volumizing, curling, no flaking, long-lasting, lengthening. Seriously? That's all the things.
Glow Makers. My name is Laurie and I can't stop acquiring illuminators. The NARS summer collection with Charlotte Gainsborg has a particularly attractive gel cream that can take the place of makeup. Adding fuel to the fire is its limited edition status. And, then there is the Milk Makeup Mars Holographic Highlight. This one has a peachy golden hue that reflects with a slight hologram in certain lights. Every time I see someone wearing this, I'm always way impressed with the reflection. It's not purple like other holographic highlights but more natural.
What is on your list for summer? Do you wear more, less? Cream, powder? Very curious to know if you switch it up. Also, I don't want to hear anything about the Chrissy palette. Seriously!
top photo by Emily Prendergast