3 months, 41 products and endless combinations later, here we are.
This beauty wardrobe was so much more than just makeup: it's like a time capsule and goal-setting expedition all in one. At the start of the season, I shared what my summer had in store: a trip to Sweden and Finland, a wedding/girls trip in Mexico, a momentous birthday, a move (that has been filling my to do list up ever since it happened).
Check. Check. Check and Check.
There was also this momentous hair day I had in Stockholm.
I read 18 books, watched all of Parks and Rec and am fulfilling my last summer goal: volunteering with One Tail at a Time. This one came together at the last possible moment; I start volunteer training in a week! They are doing such amazing work and I cry often out of joy and sadness at what they do for pups (and kitties, too). They just went down to Houston to help with Harvey dogs and I want to do all I can to support their efforts.
Dare I say having a beauty wardrobe helped me focus more on life? I didn't completely achieve my goal of buying no beauty products but I did way better than I thought I would. I like the structure and being able to really experiment with what's in my makeup bag. After all, I got it for a reason, yes? Enough looking at pretty things, I want to dirty them up and incorporate them into how I live. I'm in the process of transitioning to my fall beauty wardrobe and am planning on applying the lessons I learned about my beauty habits into the upcoming season.
I think I try to convince myself I like things that I know deep down aren't for me. For reasons that I'm sure you can relate to: the packaging is pretty, I love the brand, the color is stunning, it works well for other people. Insert ____ reason here. Why do we try to convince ourselves we have needs just because of wants?
LESSONS LEARNED
I prefer black liquid eyeliner. In fact, I really missed mine this season. Don't get me wrong: my Kat Von D Tattoo liner in that espresso-ish brown got plenty of use but I really love black.  And pencil eyeliner? Nope. Not something I reached for.
Palettes are overwhelming. It's like option overload and I shut down. I also don't think a palette that mixes in cream and powder options is for me. The powder gets in the cream and also expire sooner. Guess what? I built this palette. As in, went to a MAC event and got to design this palette at no cost to me. I'm pretty sure deep down I knew I didn't like mixing these products, yet I did anyway. But why??
I really like complexion products. Complexion options don't overwhelm me, in fact, it's comforting. In July, I added in Make Up For Ever's Ultra HD Foundation when I started working with the brand. It rounded out my options in a way I think I needed all along. Also, I had a late in the season attachment to Too Faced Born This Way concealer.
Trying new mascara is fun. It was time for a new tube in June so instead of replacing my Maybelline Lash Sensational that I started off with, I tried the L'Oreal Lash Paradise and treated myself to the Dior Pump n Volume because self-control is hard, guys. I loved both. Wore them both regularly all summer.
WHAT I USED MOST
My most used are definitely my most loved.
RMS Lip Shine in Honest 4-eva. I will let a out a YAY for nearly finishing it. I'm going to keep it in my purse until it's gone, it won't last through fall but for a few more weeks I bet. I think I used this almost every day. I'd say I'd replace it but for now, I'm going to work through some other products I have.
I wore Cloud Paint almost exclusively. Sorry, other blushes. Dusk and Beam were on my face almost every day I wore makeup. I wore them together, separate, mixed in with MAC Strobe Cream, with bronzer and without. I put them on four bridesmaids when I did makeup for my friend's wedding in Mexico. Somehow, I still have not finished these tubes which goes to show you how necessary owning a tube of Cloud Paint is. (you know I can help you out… glossier.com/reps/laurie if you haven't gotten the memo!)
It Cosmetics CC Cream is synonymous with summer. I am almost finished with my tube and stand by the assertion that this is the best of any BB or CC cream on the market. I wore Medium, but can also get away with Light.
Rust colored eyeshadow looks good on me. All of the colors I included were in the peachy bronze family and I only wish I had more eyes to wear them all every day. All last week, I wore NARS St Paul de Vence. It started out in the week as a wistful reminder that it was one of my favorites and quickly turned into a challenge. I tried new combos, layering and it cemented its status as one of the best NARS duos I've worn.
Having a flesh toned neutral eyeshadow is clutch. One of my most used products wasn't even in my initial plan: the single MAC eyeshadow in Grain.
Haloscope. That is all. This was one of the products I replaced with a new tube about halfway through the summer. I'm considering just putting this into the 'staple' category with my eyelash curler and Boy Brow because there's no way I'll ever not include this in future seasons.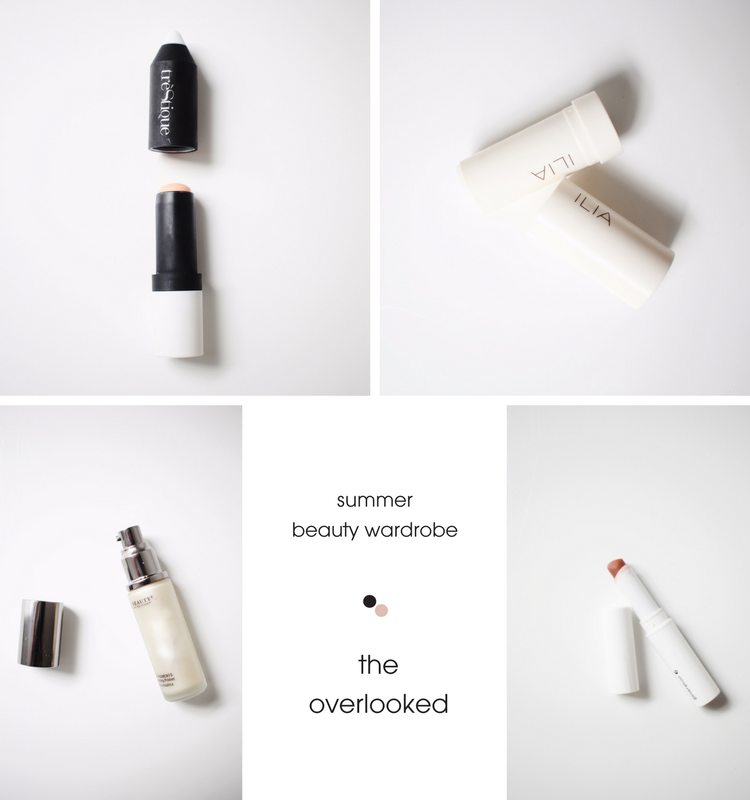 WHAT I OVERLOOKED
There's a theme I'm noticing: I don't really prime my face with makeup products. Skincare, yes. I mist, tone, serum, moisturize and SPF and by the time that's all done, I really don't want to wear any more "base" layers. I did use my Juice Beauty Illuminating Serum on the weekends but on my most days I skipped this step. I think it may be more of a summer phenom. I'm definitely going to try and work in the Juice into my next wardrobe.
I also only wore Glossier Gen G in Leo a handful of times. Every time I wore it, I loved how it looked but I kept forgetting. The lesson here is that less is more when it comes to lips.
WHAT I CHANGED MY MIND ON
Do you ever get it in your head that you really love something and then you have to come with terms that isn't true once you really try it out. That is me and this Chanel Perfection Lumiere Velvet foundation. Here's the thing: the formula is awesome, it makes my skin feel and look flawless but only for a short window of time. It's so frustrating! I leave the house and I feel great. A few hours later, I look in the mirror and look really blah. This is a tough realization but necessary.
Another item I thought I'd wear nonstop was this Jillian Dempsey Lid Tint in Peach. It's too orange and the dewy factor fades quickly. I barely had enough eyes to wear my favorite shades much less one I'm just kinda 'meh' on.
WHAT NOW?
Some of these products will officially retire. Like my Born This Way concealer, which is leaking from the top so I can't travel with it. Some will carry over, like Haloscope. Others will go into my my simplified beauty storage, like St Paul de Vence.
My goal is not to start from scratch every season but rotate in things I have and also what's inspiring me for the season.
I know the idea of capsule living is something a lot of people are experimenting with. I see this sort of in that vein but am inviting frequent change and limiting the rules. I'd be really interested to know how you choose the makeup you wear and if you change it up. Does anyone want to beauty wardrobe with me for fall? I'm going to reveal my plan for fall soon. Can't wait!