I've gone through phases with my summer beauty wardrobe. On one hand, I might have given myself too many options and on the other, just enough so I didn't feel limited. It's all psychological isn't it? Really, though, I'm truly loving this experiment and got excited when I realized I should probably start thinking about fall. I'm going to stick with summer for another three weeks, just past Labor Day.
I did a mini audit of what I've been using and realized there's some things I've used almost every day and some things I've barely touched. I'm going to do a rotation and make the most of my summer beauty.
First, things I'm close to finishing up.
I'm almost coming up empty on my IT Cosmetics CC Cream and Glossier Skin Tint – these have definitely been my summer workhorses. The coverage on the IT never ceases to amaze me. I'm also almost done with my NARS Velvet Gloss Pencil in Frivolous. I've gone through a handful of these over the years but for such a low maintenance pink color, it's high maintenance to use. They need sharpening often. And, they are pretty glossy, so they will fill your sharpener with gloss. Regardless, I'm really glad I included Frivolous in summer. It's the perfect I'm wearing makeup but you can't tell lip color. I keep it in my purse and then usually curse when I pull it out and it's a stubbie.
As for makeup I haven't really used…
There are some surprises in here. My custom MAC palette. I made a point to put it on my bathroom counter now. I think with the move and travels, I haven't given it enough love. It's big and doesn't fit in my travel makeup bag. I wish I had a slightly smaller size that didn't have Cream Colour Bases in it. Cream products don't last quite as long and looking at it every morning reminds me of how wasteful I am.
Ilia Cucumber Stick. Isn't that weird? I was sure I would use this nonstop but the truth is it confuses me. Is it a toner? Skincare? Should I use it when I wake up to wake me up? Do I reapply it over my makeup? I'm deeply torn on the right way to use it. I feel like I missed a huge opp to bond with this by not bringing it to Mexico. I so needed the refresher in that heat.
MAC Strobe Cream. Nothing against you, MAC, I promise you're a fav. It's just that I haven't used this peachy strobe cream more than a few times. I think I've wanted less on my face and I equate this more with winter beauty. When I want a strobe-y moisturizer under my makeup.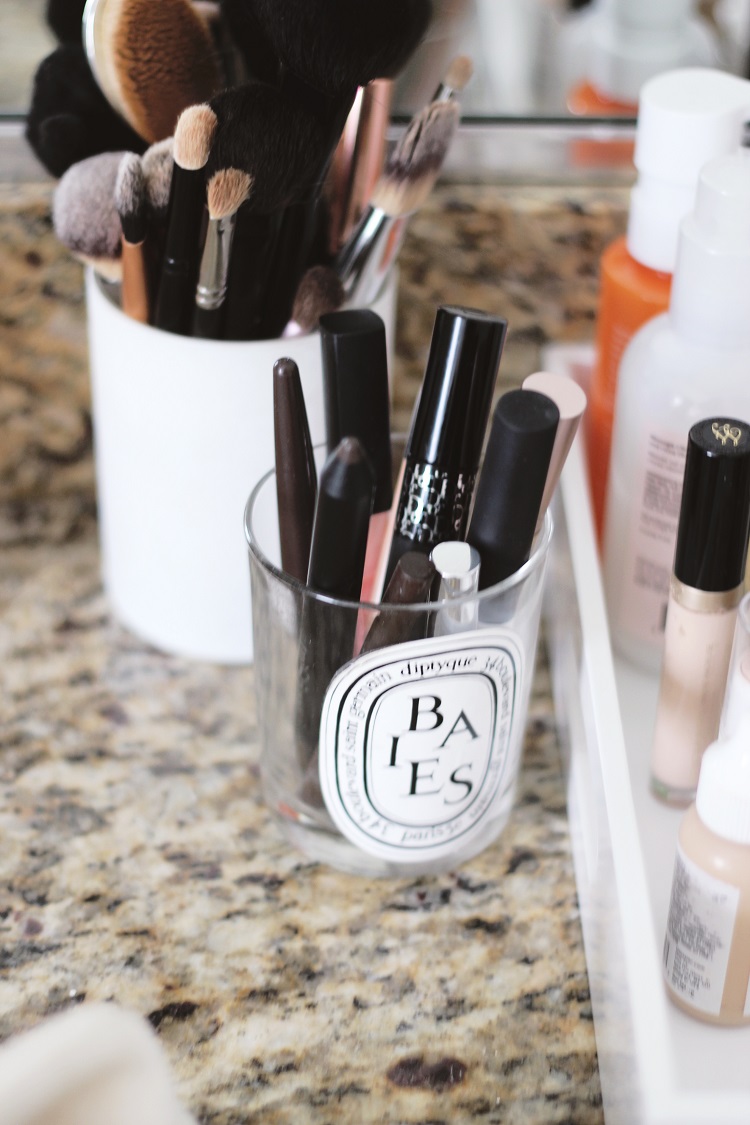 There have even been a few additions.
I apparently go through eyebrow pencils at rapid pace. I finished the It Cosmetics Super Skinny Brow Power in June and then broke an Anastasia replacement (not user error – super frustrating). TrèStiQue sent me their brow pencil, which has a built in brow setting gel not dissimilar to Boy Brow. However, Boy Brow is a perfect color match and I prefer the texture. The combo of the two has been working great for my brows.
I've also tried a few new mascaras. I knew this would happen because I was almost finished with my Lash Sensational and was looking for something easier to remove. Funny, I did not choose formulas that were easier to remove but I'm still pleased with my options. Dior's new Pump'n'Volume formula has been such a worthy splurge. I also love L'Oréal Lash Paradise – the wand has really dense soft bristles that grab on to lashes well.
Last, I'm trying some new complexion products. I'm working with Make Up For Ever and am remembering how much I love the Ultra HD foundation. This isn't so much new as it is a classic. I brought it to Mexico with me and ended up using it on four of the bridesmaids (we're all about the same shade – Y245!)
I've also been testing Glossier Wowder. My first impressions are the packaging is straight genius. It has what Glossier calls trampoline mesh instead of those little holes that sift powder usually unsuccessfully. And the inside of the lid is custom fitted so it fits over the mesh circle. It's dream packaging! I am trying it out now and going to be comparing it to my RMS Tinted Unpowder, which is what I've been using for years to set and reduce shine.
I'll do a full recap when summer wraps. Definitely learning more about what I really love.