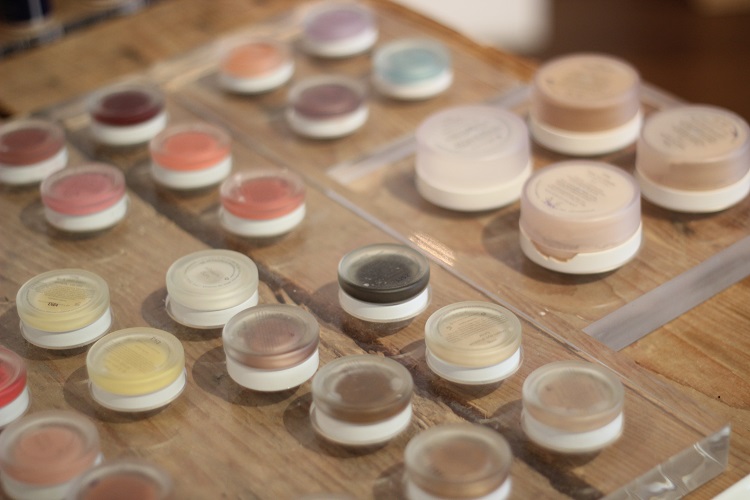 A few weeks ago, Rose Marie Swift made her way through Toronto and hosted a get together at The Detox Market. She was super chic in all black – skinny pants, tunic and sneaks – and had her sprout-eating Yorkie she shares with Miranda Kerr in tow. Rose Marie – RMS Beauty – is an absolutely brilliant makeup artist and an all-around cool chick.  In the span of an hour, she taught me a dozen new things about her line, our skin and made me laugh nonstop. She also spilled the beans that she is working on lipstick — packaging TBD but she flashed a Ziploc baggie of testers in a more traditional stick or tube form – and powder eye shadow! Oh, and she's also thinking about sunscreen, noting "that'll be next year!"
Instant Face Lift. How are you applying blush? Rose Marie says the higher the better to give the face a lifted look. "Just look at Helen Mirren to see what I mean."  She took her Lip Shine in Sublime – the brightest pink in her line – and dabbed it almost on the cheekbone and blended it up and back.
Forgot the intended use. It's all multi-purpose. I love and use the entire RMS line with the exception of the Eye Polish. I love them in theory but my eyelids eat them for breakfast. However, I took RMS' advice and use the chocolatey bronze Seduce to fill in my eyebrows! It is PERFECT. As she so obviously pointed out, eyebrows aren't flat on our face so it is OK to fill them in with something with a little shimmer. I'm a match with Seduce but Lunar or Karma work just as well for lighter or darker brows.
Powder Strategically. Don't put it around the whole face. She likes to use a flat cotton puff to dab her Tinted Un Powder on select areas (like eyebrows and around nose) but don't layer it over the cheeks or anywhere you'd use her cult-fav Living Luminizer.
But, wait, it doesn't stay on my face… I know her coconut oil-rich products can be a turnoff to some – I've heard it from many friends after I recommend it to them. Someone asked her directly, why do I have problem with your makeup staying on my face. She made such a good point! "Waterproof sunscreen. There's a synthetic layer – that's why!" While RMS is definitely drinking from the fountain of youth, she also encouraged everyone to get some sun once in a while. "We are not going in the sun – it's the feel good vitamin. I'm a firm believer that chemicals in the environment seep into our skin and we put on waterproof sunscreen, sweat and tap all of those chemicals in the skin. Yes, sun is bad, but let yourself get some."
Also, hyaluronic acid? "It's unpowderable! I can spot it like the plague." RMS acknowledges that it is great for night but also likens it to glorified Vaseline.
She is her own quality control. "I do not let the labs go near my stuff. I buy everything. All my ingredients. My Shea, coconut (Thailand), my minerals. And my labs get my formulas."
Be careful with oils. They have a shelf life! "Coconut is three years, jojoba two but some go "bad" very fast (like safflower)."