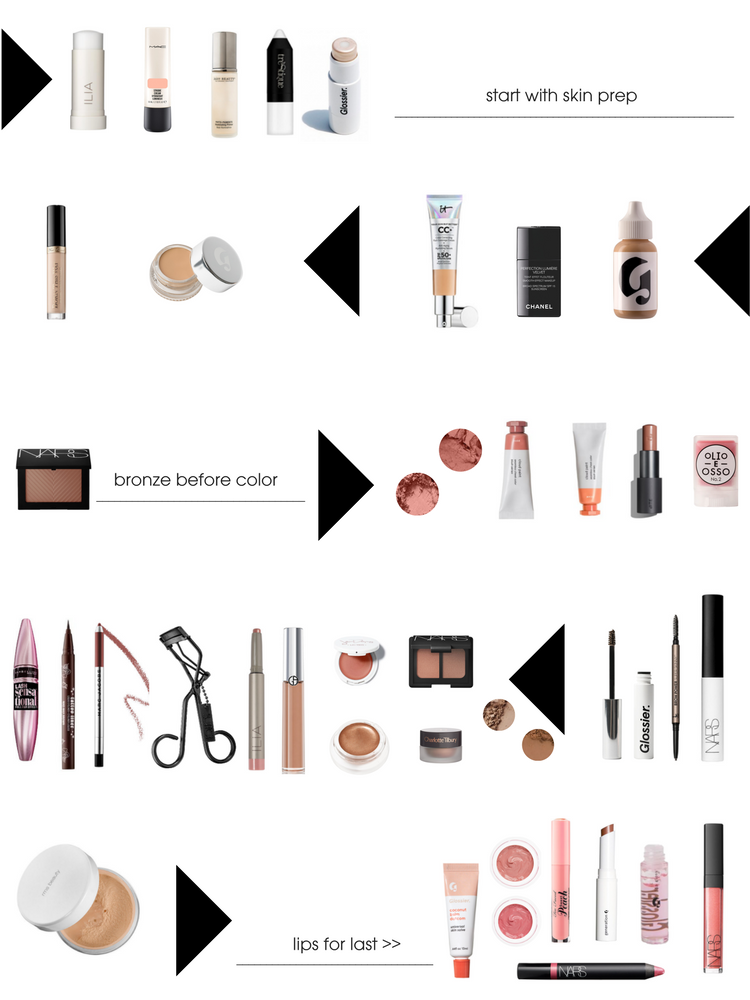 If you're just joining me here, make sure and catch up with yesterday's post all about the inspiration for my summer beauty wardrobe. I'm calling it peachdrenched because, well, it's very peachy! This is a tone that I've always liked on my eyes because anything that leans slightly orange-ish always makes them look even bluer. And, when I started looking through my products, I realized I had a lot of peach. I've mixed in tones of bronze and beige to balance it out and am so excited with the final list.
Presented to you in the order I actually apply my makeup! Side note on that: I'm fascinated by people who can do their eye makeup first.
Prep and Prime
ILIA Cucumber Water Stick | MAC Strobe Cream Peachlite |Juice Beauty Phyto-Pigments Illuminating Primer | trèStiQue Magic Mattifying Balm & Blotting Sheet Duo
Skin prep is key in summer. I've got quite a bit here, actually. The ILIA Cucumber is something I recently picked up – I always love how ILIA's summer collections are so functional for how you live in the summer. I can't wait to use this to refresh or prime skin on a really hot day. The Juice primer is something I loved when I first got (from Gwyneth's collab) but in typical fashion found that I wasn't using it at all.  Part of the Beauty Wardrobe is to use and love the things I've invested in. I got a sample of the trèStiQue and have been saving it for the weather to warm up – it's so useful for touch-ups! I actually apply highlighter just after concealer, so technically Haloscope is out of order. But, sometimes I do apply it before any face makeup!
Face Makeup
Glossier Skin Tint |Chanel Perfection Lumiere Velvet | IT Cosmetics CC Cream
My plan is to wear less makeup this summer. But, for when I do, I chose the formulas that work well in the summer. Glossier Skin Tint is an always on for me – I use it alone (because it's perfect!) but also mix it with other foundations, too. The Chanel is really lightweight and has a velvet satin finish. I love how it wears on my skin in the heat. I'm guessing I'll use this entire CC Cream – I did last summer. It is the best of any BB/CC cream and helps you skip a bunch of steps. There's SPF, it primes, conceals, covers and even gives you a glow.
Conceal 
Glossier Stretch Concealer |Too Faced Born This Way Concealer | Glossier Haloscope Quartz
Stretch Concealer is another staple that I'll always use. I've also included Too Faced Born This Way because I really like the liquid formula under my eyes. I picked this up last year and it's gotten hardly any love since. Another note on why I included Haloscope in Quartz as my only highlighter. It's all I really need – betting I'll need to replace it mid-summer, though, it does last a long time.
NARS Sunwash Diffusing Bronzer Laguna
I think it took me more than a few years to finish my original Laguna bronzer so it was with MUCH delight that I replaced it with this special edition version. I just started using it and love how soft the finish is.
Blush
MAC Melba Blush | MAC Cantaloupe Blush | Glossier Cloud Paint Beam, Dusk | Bite Beauty Multistick Blondie | Olio E Osso No. 2 French Melon Stick
Last spring (as in 2016), I built a custom MAC palette. It's the only palette I've included for summer. It has everything in it – cream highlighter, cheek and eyeshadow. The two blushes are awesome with this color story and will be nice if I want a powder option. Let's be real, though, I'm probably going to wear my Cloud Paints almost every day. Multi-use products are so awesome in the summer, so I also included a Bite Multistick in a neutral beige and the Olio in melon.
Brows
NARS Smudgeproof Eyeshadow Base | It Cosmetics Brow Power Super Skinny |Glossier Boy Brow
I always do my brows before I do any eye makeup. Again, it helps me see if I even want to wear any at all. Out of habit, I always put on a little eye base. NARS is the only one that really works for me.
Eyes
MAC Customized Palette | Charlotte Tilbury Eyes to Mesmerize Marie Antoinette | NARS St Paul De Vence |Jillian Dempsey Lid Tint Peach |RMS Eye Polish Lucky | Armani Eye Tint Nude Smoke | ILIA Silken Shadow Stick Next to You |Surratt Relevée Lash Curler |Marc Jacobs Highliner Matte Gel Eye Crayon Eyeliner (Brown)ie |Kat Von D Tattoo Liner Mad Max Brown | Maybelline Lash Sensational
This was the hardest part to narrow down. But, it's also the category that I try and obey expiration dates so I'm including a lot of cream-based products in here to use up. And, the NARS duo is something I've hardly used since I got. I'm excited to experiment and layer the two shadows. Noticeably missing: black eyeliner!
Powder
I use this under my eyes and around my nose, depending on the day. It's the best finishing powder and one of those always on products for me that will be in future beauty wardrobes.
Lips
Coconut Balm dot Com | RMS Lip Shine Honest | RMS Lip Shine Bloom |Too Faced Sweet Peach Creamy Oil |Glossier Gen G Leo | Glossier Lip Gloss |NARS Velvet Gloss Lip Pencil Frivolous | NARS Lip Gloss Bimini
I'm getting back in the groove with gloss. The NARS in Bimini is from a few seasons ago and (surprise) it's gotten no love from me. I also use the Glossier Lip Gloss on my eyelids – it's not intended for that, but I like it and find it wears well.
And, there you have it: my summer beauty wardrobe! It's going to be a great summer of beauty. Can't wait to try something new with these combos and figure out if this whole narrowing down for an entire season helps me use what I love and keep me from needlessly buying more beauty products.