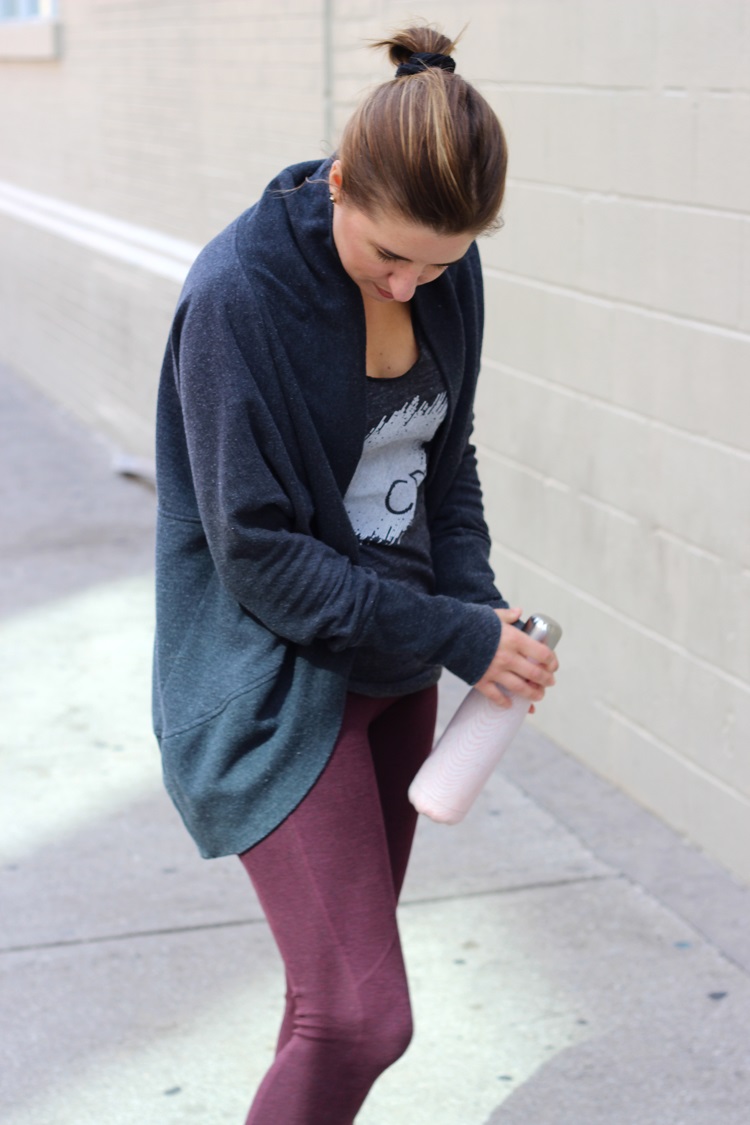 I've been Classpass-ing my way through Toronto since I've been here.  Working out regularly has made me feel a little more normal, like I live here. Which, I do, but I still can't quite seem to master cooking at home and grocery shopping. I feel like I either waste food or don't have everything I need to spice it up and cook properly. To say I'm craving the comforts of my own kitchen would be an understatement. But I am mega thankful that I can use Classpass here without adjusting my membership in any way. So easy! Toronto's workout scene is pretty awesome – I've done "Ladies Who Lift," tons of barre – including a restorative class where I basically gave myself an intense myofascial treatment with a foam roller (holy moans sounding in that room – hurt so good) and deconstructed yoga. Variety is my jam. Here are a few of the essentials for the #fitbitch life.
I'm paying these GapFit leggings forward. My friend wore them to a class one day and I ordered them the next day (in both colors!) I actually find I like wearing them for lounging and running errands because they don't feel like workout pants. They're so flattering with ribbed sides and a slimming waistband.
Most of my workout wardrobe is from Old Navy. Can't beat the price and everything holds up really well no matter how much you wash them. I love the sexy mesh detail on this top!
Sometimes I shower twice a day (always steamy hot water) so I make moisturizing a serious priority. I absolutely cannot get enough of the One Love Organics Gardenia + Tea Body Serum. It's such a treat to breathe in this aroma and I love the oversized spray handle for easy use. It keeps my skin smooth all day and I think over time has improved the feel of my skin (bold statement but truth!)
I never understood why people have to replace their sneakers so often but I get it now. I love these Nikes but can definitely feel the wear after running and working out in them since the winter. Time for an upgrade.
I stocked up on these Hurraw balms at The Detox Market in Toronto and always keep one in my workout bag. I hate starting a class with dry lips and also don't want to wear anything with color. These are perfect – and under $5 a pop!
I was in a good place with my Soapwalla citrus deodorant but decided to give PiperWai a try after I heard so many raves. It's gray in color from the activated charcoal but blends in clear to skin. And it is incredible. You can use it right after shaving without irritation and it holds up the best of anything I tried. I'm a convert.
If you like cold water to stay cold or do any type of hot yoga, then S'well is for you. I've been seeing these bottles at gyms for the past year and finally decided to give it a go. Now, it's the only way I like to drink my water. Cold beverages stay cold (like chillingly cold) for 24 hours. The bottles are mega cute, too. And this is when I admit to you all that I might have a water bottle accessory problem. Oy.