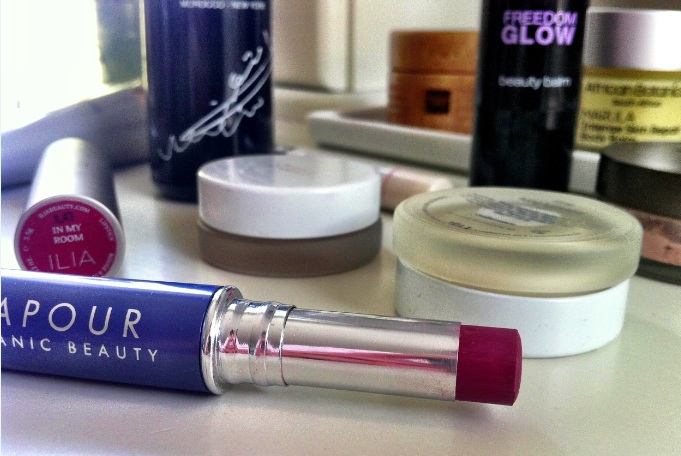 Are you ready for eco everywhere today?  Honestly, you can't not love Earth Day. Because even though every day should be eco-minded, every day is not Earth Day. So let's cheers to the official with a chat about green beauty! Admittedly, I am not 100 percent clean with my beauty routine but I am very ingredient-conscious and the balance is tipping more and more green for me. Especially with skin and body care. There's no excuse for mineral oil and parabens anymore, ya know? The green beauty industry has majorly upped its game. And many other brands are cleaning up their formulas as well.  The paradigm is shifting.  In addition to spending some of Earth Day with nature, make it your mission to check out some of my favorite clean products and brands below!  An Earth Day clean-up doesn't necessarily have to be about planting trees and picking up trash…
RMS "Un" Cover-Up. An incredibly effective concealer, made with coconut oil and a blend of cocoa seed butter, jojoba and beeswax. This can be used all over the face on the areas that need a little coverage. Blend with your fingers to warm up the product and watch it melt into your skin. Don't underestimate the magical powers housed in this tiny little pot. And also don't fear the oils. Promise! It works wonders (even on oily complexions!)
ILIA Lipstick. The company responsible for making my favorite lipstick. In My Room is my perfect neutral. It's pinky, with a hint of peach, and enough brown tones to balance it out.

Kahina Toning Mist.  I'm in the middle of testing a few Kahina products, and in the process have become reliant on this moisturizing mist. It's made with more than 90% organic ingredients and smells ever so slightly of roses. It calms skin, tones and replenishes moisture throughout the day. And, 25% of profits of this product are set aside to the women in Morocco who harvest and produce Kahina's organic argan oil.

Vapour. Oh, just everything from this line. Seriously, it's one of the best all-around organic beauty lines I've tried. Everything is consistently good, and made from organic plant-based ingredients, minerals and vitamins. This foundation rivals many of my "unclean" favs as do the Aura Multi-Use Blushes.  Oh, and I adore the Siren Lipstick in 'Au Pair' — it's definitely getting some use this spring as I can't enough of rosy pinks.  

Revolution Organics Freedom Glow Beauty Balm. A brand I'm interested in getting to know more of, based on my positive experience with the Freedom Glow in 'Blushed' – a super hot pink that is sheer and dewy on cheeks. The ingredient list makes me smile — coconut oil, shea butter, aloe vera and it goes on. The more I embrace these nourishing oils in my beauty routine, the more my skin behaves.
For more Earth Day fun, the ladies at La Bella Figura will be hosting an #EarthBeauty Twitter chat tonight at 7pm central. I'll be joining in and hope you can tweet along as well!
*note: I received a sample of the Kahina Toning Mist.