My gateway into the skin healing world of face oils was argan. There weren't many around marketed for your face and face alone about six years ago. Now, it's widespread. One of the early adapters of argan oil – maybe thee founder among indie brands – is Kahina Giving Beauty's Katharine L'Heureux. Katharine works closely with the Berber women of Morocco to ensure that not only is she making the highest quality products but doing so while protecting the natural, human and cultural resources that help make it happen. I think it's awesome that her business is founded in supporting and protecting women and she is also bringing Moroccan beauty rituals to us in really luxurious and special ways. Beldi soap, anyone?
For any of us that think we know the path we're on, I hope you're as energized as I am by Katharine's story of personal and professional transformation from PR girl to mom to beauty globetrotter. Life is unexpected but it's the connections we make throughout it that can change everything.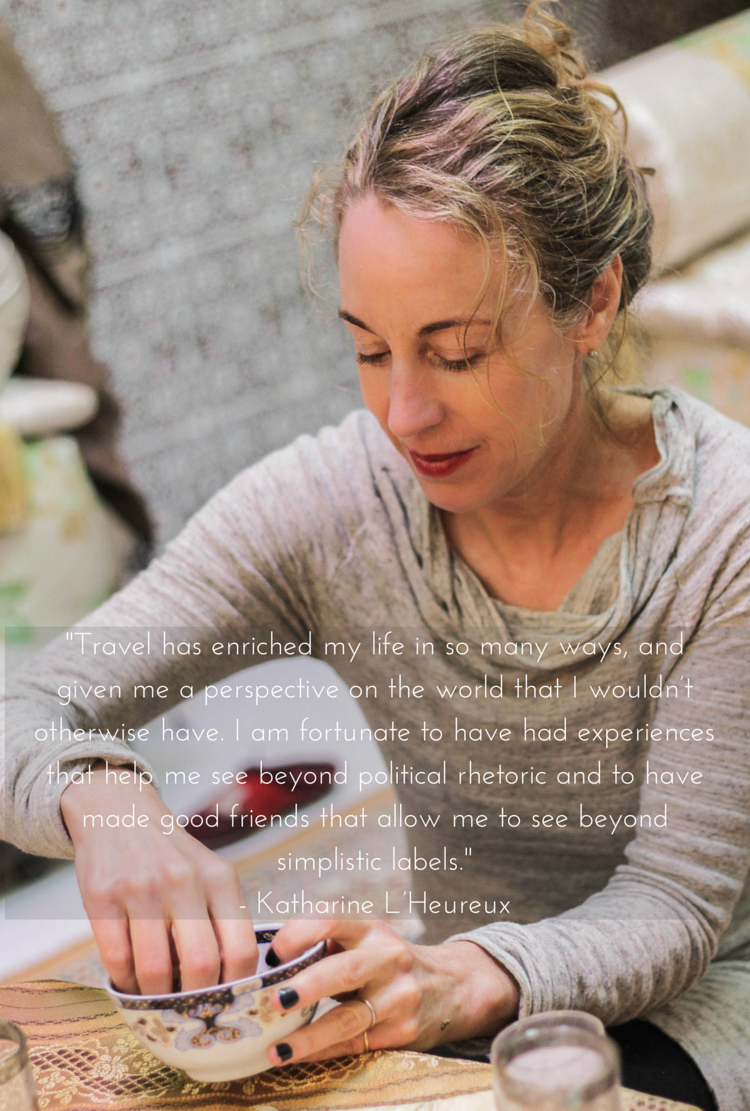 What was life like pre-Kahina for you?
My life pre-Kahina was very different from what it is today. I had an early career in public relations, but became a stay-at-home mom in New York City in 2001 when my children were young. I rarely traveled except to our family vineyard in the Napa Valley. Now, I have just a twelve year old at home (the other two are in college), I travel 1-2 weeks out of every month and am busy with the day-to-day operations of Kahina.
How has travel impacted your life? Do you view the world differently?
Travel has enriched my life in so many ways, and given me a perspective on the world that I wouldn't otherwise have. It has been especially enlightening to spend so much time in Morocco, a Muslim country and meet lovely people I have come to know there. I am fortunate to have had experiences that help me see beyond political rhetoric and to have made good friends that allow me to see beyond simplistic labels.
The Berber women extracting argan oil
What beauty traditions and rituals have you learned from other cultures that you now practice?
When I discovered argan oil on my first trip to Morocco in 2007, I was unaccustomed to using pure oil on my face, which I have since learned is a traditional practice in many cultures. Now, I can't imagine going without it. I am most intrigued by holistic beauty rituals incorporating regional ingredients and traditions passed down through generations. In Morocco, these include argan oil, prickly pear seed oil, rhassoul clay, rose water and beldi soap. Not only do these natural ingredients work, their farming, harvesting and production techniques help to preserve centuries-old knowledge and traditions while supporting rural populations. The awareness of the history of these ingredients and the people behind them enriches my own beauty experience.
What makeup and haircare do you bring with you on trips?
I keep it really simple when I travel. Argan oil is my best friend for giving me glowing skin and making my hair more manageable. Makeup is minimal, usually our Kahina Lip & Face Balm and sunglasses. If I want something a little extra, I'll wear a little lipstick (Ilia) and mascara (W3LL People). For shampooing, I use Acure Organics.
Fortress walls of Essaouira, Morocco; namesake of Kahina's Essasouira Perfume Oil

You just released a new perfume oil inspired by the Moroccan coastal city of Essaouira. What is the story of this scent and what you wanted it to convey?
Essaouira is a very laid-back beach town on the Atlantic Coast 2 hours outside of Marrakech. The charming port town colonized by the Portuguese in the 1500s has been attracting poets, scholars, craftsmen and artists for centuries and remains a dynamic center of art and music today. Jimi Hendrix and Bob Marley both famously spent time there, making it a big draw for music lovers and giving it something of a hippy vibe today. I love how many worlds collide in this small town, which combines European and Moroccan influences, while maintaining its low-key beach vibe. In Essaouira, we wanted to emulate this breezy, exotic and somewhat sophisticated flavor with rose, geranium, lavender, sandalwood, petitgrain and blue tansy essential oils.
Is there a moment in Kahina's history that stands out in your memory?
Kahina has been such an amazing adventure since it began almost 9 years ago, with so many stories and lessons learned along the way. I'll never forget my first, order of argan oil from a cooperative. I had no experience in international commerce. I was dealing through a translator with women who only spoke Berber, so we couldn't communicate directly and they had never shipped their oil to the U.S. before! I ordered 20 liters of oil and had it shipped via the Royal Moroccan postal service. I didn't even get a receipt or tracking information and assumed it was lost. Three months later, I received a call from the post office at our house in Ulster County New York saying that a suspicious looking wooden crate nailed together was there with my name on it. I am amazed it ever arrived. My name and address in the US, scribed by these women, were barely legible, literally scrawled on the wood in black ink. The US Postal Service earned my respect that day. Of course, things are a bit more buttoned up at Kahina now.
Thanks, Katharine!
*photos 1-4 provided by Kahina