This has been the summer of outdoor music for me. After Mumford, Pitchfork, Lolla and last week's Smashing Pumpkins and Marilyn Manson show at Northerly Island (yes…that day was the greatest day I've ever known), I'm ready for a more intimate gathering. Not that dancing around Grant Park as Florence battled a lightning storm wasn't one of the most epic moments, ever. It was. And you should watch her pour her heart into the Dog Days Are Over, which was the last song she was able to perform before the storm won.  Chills. She even tore her shirt off! All hail Florence. I was full-on ready for that rain after three days of sweating it out in 95 degree weather. If there's any time that reminds you to just embrace what you're naturally working with (plus lots of SPF), it's outdoor music fests. Straight hair, don't care.
It was around the time of Pitchfork that I discovered VERB. They're from Austin – so you know they're pretty cool – and have an easy living, no-nonsense approach to hair care. The line is no-frills with a modern aesthetic. It's like the grey tee of hair. It was created by stylists that wanted to make the hair care found in their salons more affordable, which I love. Which is why every product is $14 – all of' em. The Sea Spray, which gives a nice beachy texture to hair. I can't get my hair to naturally feel this way so I love this stuff hard.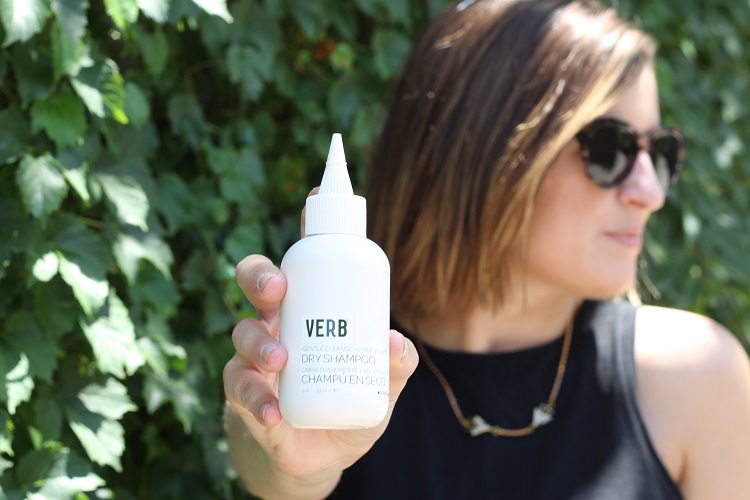 And the Dry Shampoo, which is the model for all dry shampoos should be packaged. The tapered dropper means you never accidentally pour half the bottle on your head on a sleepy morning. Even the Ghost Oil rivals any of the big salon-known shine serums.  Beyond styling aids, the Shampoo and Conditioner has a slight citrusy oat scent that is pleasant and safe for color-treated hair. Everything is unisex, too, and there's a few dude-centric clays.
Consider me a convert. I took all of my VERB on tour with me to Toronto! Along with several grey tees.