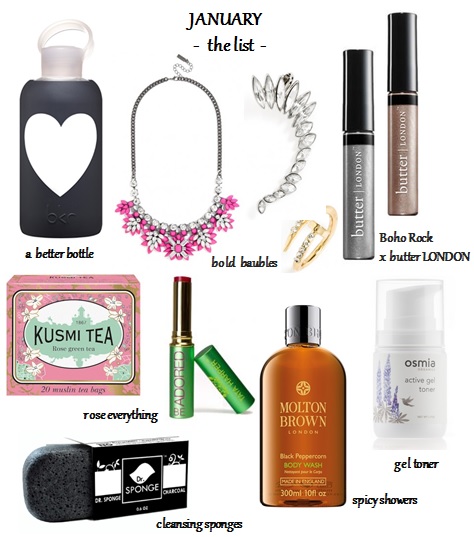 After all the holiday glitz, it's nice to get back to a more normal everything in January. Finally, my schedule is more open and I feel like I can relax a bit. Actually, I'm pretty sure I'll spend most of my January nights taking a hot and steamy bath. It's the only way to survive! Here's everything I'm loving for this month.
A better bottle. Must.Stay.Hydrated. I've been pretty loyal to my Camelbak but just picked up my first bkr glass bottle and am hooked! I love that there is zero plastic (it always has a smell, ya know?) and the colors and designs are really fresh.
Edgy baubles. I am so into everything in BaubleBar's latest guest bartender collection with Ashley from Revenge! Who is also Ashley in real life, who knew? The fuchsia bib necklace is such a pretty burst of color and I like how she styled it with an emerald green striped tee. I'm also seriously intrigued by the ear cuff but wondering if I'm cool enough to pull it off? Here's to trying.
Boho Rock. I'm feeling the vibe of butter LONDON's spring collection. Soft metals and neutral lips are a great combo. I especially love the platinum 'Earl Grey' Wink Cream Shadow.
Gel toner. Osmia Organics is responsible for the best blemish treatment, ever. I'm convinced that Dr. Sarah (creator and master!) has solved zits altogether. Her Gel Toner, which I rediscovered recently, cleared up my post-holiday dairy-induced skin issues in a matter of a couple days.
Spicy showers. More like hot showers and lots of them. It is nearly impossible to stay warm in this weather. For an extra jolt of alert, I've been using Molton Brown Black Peppercorn Body Wash. It smells like a sexy man!
Rose everything. Can't get enough. This Kusmi Rose Green Tea is delicious! Trying to start 2014 off with more tea and less coffee. Adding Tata Harper Be Adored Lip Treatment to my wishlist — the rosy hue looks like the perfect go with everything color.
Cleansing sponges. How these Konjac sponges work to smooth and detox skin, I'll never completely understand, but they do! Dr. Sponge has a variety of face and body sponges for different concerns and the black bar with activated charcoal helps get rid of  those dreaded body blemishes. It is so soft and cushy but works better than anything.