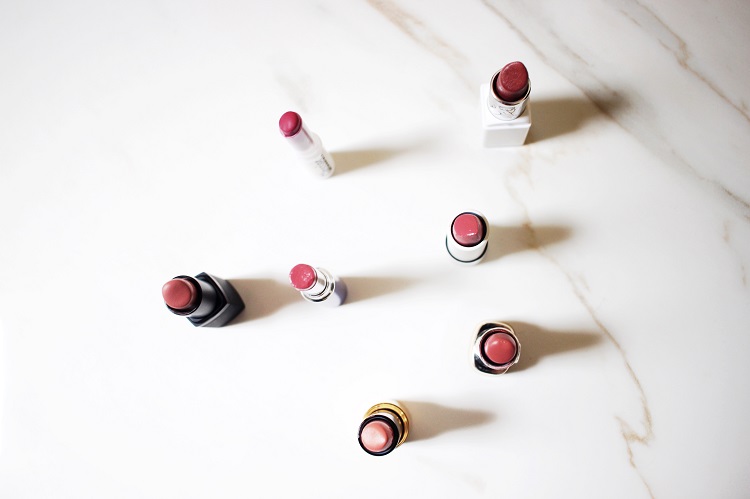 Lips are making headlines today. We've got ourselves a beauty holiday with National Lipstick Day.  If there's a case to be made for making this a gift giving holiday, I'm game. I'd love another pinky nude lipstick, please.  I wear my reds occasionally and there's a mood that calls for a bright but everyday is for pinky nude lipstick. I used to try and push myself to other colors because who needs THAT many lip colors that are essentially the same but you love what you love. Plus, it's a category in itself. There are so many nuances to appreciate. Some are more brown, others rosy or pink. Textures vary from sheer to matte or glossy. When you find your color, go all in and discover!
I've rounded up my favs as of late for a National Lipstick Day tribute.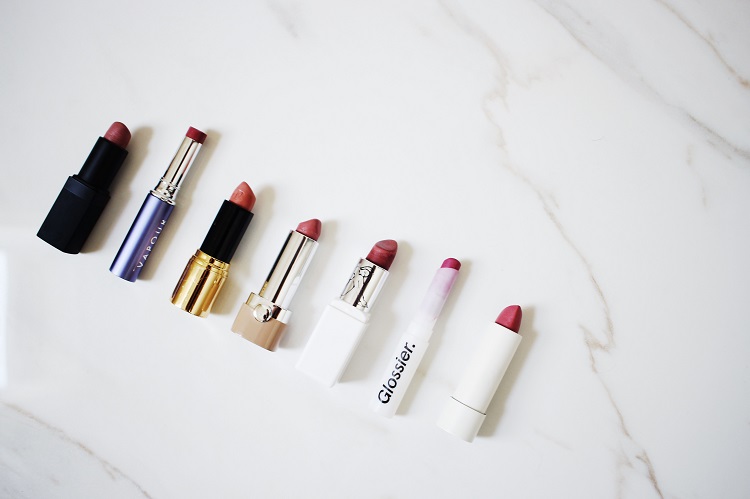 The Go To…Nars makes a mean lip color – I love their pencils but their classic tubes should not be forgotten. Rosecliff was a color that came out last fall that I was immediately drawn to (duh). Love the pinky brown and how conditioning it feels on lips.
The One That Feels Like Silk… Pomegranate and rose make up this organic lipstick from Vapour in the shade Au Pair. It's more mauve in tone and glides on to lips like silk. Vapour has a seriously impressive range of pinky nude lipsticks.
The Satin Finish…Ciate teamed with Olivia Palermo and the results were obsession-worthy (remember that palette?!) The lipstick in Truffle gives me vintage beauty vibes. It's opaque – one swipe and you have full coverage – so a little goes a long way.
The Luxurious One…Marc Jacobs New Nudes Sheer Gel in Role Play. Not actually sheer – which I love – and the tube is extra fancy. On lips, it's a saturated dusty rose hue.
The One You've Never Heard Of… This indie beauty brand from Australia captured my attention majorly with their handcrafted organic lipsticks. Nudus 27 Kisses is a universally flattering neutral rose with 27 active ingredients – vitamins, cold-pressed oils, colors from flowers, fruits and minerals, etc. The color is much darker in the tube but it doesn't translate that way on lips.
The New Generation…Already on my second tube of Glossier Generation G in 'Like' – a soft pink. These are magical tubes – they are a sheer matte lipstick. It's diffused the moment you put it on – like you had a popsicle.
The One that is My Lips But Better…Ilia is OG when it comes to organic lipstick. For summer, they ditched the silver bullet and instead packaged up up the lip conditioners in a sleek white metal tube and added SPF 15. Kokomo is a sheer pinky mauve that looks just like my natural lip color.
Any colors you just can't stop wearing?