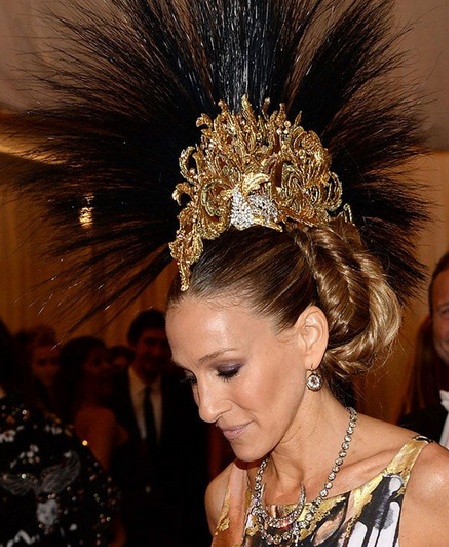 First, let's appreciate the giant feathered mohawk situated atop Sarah Jessica Parker's head. You can't say she didn't own the punk theme of Monday's Met Gala. Second, let's admire her flawless makeup, especially the plum eyes and soft lip. I've been curious about the NARS Tender Night Velvet Matte pencil that launched with the brand's summer collection.

Mainly, is it wearable? For daytime? Anytime? By normal people?  I mean, you wouldn't think so at first glance. Which is why I was so excited to see SJP rocking it at the Met. She shows just how pretty and wearable Tender Night can be. It's more interesting than a beige-hued nude and way more modern. I think it looks phenomenal coupled with her plum lids, courtesy of NARS Calabria Soft Touch Shadow Pencil.
The beauty at the Met Gala was all sorts of incredible. Here's a round-up of my favorite looks!
SJP Photo Credit:  DListed