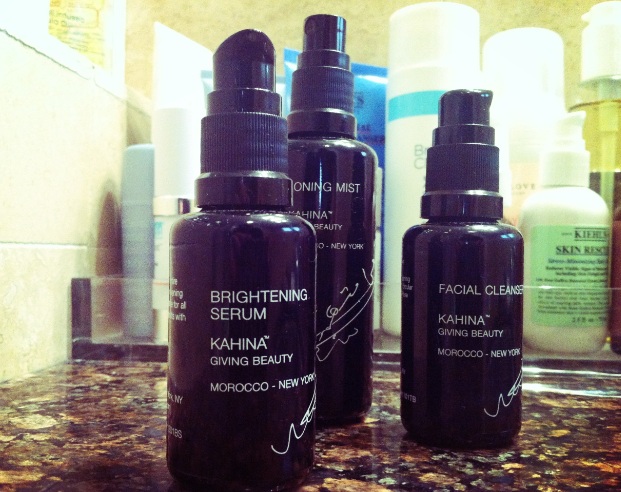 These weighty black bottles gracing my bathroom counter represent serious girl power. Kahina Giving Beauty was founded by a woman who now donates an impressive 25% of profits from each product sold to help improve the lives of the Berber women in the Morocco argan cooperative. Every product in the Kahina line contains high concentrations of certified organic argan oil. The products are simple and effective, which is exactly what Kahina is all about. Emphasis on the effective. A few weeks ago, I revealed that I couldn't get enough of the Toning Mist. Still the case. But trust, it's more than a just a mist of water. It's incredibly active, with antioxidants that help oils and serums penetrate skin better, and sodium hyaluronate, a weightless moisturizer that plumps skin on contact and builds skin cells up so they can retain more moisture. When I use this I feel more hydrated and my skin looks it, too.
The Brightening Serum is my secret power serum, but it's not fair to keep it hush.  I've been using it for about four weeks, after toning in the mornings. It is proven to reduce discoloration, hyper-pigmentation and those post-acne marks all while protecting skin from future environmental damage.  And, it's working. It can take anywhere from 4-6 weeks to start noticing a difference, so I'm sticking with it to see how things progress. The key is to apply this to skin first, before any moisturizer, other serums or SPF so the ingredients can penetrate the skin.
As for the Facial Cleanser, I've read enough raves from No More Dirty Looks and its community to know that this was something I needed to try myself. It is the "cleanest" cleanser I've used, meaning the most gentle and probably not for everyone. There's no lather or foam, but don't take that to mean it doesn't work. I like to use it twice — once to remove makeup, and another to clean my face. You know that tight, super clean feeling you get from a face wash? Yeah, you won't get that with this, and that's the part I love.