Beauty words to live by. Less really can be more, especially if your version of less looks like mine. I tend to favor the snooze button more than I should, so I've got a quick, no-fail beauty look to fall back on. Arm me with concealer, bronzer and highlighter and I can pretty much do anything. I call this look mascara optional.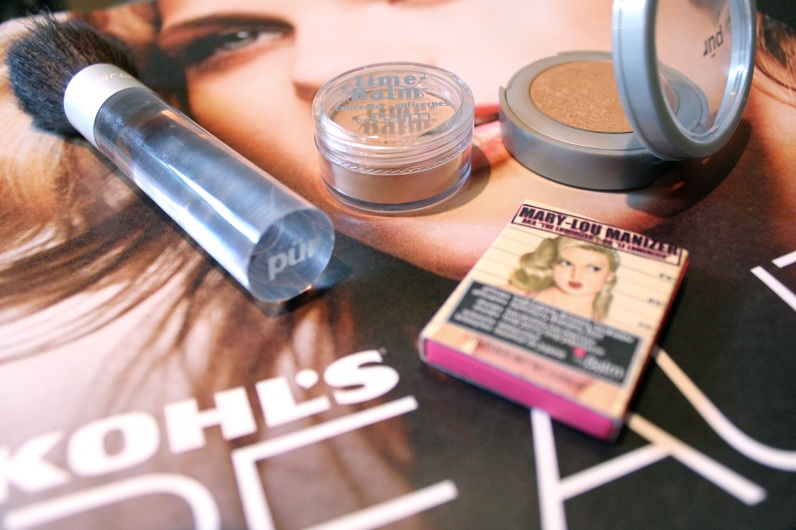 First…reach for a concealer that wears a lot of hats. theBalm TimeBalm Concealer works under eyes and all over on any redness, blemishes or discoloration. I even pat it on my eyelids as a primer. The shade 'light' is the exact tone of my skin so it blends (melts, really) in flawlessly. It also has vitamins A, C and E to brighten and protect skin and linoleic acid and phospholipids to moisturize and prevent fine lines. I blend with my fingers because it's quick, but there's a tiny little sponge included, too.
Second…strategically place highlighter. One of my standby favs is theBalm Mary-Lou Manizer, which is a seriously pigmented champagne creamy powder. Sweep it on lightly–a little goes a long way– on the cheekbones, in a 'C' shape around the outer corners of the eyes, above your lip in the cupid's bow, down the middle of your nose and pressed on the eyelids. It seems like a lot, but it's the secret to looking 22 again. Trust me.
Third…bronze and sculpt. By now, you're glowy and fresh. The final step, should you be pressed for time, is to multitask with bronzer, on the hollows of your cheekbones, in the crease of your eyelids, along the jawbones and temples. One of the bronzers I like for all over dusting is Pur Minerals Mineral Glow Powder. It's subtle and not the least bit orange.
theBalm and Pur Minerals are brands that I've previously shopped for at Sephora or Ulta and now they're both available at Kohl's. As a Wisconsin girl, I can't tell you how jazzed I am that Kohl's has expanded its beauty department!  I grew up shopping this department store and still do. Kohl's remodeled its beauty department in close to 300 stores and got a makeover online as well. I'm working on a fun series with SheKnows.com and Kohl's Beauty – so more to come very soon on the new (to Kohl's!) beauty lines.
Note: This post is sponsored by SheKnows Experts Among Us  and Kohl's Beauty. All opinions, tips and recommendations are my own.