Why yes, there I go, brushing my hair. With a makeup brush traditionally reserved for powders and blush. Who needs traditional, though? Thinking outside the conventional can sometimes spur a really smart idea. Like subbing zoodles in for spaghetti or using coconut oil as mouthwash. Once you try it, your world is altered for the better.  EcoTools brushes are versatile as is but this trick was an aha. Using a makeup brush to blend in dry shampoo helps prevent the oils from your fingers transferring more oil onto your scalp. It all just makes so much sense!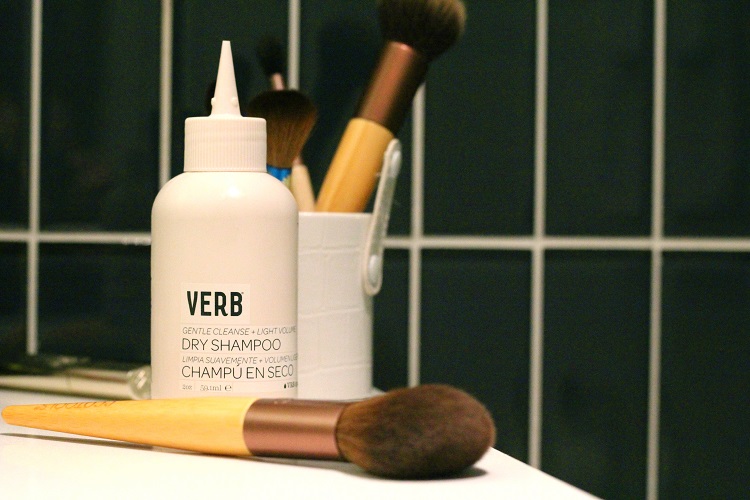 I took the EcoTools Large Powder Brush which I actually don't use for face powder – I prefer the slightly smaller and more tapered Blush Brush for that – and swept it along my scalp in tiny circular motions, pressing down firmly at times towards the base of the brush if I wanted more pressure. The end result was a fluffier, more lifted crown. It also forced me to more slowly let the Dry Shampoo sink in. I'm usually really impatient and rub it in with my hands immediately. Letting it take the time to absorb and massage it in helps it to be more effective. It can even be the difference between an extra day of no-washing. It's been a savior to me lately. I've been adding in pilates and barre to my workouts and they're low-enough cardio intensity that I don't always have to wash my hair.
What else have you done that's a little off but has turned out to be awesome? Tell me, please! I like to learn.
This post was sponsored by EcoTools. All opinions and tips are 100% my own. Thank you for supporting the brands that support 312 Beauty.