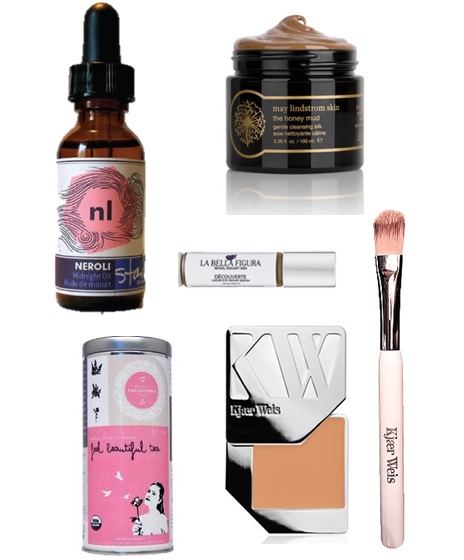 Stark Skincare Neroli Midnight Oil // May Lindstrom The Honey Mud // Kjaer Weis Cream Foundation + Brush // La Bella Figura Decouverte Under Eye Serum // Herbal Philosophy Feel Beautiful Tea
It is straight up overwhelming to keep up with all of the deals for Black Friday, Small Business Saturday and Cyber Monday. If your email inbox looks anything like mine, chances are you're aware of your options. The deals are there if you choose to seek them out. I won't spend much time directing you to all of the places to spend your hard earned dollars – there are hundreds of other bloggers that have already conquered that task! What I'm most excited about is supporting my green girls — May, Kirsten, Victoria and Jess. They work their tails off and are the poster children for small biz Saturday. I'm hoping to see a flurry of sale emails from them and retailers like Spirit Beauty, EcoDiva and the new Beautea Bar tomorrow. Mama needs some Honey Mud!
I know for sure that everything on Stark Skincare, including the brand new Neroli Midnight Oil, will be 15% off through Monday, December 2, and I think we can also expect the annual La Bella Figura buy-one-get-one promo on their cult fav Eye Serum.
And, because I'll be spending the overnight hours here for work (not a bad place to have a media event!) you know I'll be swinging by Last Call (everything is 40% off) and J. Crew Factory (50% off!)