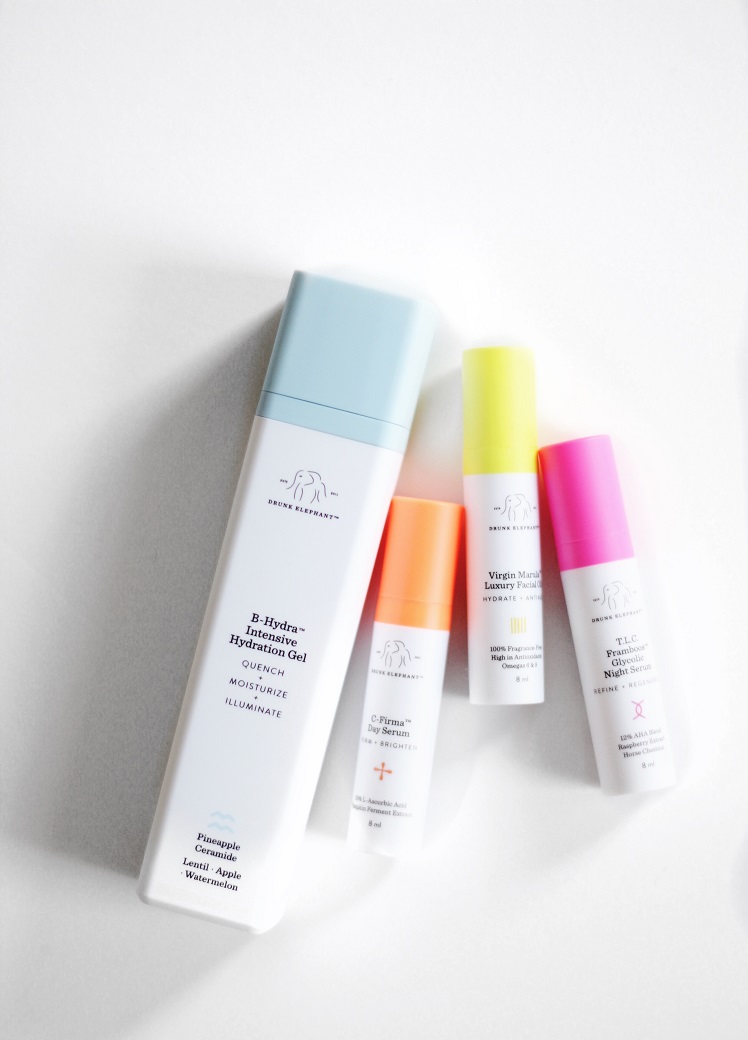 Why has it taken me so long to weigh in on the boozed up ellies? I finally tried Drunk Elephant and I'm sold. I snagged one of their holiday sets so I could experience more of the line. It came with a full size of the B-Hydra Intensive Hydration Gel and minis of C-Firma Day Serum, T.L.C. Framboos Glycolic Night Serum and their signature Marula Oil. Since it was all so travel-friendly, I brought it all down to Miami with me last month and have been using the whole system since I got back. These minis last a long time!
It all works so well together and my skin has never looked so good without makeup. This line is effective but also really gentle. Take the T.L.C. Night serum – there's a 12% AHA/BHA blend which is really effective at exfoliating skin and improving tone and it has a proper pH level so that skin is soothed at the same time it is being treated. There's no fragrance, essential oil blends, citrus peel extracts or anything that can irritate skin. And the packaging is top notch – the serums are all in pumps so it isn't exposed to air which can break down the effectiveness of the ingredients.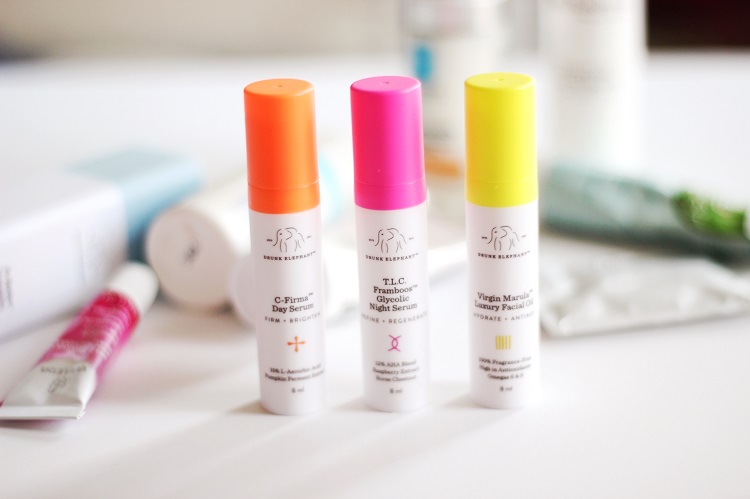 I use the B-Hydra Intensive every morning on bare skin. It's an awesome base to layer other serums over. I think everyone could benefit from this serum but especially if you live in a cold climate and spend your day in front of forced heat (that's me….plus a space heater at work!) It doesn't leave any sticky residue like other gels, either. It's so well formulated. As is the C-Firma. Unlike other vitamin C serums, which can be thin and hard to apply, this was recently reformulated to improve application. It's a gel as well and has all of the protective and brightening heavy hitters: 15 percent l-ascorbic acid (that's your C), ferulic acid, vitamin E, pumpkin ferment extract and pomegranate enzyme plus soduium hyaluronate to plump up skin as you apply. It's a powerhouse.  I find I like to use the Marula Oil at night as a follow-up to the T.L.C. As far as simple oils go, this is one at its best.
I'm probably going to size up to full at some point and am also eyeing up the new Babyfacial. The high percentage of AHAs has me a little tentative but this review reminds me that this is Drunk Elephant we're talking about so it probably works better than I think and then some.
Have you tried the line? Any favs?