I wanted to wait a hot second before I shared a review of Crème de Glossier. a.k.a. Priming Moisturizer Rich, Or, PMR, for short. But Crème de Glossier has a nice ring, right? The Frenchified descriptor is appropriate given the simplicity and power of PMR.
After 12 months of formulation and a hell of a lot of ITG reader input, Glossier released PMR last month. Let me not bury the lead: it's a luxurious face cream for $35. I love love love that this product is affordable and not filled with frills. Believe me, I can get down with a complicated moisturizer. I do often get down with complicated. This is far from it yet it sacrifices nothing.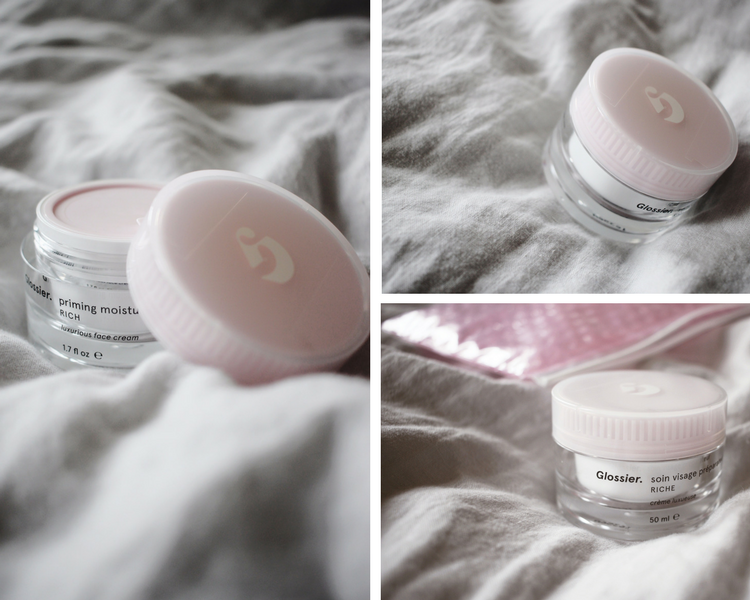 So what makes it awesome? Here's a few ingredient callouts. Ceramides that naturally occur in skin to bind skin cells together and strengthen skin's barrier. Fatty acids to act like a waterproof coat for your skin and keep moisture in. Glossier's secret sauce – an anti-redness complex to help prime skin for makeup. Two butters that give this its decadent texture: shea and a dense butter called murumuru that melts into skin without any heaviness. There's a slight lavender scent that gently taps your senses and whispers, "shhh….everything will be OK."
When to use PMR? Your call. I was fully expecting to use this at night only. I heard thick and luxurious and had already envisioned a spot for it in my nighttime routine. Turns out, I prefer it in the morning. True to its Priming Moisturizer  roots, it's a total rock star under makeup. I think you see what makes this so special when you apply it for daytime wear. It doesn't leave any trace of weight or greasy feeling – it absorbs into skin, plumps it up nicely and immediately calms any redness the eff down. Winter is debatable at the moment but forced heat and the yoyo temps are always a recipe for dryness and breakout. PMR is a total skin stabilizer!
But that's just my two cents. If you're down with uncomplicated, you can shop PMR with me here.
P.S. Just got word that Glossier is having free shipping today on any order, February 22 only!