This is me, 48 hours post-Dermalinfusion. Yes, my face is makeup-free. And, yes, I freed the nip, too. After what felt like a very Real Housewives treatment, this bare state I stayed in for a weekend was quite the opposite.
You've heard of microderm, right? Dermalinfusion is in the same family, in that they are both skin resurfacing treatments. The difference is in method and it makes a world of one. Dermalinfusion exfoliates as microderm does but at the same time it is extracting dirt and bacteria out of your pores it's also infusing serum directly into the epidermal layers of skin. It's a non-invasive treatment using a recessed diamond tip – it's pushed back a bit so you're not getting that direct abrasion on skin – to exfoliate and extract using closed-loop vacuum pressure. Everything that is sucked out of the skin goes into this jar that you get to look at after your service. Sound satisfying? Because it is. Especially that last part.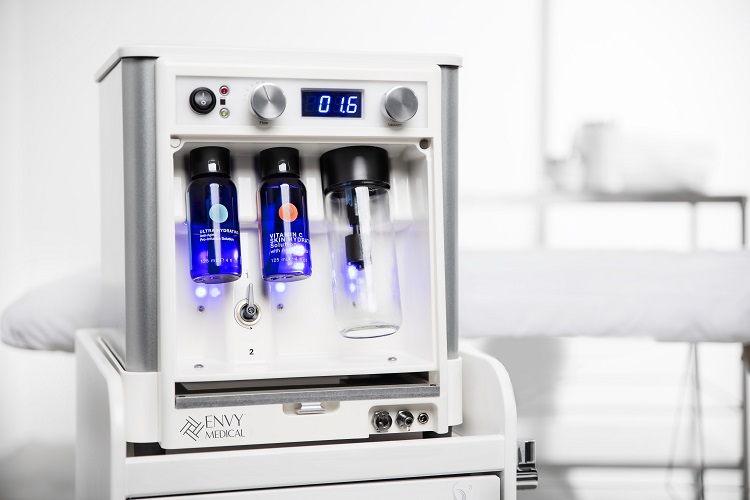 This is probably one of the more intense facial treatments I've had but the aftermath was easy. Intense in terms of exfoliation, not sensation. You know how some people say facials break them out? The 'purge' if you will. I won't deny I've had facials that my skin reacted negatively, too. I had a peel so intense about eight years ago that gave me a nasty bout of contact dermatitis. Facials are traumatic by their very nature. That's why half of the time of facials is spent putting moisture back in to the skin. This is probably one of the biggest differences with Dermalinfusion – it eliminates the time gap between exfoliation and moisture application. Envy Medical, the makers of this treatment, say by infusing serum into skin before the wound-healing phase begins, skin is able to absorb and receive the serum at a deeper level.  We're talking four ounces of serum getting delivered deep into the skin. One of the reasons I was so excited to try this because it's billed as a skin volumizer —- post treatment, skin is 70% volumized.
The plumping effect only lasts about three days, but the long-term payoff treats dark spots, hyperpigmentation, dry skin, acne, rough skin and fine lines. The before and after shots they showed me of people who had up to six treatments every two weeks were insane.
My favorite part of the treatment was checking out the waste jar — blobs of oil and dirt from your pores. It's diluted with some of the serum that gets sucked back from the tool but shine a light on it and you can totally see the floaties.
Envy Medical offers this services at spas and derms nationwide — there's a locator on the website — and I had it the Waldorf Astoria Chicago Spa. They've got a number of treatments that include it, ranging from 30-minutes for $180 and 60 or 90 minute services that range from $280 to $350.