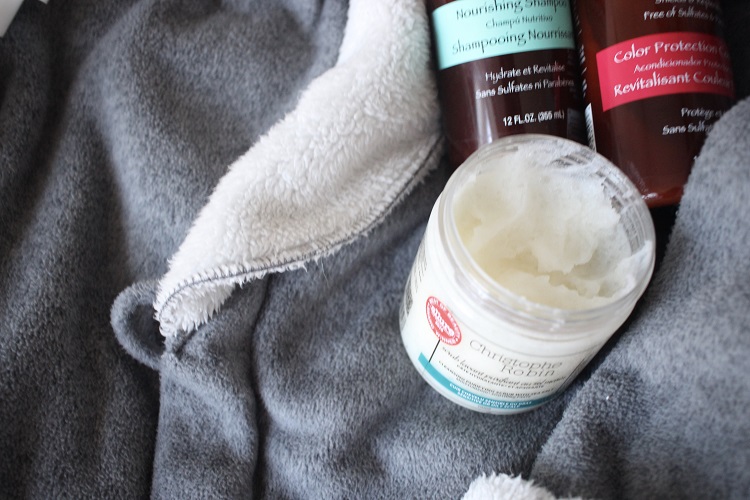 There is nothing I look forward to more after an exhausting workout than a steamy shower. At home – it's the main reason I can never workout in the morning. I like my space and stuff. It's my motivation for surviving the class. Oh, yeah, I'm back on the Classpass train. After a failed attempt at joining a more traditional gym that offers classes, I decided to sign back on. I'm not happy with their new pricing structure at all but it's really the only way I find myself consistently working out so I've decided it's worth the spend. And a hot shower really is a treat. I've got a bunch of new stuff in mine that I wanted to tell you about.
I've been loyal to Hask Shampoo and Conditioner for months – I feel like I've been holding out on sharing my secret. Hask sent me a few of their different blends to try and each one is better than the next. And they're only $6 a bottle! I was talking with the team at Hask and apparently they are used on a lot of film and TV sets – tons of ABC shows. Guys, I think there is a chance that me and everyone on Grey's Anatomy uses the same shampoo. I like mixing it up – the Nourishing Shampoo with coconut and monoi oils and Color Protection Conditioner with Kalahari melon oil. Pretty much the best smelling combo ever.
I also started exfoliating my scalp – it's all the rage now. I do it about every two weeks which means this tub of Christophe Robin Purifying Sea Salt Scrub will last me 25 years. I love using this and have to resist the urge to do it more because I just don't need that deep of a cleanse that often. My hair is so light and bouncy afterward – it's tempting. If you use a lot of dry shampoo or product, you might benefit from a once a week.
We are a Dove household. There's always at least one bottle in each of our showers. I've been testing out Dove's Shower Foam in Deep Moisture these past few weeks. It's the same classic Dove scent I'll never tire of but in a formula I think I prefer. One, it's really helpful to have body wash with a pump top. Two, the texture is soft and airy. Three, my skin is soft after I get out of the shower. Four, $6 for a giant bottle. Are you seeing a trend?
The most exciting shower upgrade is my new razor. I think I'm retiring the Venus for good – I'm totally into the (technically for men) Harry's Winston. It's sleek and minimalist and actually much less expensive than women's razors. Refill Harry's razors are $2! Don't you hate the "pink tax"? Harry's is obsessed with design so I think the design and shave experience is superior, too. The set I got came with a cap so I'm going to bring this razor with me on my upcoming vacation. I'm going to Tulum with Lindsay, which means I plan to hit up the Classpass heavy this week in anticipation of all of the vacation calories I'm sure to take in.
Anything in your shower have you excited?