It wasn't even a week after getting back from Miami and I was already researching a long weekend somewhere warm. I know, poor me. I'm not adjusting to winter for some reason.  Last week was impossible to be outside and my eyes watered just thinking about it. I've been wearing eye makeup still but I need to do my seasonal adjustment that happens every year around his time and focus more on lips. January and February are my lip season – when I finally break out those non pinky-nudes.
This is the process I usually follow in the frigid weather. I typically coat my lips in tons of Glossier Balm Dotcom when getting ready. I'll wipe away any access that hasn't soaked in right before I apply color. This is always one of the last steps in my getting ready routine – in between getting dressed and putting on perfume.
From there, I apply a heavy coat; like a few swipes on my upper and lower lips. I smack them together and then wait a minute before blotting with a tissue. And that's it. Sometimes I repeat the process but I find most of my lipsticks usually saturate with one go around. If I get dry throughout the day, I use lip balm and sometimes reapply. It's not as high maintenance as some may think.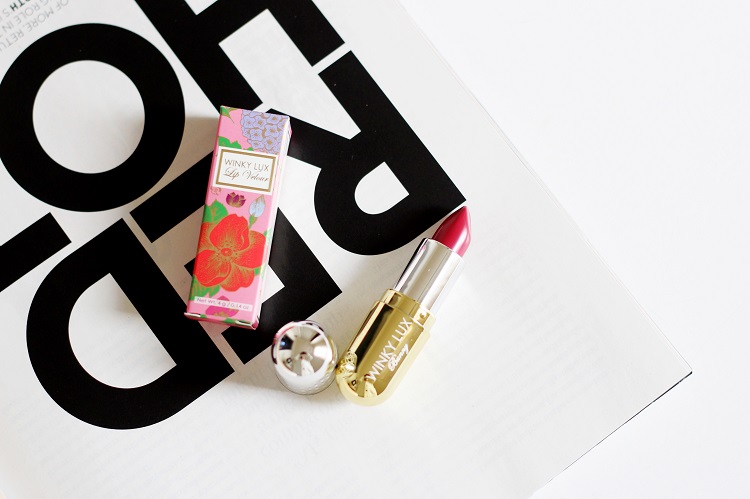 A brighter lip makes all of my grey, black and ivory sweaters look a little more interesting and is a nice switch up from my normal everyday makeup. I call it the Rx for winter makeup problems. And, this lipstick looks like a pill! It's from Winky Lux Lip Velour in the shade Bunny. I tried it on a whim after opening the December Must Have Box that PopSugar Must Have sent to me. I didn't know anything about the brand but really liked the deep rose color. A few other selling points: moussy texture and long-wearing formula. I was impressed with how it wore.
Be on the lookout for more Instas with the brighter colors in my collection. I think my NARS Velvet Mattes are ready to come out and play!
Oh, and if you are a first-timer with the Must Have Box, you can use the code SHOP5 to get $5 off. I always find these boxes to be well worth their value and almost always have at least a few beauty items in there each month.
Disclosure: PopSugar sent me this box to try.