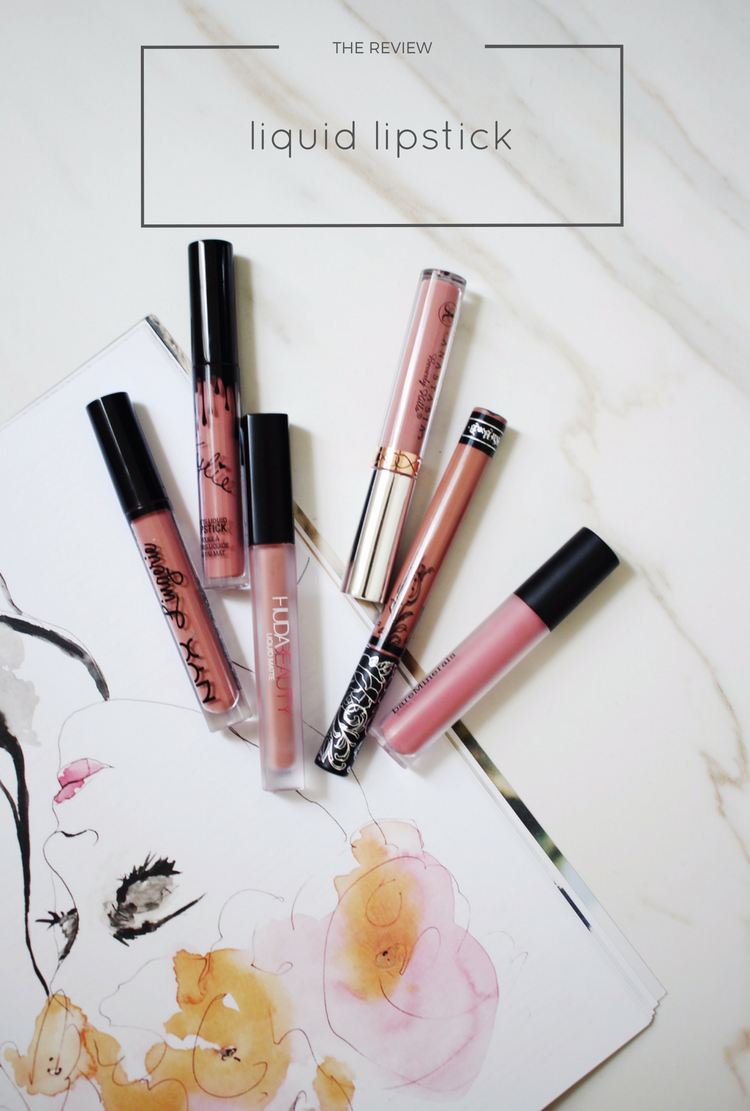 I take my time with beauty trends. I'm not driven by what is now but rather what looks good on me. If it happens to be both? Hey, cool. I stewed over liquid lipstick for the longest time. Do I have the patience to wear something that long lasting? Will my lips look like a prune? Do I have to wear lip liner with it? Yes, no and probably.
I saw mastering liquid lipstick as a personal challenge; accepting the risk of shriveled chalky lips and bad 90s memories resurfacing. I persevered through the crumbly and cakey, the wrong shades and survived the experience of buying something from Kylie Cosmetics' website.  In the end, I came out with a pretty sweet wardrobe of liquid lipsticks I LOVE to wear and hopefully some useful tips if you are liquid lipstick curious. Of course, all of the ones I love are basically the same color. It's how I roll. And honestly, I haven't been brave enough to go all in with a deep red yet. I'm hoping fall brings out the adventurer in me.
Bust out the balm and let's dive in!
So about that Kylie Cosmetics experience. I had to try the Kylie Lip Kit for this to at all be a proper vetting. Everything sells out so quickly – in seconds — only to be restocked again days later. I tried to get one of her birthday mini matte kits but despite logging on as soon as the shop opened TWICE, I couldn't get past the line. So I picked up the Candy K Lip Kit – apparently Kylie's fav shade per R29 – as a consolation. I think I'm on the Kylie makeup train – the kit is solid. I've been wearing the liner under a lot of lipsticks, too. I found the color dried much darker on the lips which I didn't mind. If you can get past the vanilla scent that disappears quickly, you might like this a lot.
photo by Emily Prendergast
I've had so many people – IRL and on the internet – rave about Kat Von D. I believe her line is one of Sephora's top 10 sellers and her Everlasting Liquid Lipstick was my gateway. I went with Bow n Arrow and WELCOME TO THE 90s! I had to take a light hand since it is brown but in moderation, this is beautiful and I love how it wears. It's lighter in consistency but wears allllll damn day.  I'm wearing it in the above. It's the only lip color I wore for the Michelle Starbuck Fall Lookbook.
I also wanted to try something on the lower price range and trust NYX. The Lip Lingerie is a little thicker and heavier but it is extremely long-wearing. The shade Bedtime Flirt is nearly identical to Kylie's Candy K so there's that whole 'dupe' thing going for it. Just be cautious not to overdo the application because it will cake. This was not my favorite of the bunch but for $6 it's the best budget option out there.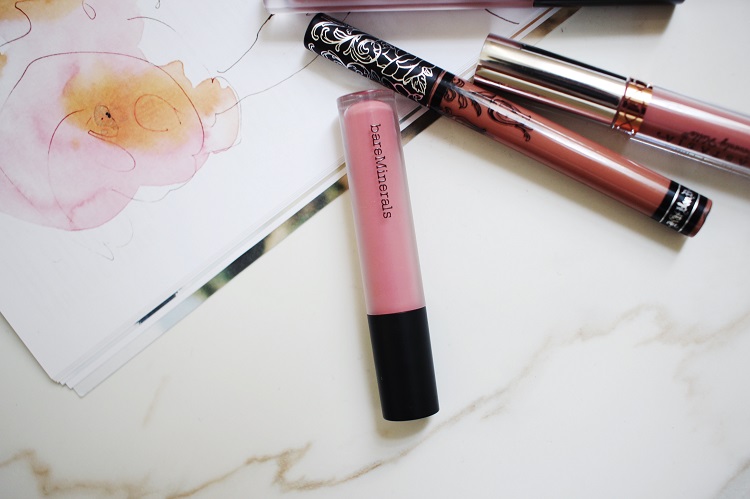 bareMinerals just launched an epic collection called Gen Nude. There are sheer lipsticks, glosses and a liquid lip color. I found the range impressive and deem this as the "for everyone" formula. It's slightly more powdery in feel which means it doesn't wear as long but it has a more natural look. I dig it – the pink shade Frenemy actually is on the brighter side of nude. Bonus points for being under $20.
Youtube beauty guru Huda Beauty is getting in on the makeup game and girl did GOOD with her version of a liquid matte. If you ever see the shade Venus in stock, go for it. It feels like silk on the lips and the color is perfection if pinky nudes are your thing as they are mine. It's worth noting the adorable packaging, too.
Apparently, makeup artists and industry folk agree that Anastasia's Liquid Lipstick is the best. I see where the praise comes from – it transforms so naturally and wears for a full work day. The shade Crush is the perfect feminine neutral pink and the rest of the colors also feel really modern.
My best results with all come from wearing these for an occasion versus a full day at the office. It's not that they don't hold up it's actually the opposite. I'm almost too done, ya know? Anything you'd add to this list?