Hi ladies, welcome to …I don't even know what to call this era yet. We may physically be living in the same place we were at this time last week but doesn't it feel like a different world? I wanted to round up my favorite badass red polishes –inspired by OPI's We The Female, my choice polish this week – but, as I sat to write, my head was swirling with fury over "alternative facts" and a demagogue posing as a leader.
This summer, pre-election, I got a comment from someone on this post that I should "stick to beauty" and avoid politics. I certainly understood where she was coming from. I laced my observation with a little bit of snark and she viewed it as contributing to all of the negative talk happening. That was pre-election…my how things change. It would be easy to be in a bubble and ignore the "negativity" out there but we no longer have the luxury to retreat into our own bubbles. This is real life. It's more important than ever to advocate for your beliefs and to distinguish fact from fiction. Every one of us bears that responsibility.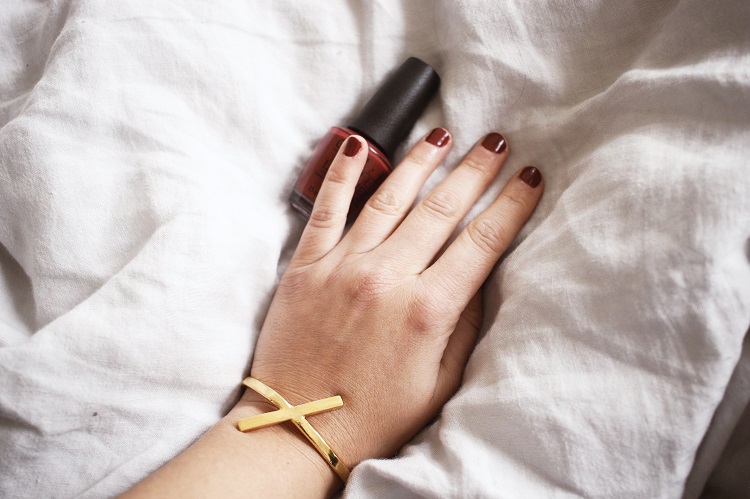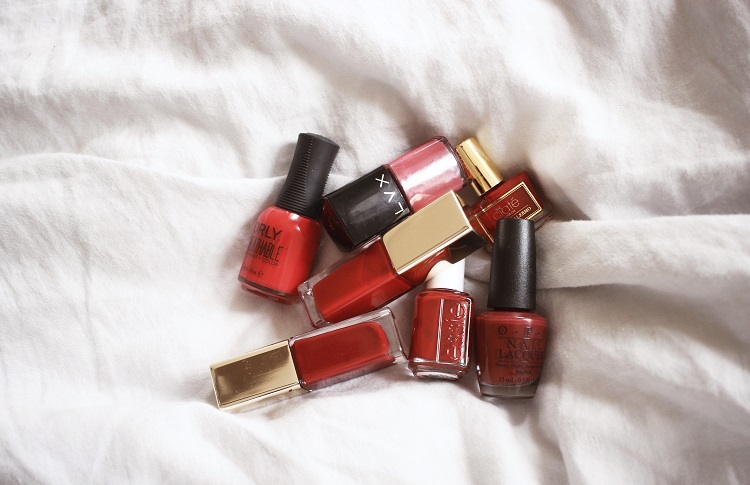 It was deliberate that I reached for We The Female this week. It's a special shade of empowering garnet, not unlike the color of Michelle Obama's "farewell" dress from Friday. Like a bold lip, a bold nail can match your inner and outer fired up, ready to go mantra. It's the polish I'm wearing to begin my 10 actions, 100 days.
Red is also a color that I like to resurrect in the smack dab of winter. It's kinda like the nail version of a bright pink cream blush: it perks up your ensemble amid the dreary winter. I think the sun was out once this past week – perky is needed.
Here are my other fave-reds.
It's a bit of an oldie, but I always go back to Essie Twin Sweater Set. It's a beautiful crimson red that coats nails in a coat (but always do two for that crème finish). I think it was a limited color because I can't find it anymore!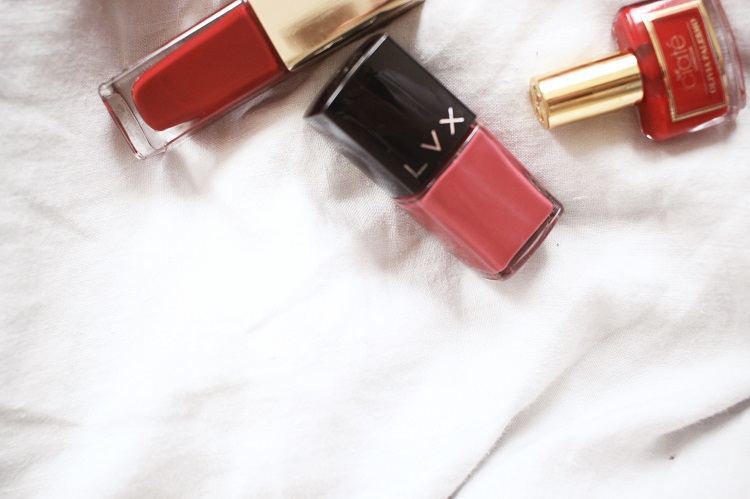 I just added LVX nails (a Chicago brand!) Brique to my nail polish collection. It's not quite red, not quite pink. LVX shared with me the fall/winter collection and they all seem to have that muted quality – that's a good thing.
Olivia Palermo designed one of my favorite polish collections with Ciate. Her "go to red" is a color called Hutch – it's a classic red, much like her style. I love this on toes all year round. This is a mini bottle but it's worth noting that the full-size comes in an exquisite box. Very impressive, Ciate.
I've been testing Orly's Breathable polish line. I was immediately taken by the bright red 'love my nails' shade. I have mixed opinions on the formula. The polish is supposedly better for damaged nails and doesn't need a top or base coat. I find that I can also peel it off easily (I know, bad vice) and I think it does chip a little faster. I went with the true spirit of it and didn't top coat so that could make a difference on wear time.
I love the Dolce & Gabbana packaging! I'll admit, these reds aren't completely unique but I love them anyway. They make me feel fancy and feminine.  Fiamma is a sexy red  – reminds me of the bottom of a Louboutin – whereas Lover is a little moodier with a plum undertone.
Onward and upward, ladies! Have a great week.