The thing about moving is that it sucks. No matter how much you prepare or get ahead of the packing, it is still a mad dash at the end. About 36 hours after our move, I went to Mexico for a friend's wedding. During the move, all of my toe nail polish cracked away and at the last minute I had to find where I'd packed it to try and fix. Thankfully I found the polish but not the nail polish remover, so I just refreshed versus starting new. And then I returned from Mexico and the sand and constant soaking in a pool destroyed my color. So, naturally, I just put another coat on top. Currently rolling around town with about six coats of LVX Argonne on my toes. And you know what? It looks alright. Priorities right now.
This begs the question: At what point after a move is it no longer acceptable to be living out of boxes? We are still painting our walls so it all just feels so in-between still. I just want to paint my nails and watch Bravo with a glass of wine like any self-respecting 35 year old. It's still summer and I've got beauty wardrobes to maximize. I extended my makeup wardrobe to my nails. It made instant sense to me to curate a palette for my fingers and toes. I have a lot of polish, much of it goes unused. I've set a similar goal with my seasonal nail wardrobe: use it, see if I love it and if not, reconsider the space it takes up in my home. Sometimes polishes go bad, apply unevenly or just aren't a match. That's apparent right away with nail polish, I find.
For my peachdrenched summer, I also applied the same color principles to polish. I abandoned the standard summer fare of bright corals and pinks and instead went for subdued peach variations and shades of green. For good measure I added a few nudes. Every season needs at least one.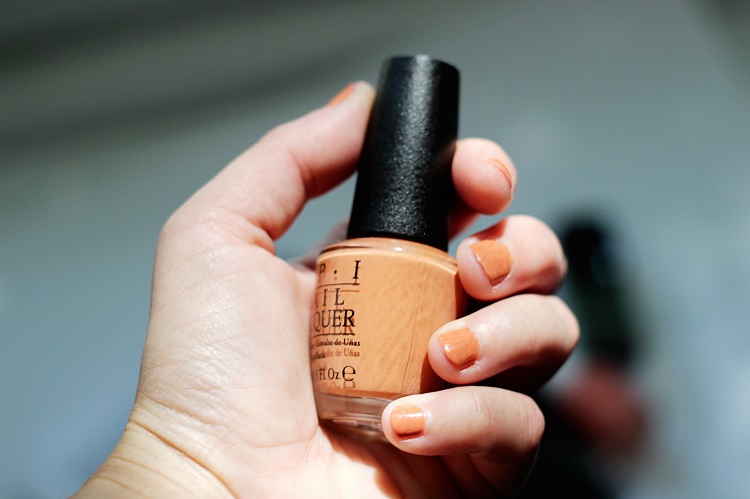 THE PEACHES
Not a bright in sight. It made for an alternative July — while everyone else was trying to track down a bottle of Essie Clambake, I was opting for OPI Freedom of Peach. It has a muted quality that makes it interesting to me. This color was part of OPI's Fall 2016 DC collection, a total standout for me. A lot of the colors I chose for summer are from that collection.
I mixed in some pastel for those moments I wanted to feel extra summery. Essie Peach Side Babe has a sheer quality to it but satisfied my craving for "bright." Same with Jin Soon Vogue Rose – which has a pinkier vibe when on the nails. That latter is something exclusive to this 125th Anniversary Vogue Birchbox collab (a majorly good box!)
THE GREENS
If you haven't been putting olive green on your toes, you are missing out. I've always loved this color but had a mold complex in the context of my feet. It actually looks modern and pairs well with the cognac colored sandals I wear nonstop. LVX Argonne and OPI Suzi The First Lady of Nails are similar but distinct enough that I wanted to include both. Argonne has a creamier more sage hue while OPI is darker. The other green that I love is also from LVX Oasis. The color in the bottle is the color on nails – I really like that about LVX polishes. It's a vivid hunter green. With other deeper greens I've tried in the past, they can almost look black or indistinguishable in indoor lighting.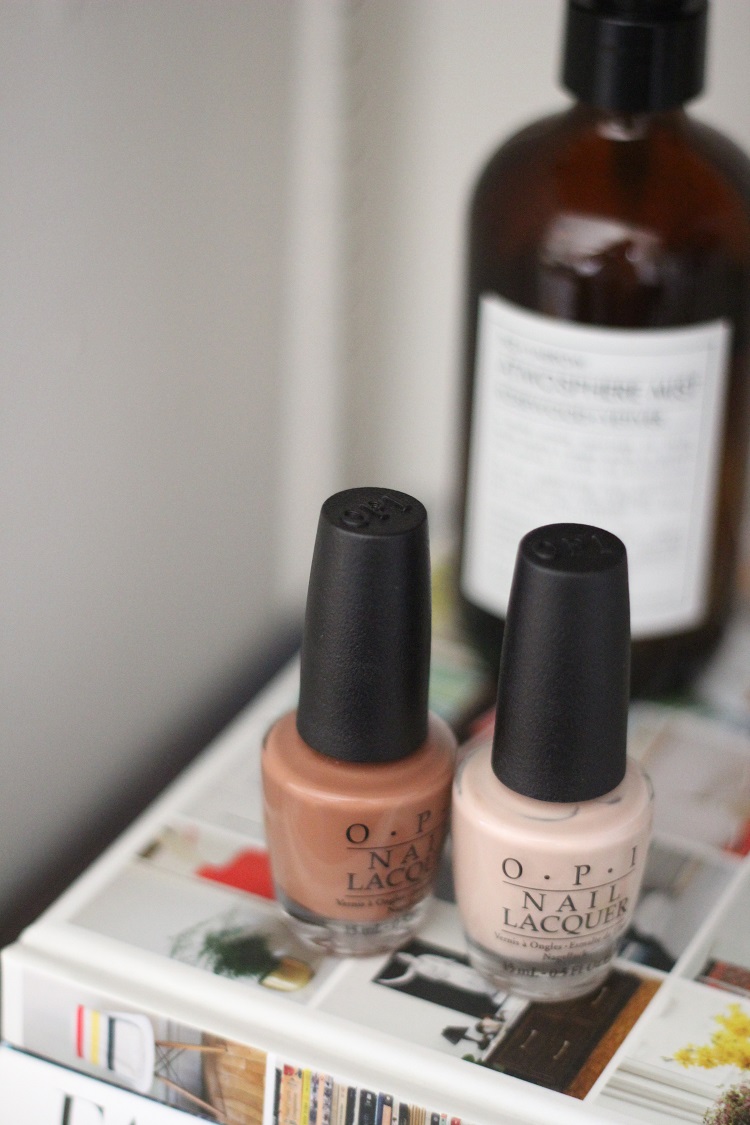 THE NUDES
I purposefully went for nudes that weren't the color of my skin. OPI Pale to the Chief is much lighter whereas OPI Inside the Isabelletway is a caramel color. Through nail wardrobe-ing, I've realized that Pale to the Chief is probably going to go to a new home. The color just doesn't do anything for my skin – it draws attention to cuticle imperfections and washed me out. Big fan of Inside the Isabelletway, though. I wore that color a lot last fall and can see myself carrying it over this year, too. Last, and this is a major keeper, is OPI Barefoot in Barcelona. This color has been in the OPI range for a long time and I can totally see why – it's a pinky nude that has a chameleon quality. It looks good with everything on everyone, I'm convinced.
Of all these shades, only one did not work. I feel pretty satisfied with that conclusion and am going to treat myself to a manicure and pedicure soon with these colors. Because I still don't know where my nail tools are.