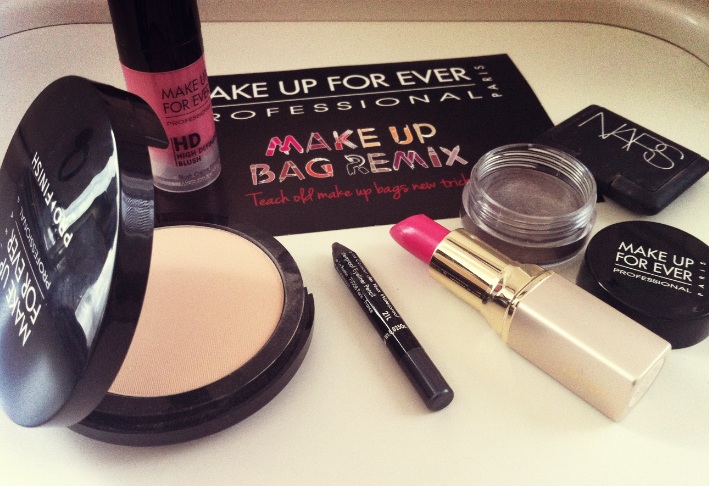 The Make Up For Ever Make Up Bag Remix tour stopped in Chicago this past weekend, setting up shop at the Old Orchard mall in Skokie. This was the perfect excuse to get my makeup done and hit up Madewell and J. Crew at the same time. I packed up my makeup bag with some everyday staples, spring pinks and the new Make Up For Ever Pro Finish Foundation that I've been testing for the past few weeks.
Talking Aqua Creams. That's shade #2 in Melissa's hand.
The Remix tour offers a bit of everything — master a bold lip, perfect a barely-there look or just figure out just learn how to make your makeup bag work harder for you.  My mission? Do something a little exciting with the eyes, using grey, not black, and pair it with a bright pink lip. Melissa, a NY-based Make Up For Ever artist, gave me some great tips and a pretty killer look. She used a lot of my own makeup, too. For the eyes, she used several different Aqua Liners, in shades of grey and silver on the bottom lash line and this Diamond Powder in the inner corners to brighten it all up.
Never one to keep a good beauty tip to myself, Melissa taught me when using the Aqua Cream, or any cream shadow, to use two brushes. One that's firm and flat to place the color on the lid and the other that's dense and fluffier to blend it out.  I also was looking for tips to using the Pro Finish Foundation, which is billed as a wet or dry formula. Up until this point, I'd been dusting it on dry over my tinted moisturizer. You could say I was tentative to experiment but now I prefer using it wet! The key is to douse the bristles of a kabuki brush (I use this one), ring them out so the brush is fully damp (but not dripping) and sweep it in a round motion over the pan and buff onto the skin in a circular motion. You would think the coverage would be heavy and perhaps even cakey, but it's weightless –no powdery feeling whatsoever!
After Remix-ing it with the Make Up For Ever folks, I took in some Old Orchard shopping and found the perfect chambray shirt at Madewell, naturally. Also – I no longer have to venture out to the burbs for a chambray fix,  Madewell is officially open downtown as of last week!