Jenna DeBord, a.k.a. The Garmenteur, is in the business of personal style. She's got you covered on the closet edit, shopping your existing wardrobe and helping you find the perfect outfit for any occasion. Her budding business empire is based on a very important principle: individual style. She doesn't want you to dress like anyone but you. Though, admittedly, I want to dress like her! Over a cup of green tea at Heritage a few weeks ago, I chatted with Jenna about blush, facial oils, the hardest workout in Chicago and the perils of long hair. Read on to see what Jenna spilled to me.
Your makeup is as flawless as your style. Tell me all about your beauty routine!
Thank you! That's very nice of you to say – if we are talking makeup, I start with Smashbox Photo Finish Primer and use Hourglass Immaculate Liquid Powder Foundation. I apply with a brush – it lasts so long! I use Smashbox "The Strip" Bronzer and I like NARS blush, rotating between Gaiety and Orgasm, sometimes layering the two of them. I love blush – I think it adds such life to your complexion. Especially in what seems like a never-ending winter. For eyeshadow , a friend of mine gave me the Urban Decay Naked2 palette and I often just line my eyes with a black pencil. I mix up my mascara, rotating between CoverGirl Lash Blast, Diorshow or Lancome. I actually think the mascara primer is as important as the mascara itself. I start with the Diorshow Lash Maximizer and you can use any mascara over it.
Do you have a signature lip color? Are you a gloss, balm or stick girl?
I really only wear chapstick or my YSL Gloss #10 – which is discontinued – I bought a few of them and will be in the market for something new when I finish the last one. It's a fresh, sheer red that I wear day or night.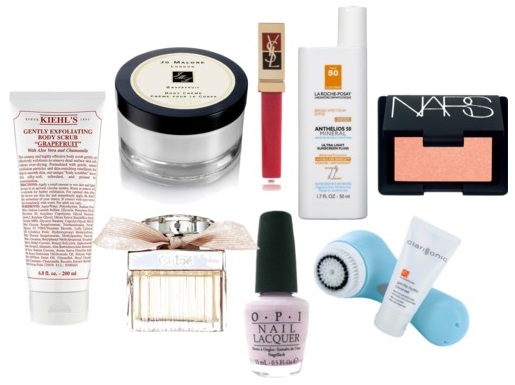 What about skincare?
Skincare is incredibly important to me – I had a chemical burn on my face in 2007. It was a routine peel gone wrong, the incorrect solution was applied to my face…it was a nightmare! I was on bed rest for a month and it took about six months to a year to completely heal.  Needless to say, that was my first and last face treatment. My current routine is I wake up at 6:45 — I like to get my day going and I enjoy coffee while watching the Today show and answering emails. I wash my face with Cetaphil.  Now that I work from home, if I don't have a client meeting or appointment, I'll try and work out in the morning – I like to do something outside weather permitting, but otherwise I do one class a week at Body R&D, it's a workout on a "mega reformer" – I love it, it's hard –or a class at Elements in Motion,  a Pilates studio I've been going to for 2+ years. A few mornings a week I use Peter Thomas Roth Complexion Corrector Pads – I don't use them every day since I use RetinA at night and don't want to over dry my skin. Right now, I'm using Kate Somerville Oil Free Moisturizer.  I like how light it feels. I will often skip the foundation and just wear La Roche-Posay SPF 50 (tinted formula). I am interested in your recommendation on a facial oil, because I have an admitted fear but you have changed my perspective!
Oils are far from scary – I promise! How do you switch up skincare in the evening?
At night, to wash my makeup off, I use a Clarisonic. I use RetinA mixed with a little Cetaphil and Algenist Eye Balm. Skincare is incredibly important to me.  I don't have a problem spending money on products that improve my skin (especially after the ordeal with the chemical burn). I don't tend to splurge on makeup, probably because I don't experiment with new products, so once I find something that works I stick with it.  I wouldn't randomly buy makeup unless I've researched it or had someone recommend it directly to me. But I think your skin care needs to evolve as you age…much like your style.
I would agree! I feel that also applies to hair. Who does yours?
I go to Salon U – Sue is my girl. I've probably referred half the city to her. I get my hair cut every seven weeks. That's a "splurge" that is worth it to me, especially with how long I keep my hair. She does my color, too. I don't wash my hair every day and I rotate my shampoos, between the Bumble and bumble Color Minded and Kerastase (pink bottle!) I have a jumbo bottle of the Kerastase, but I picked up the Bumble at Sue's recommendation. She also got me started on using a hair mask – I chose Kiehl's Sunflower Color Preserving Deep Recovery Pak because the baylage on my ends is drying. But the verdict is out on if it has really made a difference.
What other products do you keep in your shower?
Let's see, Kiehl's grapefruit body wash and exfoliating scrub – I'm a huge grapefruit fan. It's clean and fresh. Sometimes I use Neutrogena Rainbath. My favorite body lotion is Jo Malone Grapefruit Body Crème. I use that after the shower. As for perfume I have a basket full of little Jo Malone perfume samples or I use Chloe.
What nail color are you feeling this spring?
I like white nails for spring. I use OPI Tickets to Paradise – it's been around for a while. I also love OPI Mod about You – it's a matte pink/white. I do my own nails, except for the occasional pedicure when I seek out the pros.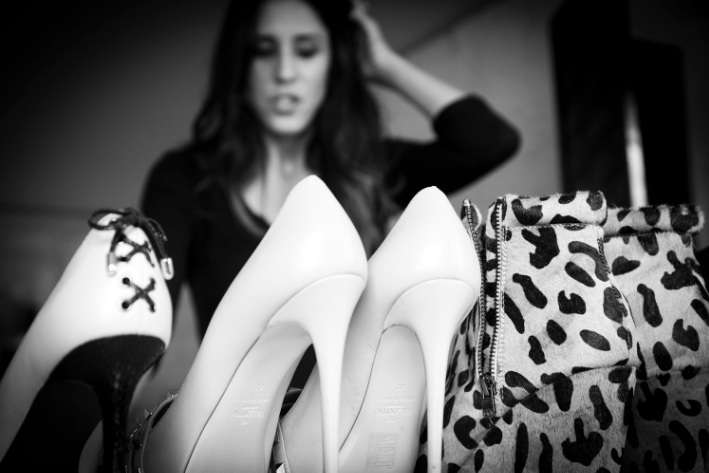 Your business is all about helping people discover personal style. What's the best indicator of style?
One of the best indicators of whether or not you are nailing your own personal style is to come up with three words to define it, then seek out the opinion of someone who knows you well, and someone who you are acquaintances with and see if they arrive at the same conclusion. Perception is reality. When I work with someone, we do a consultation and commit to the style on paper. It forces you to evaluate how you want to be perceived and if that matches how you're dressing. Stopping to think about it and define your style will inform every purchase and visit into your closet. There's a difference in liking something because you think it's pretty and it being true to who you are. You can have an appreciation for clothing that isn't right for you. To differentiate between the two I often recommend creating (or evaluating) your Pinterest style board – can you pinpoint the adjectives that describe the common threads? Here's mine, for example!
What are your three words?
I try to strike a balance between edgy, feminine and sophisticated. Sophisticated refers mostly to silhouette, cut and color (tailored clothing, lots of black, white and grey with subtle pops of color or prints). I love fierce details like studs, leather, cutouts and I like to weave in softer elements whether that's neutral blush tones or a more feminine shape.
Any favorite local shops you frequent?
Most of the shopping I do is online, it's a big part of my business. But locally I like Space 519 – they carry good brands and unique jewelry. Zara, Intermix, Shop 857 on Armitage and the Sandro / Maje sections at Bloomingdales. There's a great antique store in Ravenswood that I like to shop for jewelry – you can find some of the best pieces in Chicago antique stores.
________________________________
To read more on Chicago's most fabulous  "312 Beauties" click here.