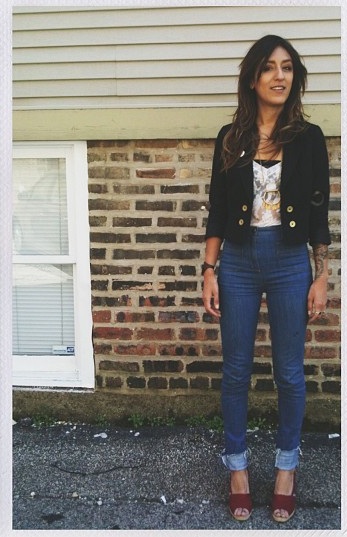 Alexz Sandoval is one of Chicago's hippest chicks. As the founder and designer of Bird Trouble, she takes thrift and vintage shop finds and turns them into one-of-a-kind handbags and accessories. The creations Alexz imagines from an old leather jacket and blankets is just beyond. With each piece she sells in her Etsy shop, also comes a little story on where the materials are sourced. She calls it the mystery of a found textile. When she's not designing, Alexz is managing PR for Sine Qua Non Salons. So in addition to her great sense of personal style, she also has amazing hair, always. I asked this 312 Beauty to show me her makeup bag and also share some of her trade secrets to shopping thrift.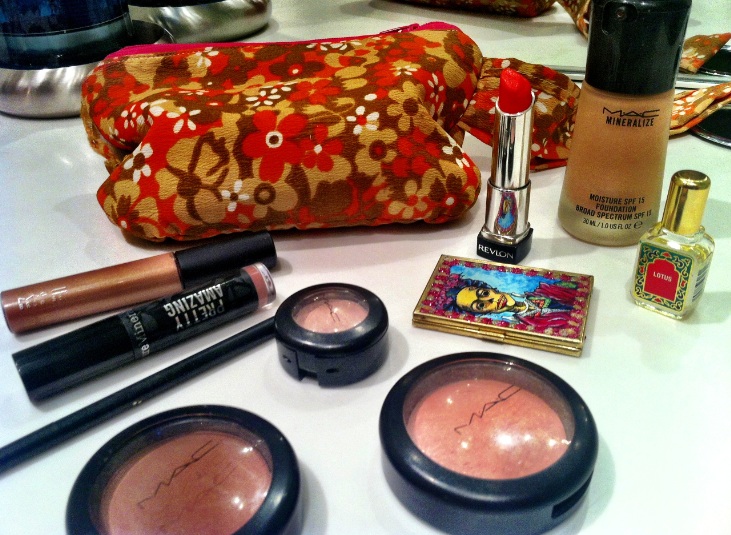 I sense a MAC girl by the looks of your makeup bag. What are your favorites?
My girlfriend works at MAC — Celisa Martinez at the MAC at Macy's on State Street! I've used the brand since high school! I love the new Mineralize Foundation because it gives me a dewy look. I apply MAC Blush in Blunt (darker – great for contouring) onto my cheeks while I smile really cheesy, swooping it in a circle the define my cheeks and a up a little on my cheekbone. I then apply MAC Amber Glow, which helps give the dewy finish I love, right above Blunt in the same direction and a little more on my cheekbone to the sides of my eyes. I also sometimes use Amber Glow on my brow bone.  I also use All That Glitters Eyeshadow – it's the best. For a pop of fluorescent, I use Revlon Colorburst Lip Butter in Tutti Frutti.  I also love bareMinerals gloss in Savvy. It's super nude and I use it for touch-ups throughout the day. The mirror is from Mexico and I made the makeup bag from repurposed vintage material I hunted down thrifting.
How did Bird Trouble come about?
I opened up an Etsy shop in 2009 and have been experimenting ever since.  I started with pouches and reusable coffee cub sleeves and now do wallets and bags, too. I'll go to the thrift store and get leather jackets in colors I like and buy curtains or scrap fabric, or a blanket, and bring it all home. It's usually vintage or repurposed fabric. It's different every time.
What does Bird Trouble mean – how did you come up with the name?
Bird Trouble is a song from this punk band from England. If you put it with my bags, it totally doesn't make any sense really but in the song bird means girl. He talks about this girl basically taking over her boyfriend and not letting him have any fun, so he has bird trouble. I just thought it was cute to use the word bird to describe a girl. A little European, you know?
What are your favorite thrift shops in Chicago? Tips for the rest of us?
You need patience and open frame of mind! Look to pair things you don't see on a mannequin. I really like Unique on Sheridan – it's never picked over. There are a lot of cute shops in Pilsen and Bridgeport. I also like Seek on Chicago Ave. A lot of my friends sell vintage, too, so if I'm looking to spend and support someone, I do that. But otherwise, if it's not $5, I'm not paying for it!
For more on Alexz, check out Bird Trouble. And, for a sneak peek at Bird Trouble's upcoming collection, check out this preview!