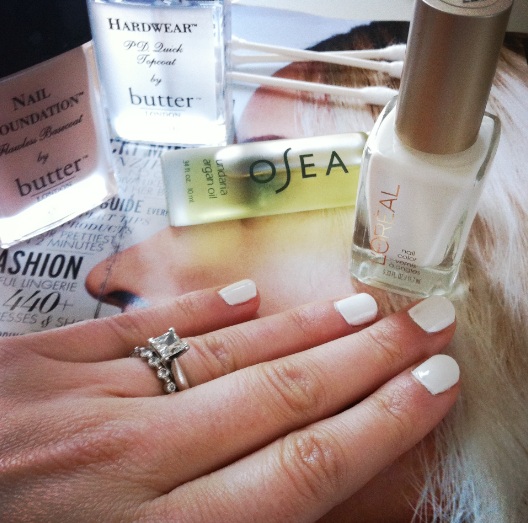 A trend I am excited to weave into my warm weather style is the white nail. It was all over the spring runways and when I saw how fab it looked on Taylor, I knew I needed to get my bright white tips in order. This mani will be everything against bronzed skin (I say that and hope you know I mean faux…real sun is frenemy).  Abandon any notion of "white out" nail, and take note!
The first rule of a white mani is HYDRATION. You think a scraggly cuticle ruins the appearance of your manicure? Well, it's all sorts of skanky with white nails. The wind did a number on my hands the other day and I was horrified by how magnified my dry skin looked against a white mani. To remedy, I've been carrying around this OSEA Malibu rollerball around with me for dedicated cuticle moisture blasts. It's a very hydrating blend of argan oil, undaria algae, chamomile, grape oil and vitamin E. I love the no-fuss rollerball app and, bonus: I can use it as a face touch-up, too.
The next rule? Over apply. I did three coats of L'Oreal Colour Riche in "I Will!" and I'm wishing I'd had the patience for a fourth. The goal is full opacity. The L'Oreal applies smoothly and evenly, so I could have added another coat no problem. Not bad for $6!
Last, never skip the base and top coat. This goes for all manis. It might seem like an unnecessary extra step – especially when you're already wearing 3-4 coats of actual color – but it protects your nails, gives it a glossy finish and helps it last (way) longer. The butter LONDON base/top duo is my newest discovery and I'm so impressed with how well my manicure holds when I use.
note: sample of the OSEA provided for editorial consideration.