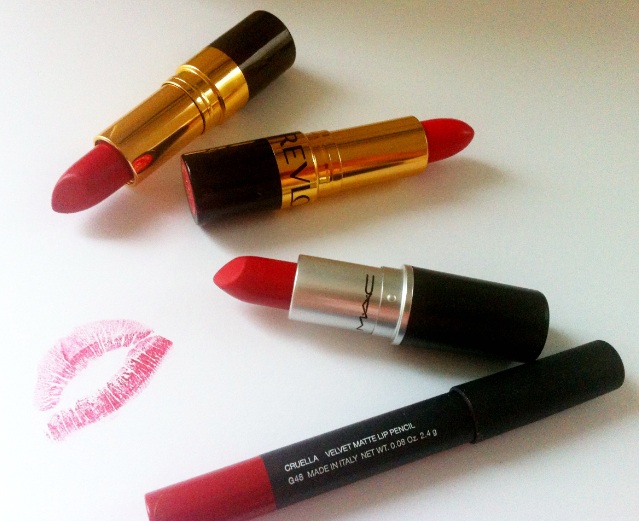 Nothing makes me happier than seeing a woman sporting a bright lip. Bonus points if it's during the daytime. I think the ladies of Chicago are warming up to bold lipstick, as evidenced by the flurry of coral that dominated the past year. Seriously, if I see you on the El at 8am wearing your finest fuchsia to work, I will totally give you a thumbs up. And if you're wearing a cherry red, I might even give you a high five. Red lipstick can be intimidating; at one point it was for me. Now, I can't get enough. Especially when there's snow on the ground! I think my winter uniform is thick black leggings, an oversized long-sleeve grey tee, glasses and a red lipstick. I love to dress a red lip down. It does make up for the fact that I'm wearing glorified PJs in public.
What reds are my go to? I've been known to tinted balm or sheer gloss it, but I have a stash of red lipsticks that I always turn to. Let's tackle the subject, low to luxe style.
I think Revlon makes the best reds in the drugstore. The classic Revlon Super Lustrous formula in particular. I'm partial to Cherry Blossom (pictured at top) and Love That Red, but there are literally more than a dozen red hues to choose from. Depending on deals, you can snag a tube of this for $5.
At $15, MAC is square in the moderate, a.k.a. don't feel guilty buying, range. Some of my favorite reds come from MAC's infamous flurry of limited edition collections (read: once it sells, it's gone or on eBay for a ridic price) but MAC Russian Red is one of my most beloved reds. It's got a blue undertone so I like to think this one makes my smile brighter. Russian Red is a worthy red to add to your mix.
The experience of wearing a NARS Velvet Matte Lip Pencils is one I adore. At $24, this is on the luxe end and they feel every bit of it on the lips. I love the pencil application and the matte finish. Cruella is my jam, but Dragon Girl always tempts me.
I'd love to know your red lipstick philosophy and if you have any favorites to share, low or luxe.