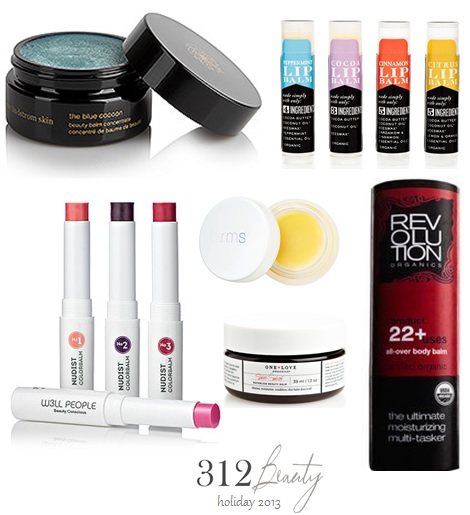 Are you dreaming of a white Christmas? How about a balmy one? You know where I'm going with this. I'd say a tube of lip balm is a consummate gift but as a balm extremist, I take it to a whole new level. I had to create a dedicated gift guide on this topic alone to explore what's out there beyond that tube of Chapstick. These are all daBalm.com. Get to it!
These S.W. Basics lip balms taste like dessert and are a favorite of mine. I think the flight of four is such a fab gift.
The best part of balms is how many ways you can use them. Take Revolution Organics up on their challenge of 22+ ways to get your balm on.
I actually treated myself to an early May Lindstrom holiday present (it's all Cyber Monday's fault). The Blue Cocoon Beauty Balm Concentrate is the stuff dreams are made of.
I consider introducing people to One Love Organics Skin Savior a public service. Mix this with your mineral makeup to make a cream, slather it on dry spots and you'll soon realize that life is just better with Skin Savior.
The W3LL People Nudist Lip Shines are on my wish list! Every single color.
The RMS Beauty Skin & Lip Balm is a hidden treasure! You could certainly use on your lip, but I think this is great to apply on the face and cuticles for extra moisture.