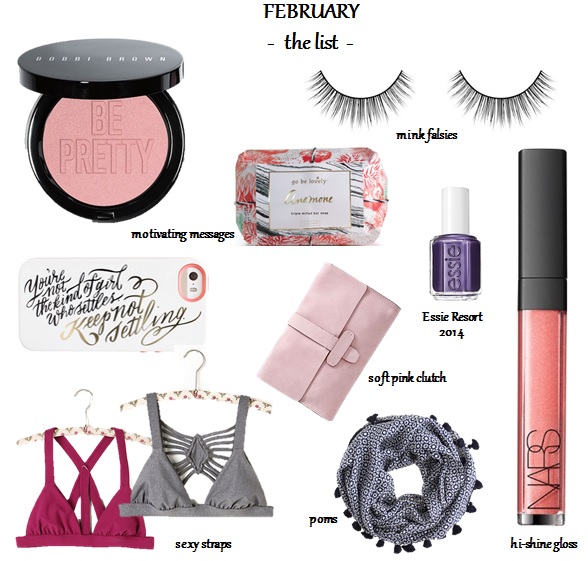 Congrats, we survived January. While February is just as wintery, I like it so much more. Related news: I will spend five days this month on a beach in Mexico. That tops my list this month! I've also got my eyes on pretty pink beauty and accessories and plan to update my bra wardrobe with everything Free People. Love the back straps on these two.
I'm down for positive reinforcements, especially when they are stamped onto one of my favorite Bobbi Brown products. The Antigua Illuminating Bronzing Powder has never looked so good.  I want everything in Illume's new "Go Be Lovely" collection for spring. And, this iPhone case by The Everygirl is a must.
Making it my mission to finally master applying falsies this month. ESQIDO mink lashes are the lash extension alternative I've been looking for!
I can't quite commit to shopping for warm weather clothing yet, but lighter versions of my winter staples…YES.  This J.Crew Silk Snood (with poms!) will be mine.
This leather clutch in pink, though the mint and cornflower blue are equally tempting.
NARS Bimini looks like the perfect, wear with everything gloss.
I love every color in Essie's Resort collection. The plummy Under the Twilight will be the perfect balance to all of these soft pinks!