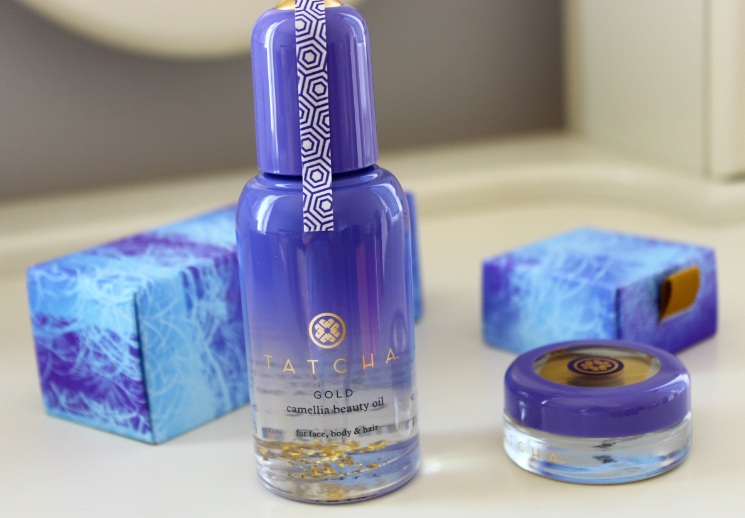 The power of plant oils is well-documented on this blog. I use them to cleanse, moisturize my face and body and to tame my tresses.  One oil than can do all of the above is camellia oil, which comes from a winter-blooming flower native to parts of Asia. Camellia oil is loaded up with essential fatty acids, vitamins A, B and E and absorbs into skin as quickly as water. If you look closely, you might see this ingredient cropping up in your skin care. And while we might just be catching on to Camellia, it's been used for thousands of years in ancient Japanese culture.
Oh you know, just 24-karat gold leaf lip balm!

Tatcha dug into their archives filled with recipes and beauty secrets of Japanese geishas and found that these women would drench their skin in camellia oil as a post-bathing ritual. It inspired the creation of an opulent Camellia Beauty Oil and Lip Balm. Emphasis on the opulent. That's actual gold you're seeing. Have you slathered your lips in gold lately? Don't you love how that gold leaf looks like its floating on top of nothing?  Lemme tell you, spreading a blend of crushed gold camellia oil onto your lips makes you feel fancy.  And watching the gold flakes percolate inside the glass bottle of the beauty oil is enthralling. Even better, is how many ways you can put that bottle to work. Try using a few drops as an a.m. moisturizer, pressing it on to your décolletage for shine or massaging it into the ends of your hair. Remember, it absorbs just as fast as a splash of regular old H2o. Tatcha created a duo that gives you a special feeling whenever you use it, like they've let us in on an old family secret. Which, in all truth, they sort of have.