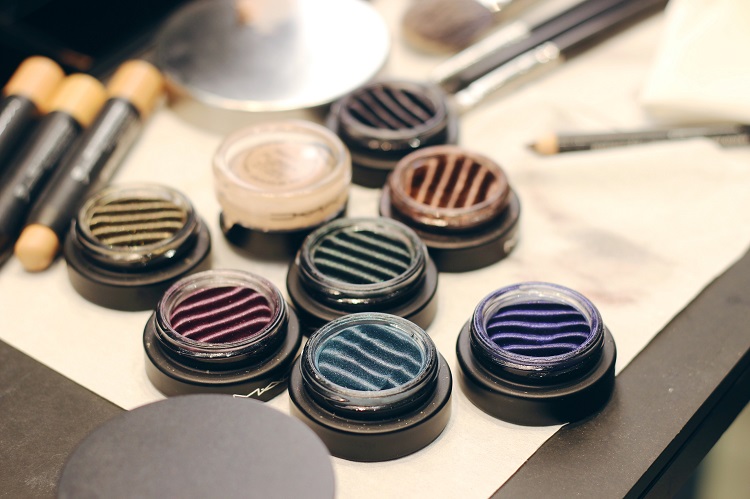 The future of eyeshadow is here and it looks like a velvet couch from the 70s.
This past weekend, I had a makeup date with MAC Cosmetics Regional Makeup Artist John Naughton at the Michigan Ave boutique. I was curious to get the scoop on MAC's new magnetic eyeshadows, the Spellbinders.  a.k.a. those velvet couches. Think a more intense version of MAC's loose pigments ionized in magnetic jars. The texture, velvet to the touch, is unlike anything I've seen before. They're loose but you can shake them upside down and they stay put. Beyond the novelty, the shadows themselves are intensely pigmented with a metallic finish. Definitely not my every day wear, but I was curious to see how they fared.  As always, I left John's chair with so many useful bits of knowledge that I couldn't wait to try myself at home and also share with you.
That's John!
To prep my lids, John used a fluffy brush to apply Painterly all over my lid. I knew Paint Pots were an awesome base and this was a nice reminder. I'm going to start applying with a brush. He applied the soft greige-y lilac Quarry over Painterly before doing anything else. Quarry was like the home base, do-it-all hero. He kept on going back to Quarry to blend out everything in the crease. We also did the eyes first – something I almost never do but should. Especially when you're out to make a mess.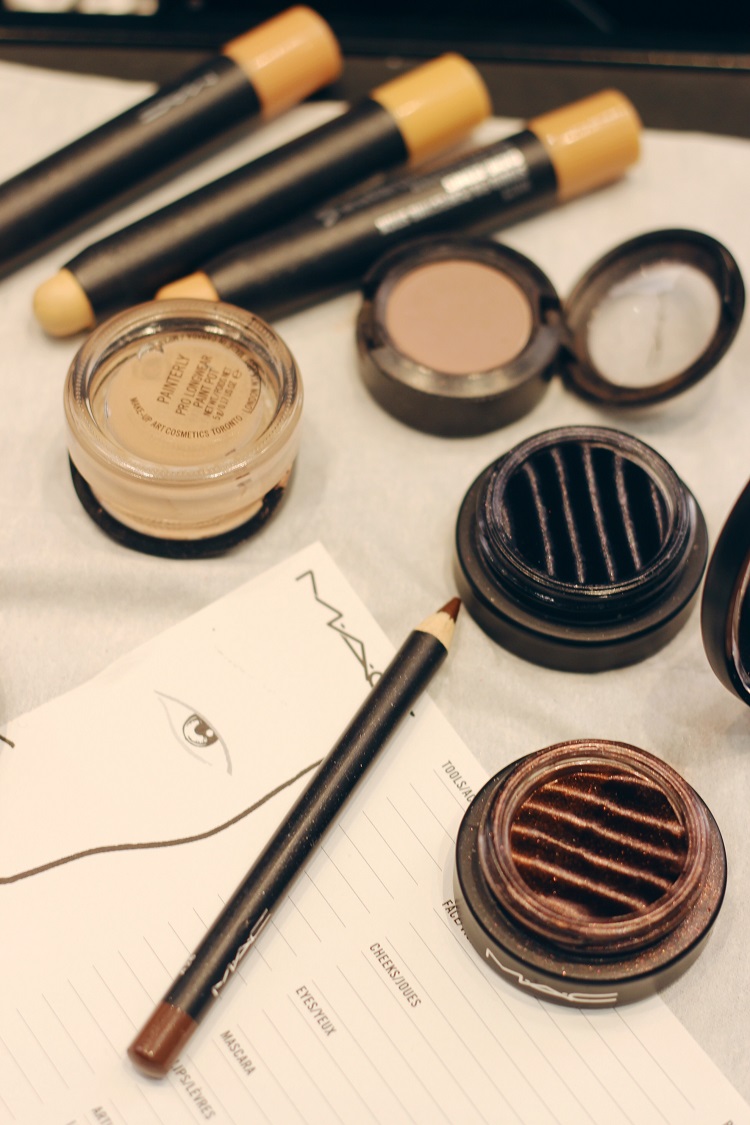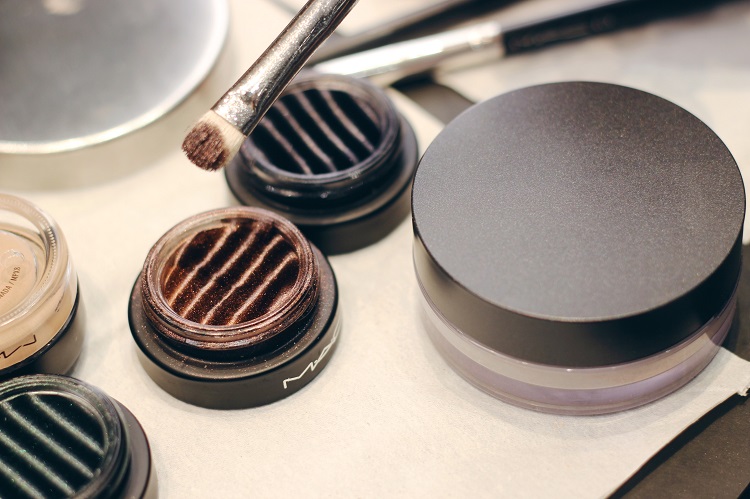 John layered the Spellbinder shadows in Dynamically Charged and Retrograde on the lid, concentrating the coppery Dynamically Charged on the inner and center of the lid. I love this color – it's the most neutral of the bunch. They stay well on the lids and I think would be a lot more user-friendly at home than the pigments (I can't be trusted with loose shadows!)  He sprayed the brush first with Fix+ which also helps any loose bits stay on the brush and intensify the shadows even more. Retrograde challenged my comfort zone in the outer corner but I was into the bold look. I do think that layering these over a black liner close to the lash line is how I would wear Spellbinders in my daily life. They just come to life over a black base.
John went minimal makeup on my skin, using the new Studio Fix concealer sticks instead of foundation and dusting a layer of the new Studio Fix loose powder to set everything. It didn't feel like I was wearing any makeup. On my cheeks, John mixed the same brush in Soft and Gentle Mineralize Skin Finish (a peachy bronze highlighter) with Gentle Blush and spritzed it with Fix+ to apply slightly damp. The technique was really cool and something I'm trying at home.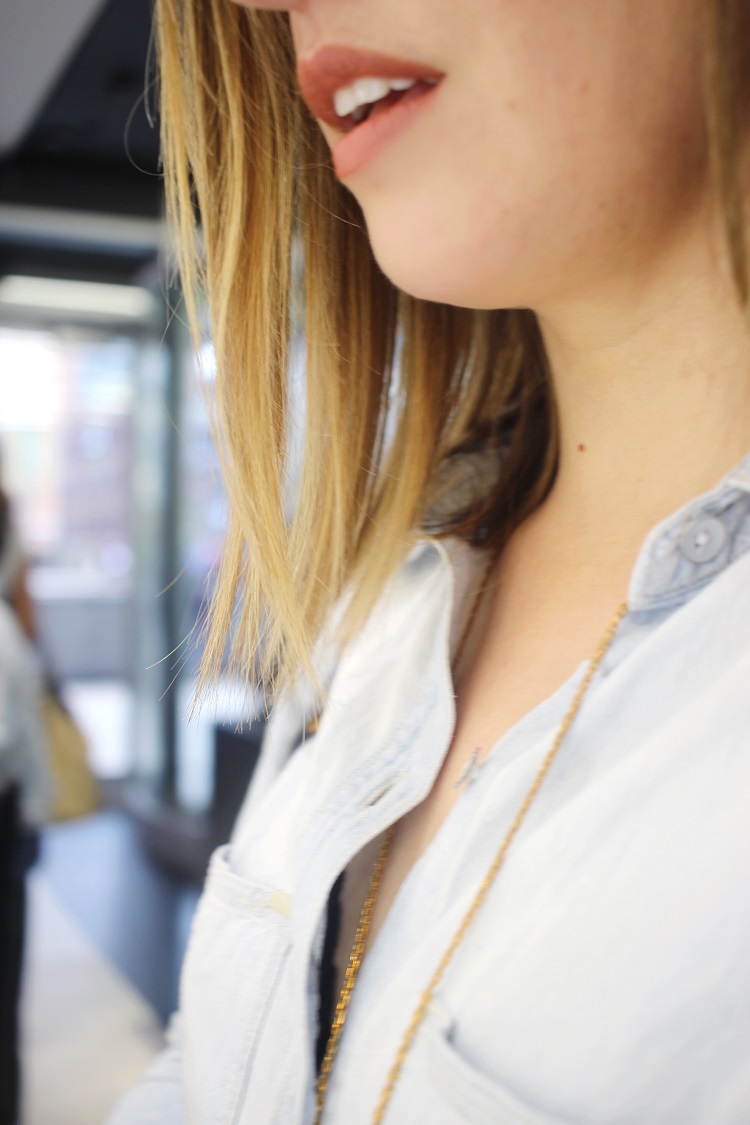 I have been wearing almost exclusively MAC's Liptensity shades this month and John kept with my plan and applied the rosy brown nude Smoked Almond to finish the look.
It was a ton of fun to experiment with the Spellbinders under the guide of a MAC makeup artist. I'm reminded of how much I really love the brand and how fun it can be when you go beyond your daily routine.