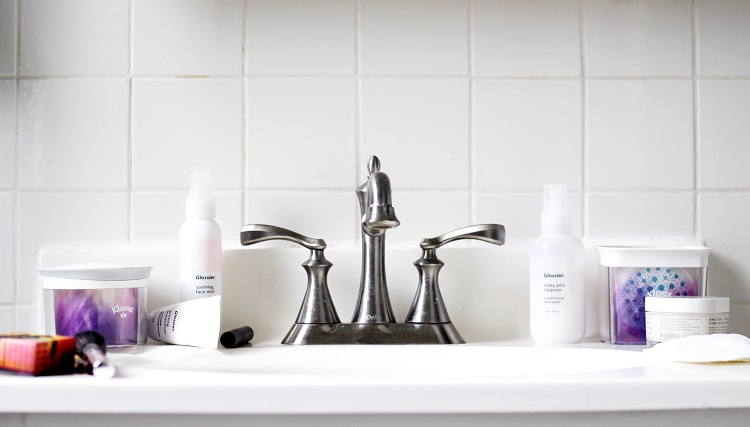 I've got a serious yin yang situation happening in my bathroom. Against the wall – my beauty annex– there is straight chaos (see Insta proof of my clutter!) Then, there's this serene sink top where I get ready and wash my face.  Truth: I keep it minimal.  I'll say though, even in my chaos is a real sense of organization. Trays, glass jars for lipstick, lucite drawers to organize makeup, repurposed candles for lip gloss. Everything has a home; there are just a few too many residents.
The sink side (the yin?) is pared down with some new cleansing staples from Kleenex, of all brands. Why haven't they been in the makeup removal business previously? I mean, it just makes so much sense. There are five pieces to this line and they're all super smart and useful. Think refillable containers of facial cleansing wipes, eye makeup removers, exfoliating cushions that you activate with water—a no-brainer for travel; no liquids! And these super swanky cotton soft pads that feel luxe to the touch and are perfect for applying toner or even removing makeup with coconut oil.
I've put these to work this past month and am a genuine fan. Kleenex sent me a set but I am getting ready to place my own order for some refills. I definitely have some favorites.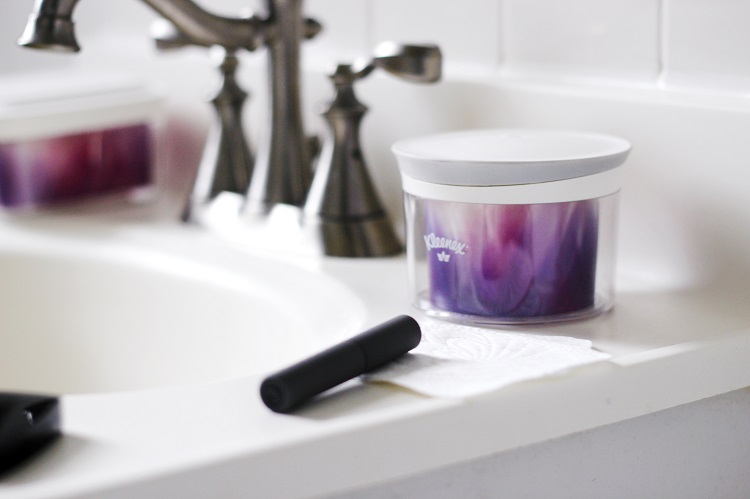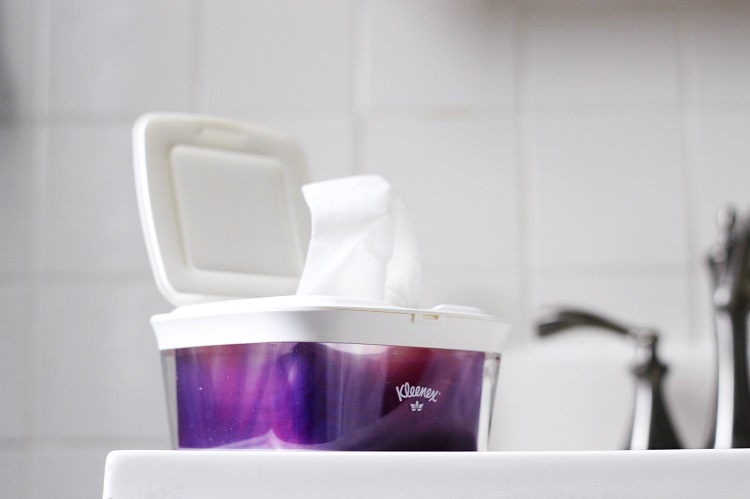 I really like the eye makeup removers. They remove waterproof mascara and are gentle – both in formula and feel. No tugging and zero irritation. I love my coconut oil but sometimes I get it in my eyes and fog up my contacts. These are easy.
Same goes for the Facial Cleansing Wipe. I've been using the Glossier Milky Jelly to wash my face but sometimes first use a wipe around my hair and jaw line where I apply bronzer so I really get all of makeup off. Following up with the cotton and toner helps along those parts of my face, too.
The exfoliating cushions are uber smart. You just add water and massage onto your face for a serious lather. I'll be honest, I really thought these would dry my skin out but they did not, at all.
Oh, and there is also a purse component: Shine Away Sheets. For now, the full line and those lovely refills are only available at Kleenex online.
Whatcha guys think?
note: Kleenex provided me with the products and asked me for my thoughts. As always, those thoughts are mine and mine alone. Thanks all for the continued support!