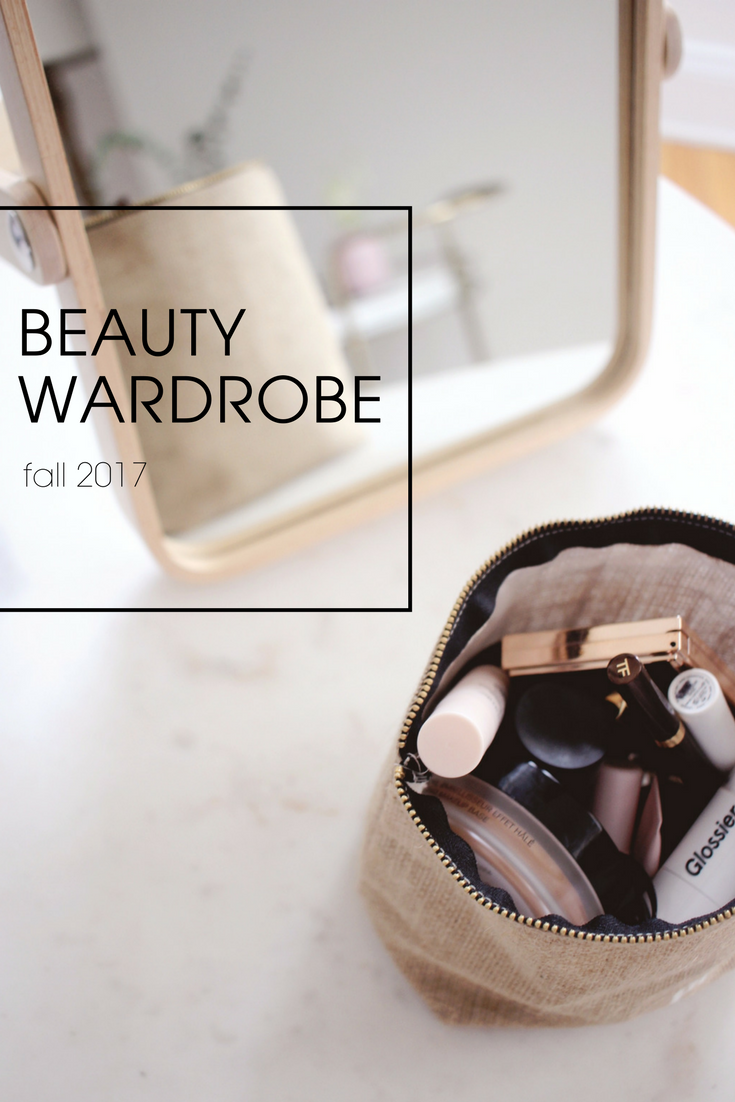 Planning my first fall beauty wardrobe has been almost as fun as thinking about wearing sweaters again. I didn't start planning out my fall beauty wardrobe until almost the end of August. I knew I craved the return of black liquid liner but wasn't as intentional about the next steps as I was with summer. Right before Labor Day, after a cleaning binge, I went through my makeup and selected items that were exciting me and that I missed. There were quite a few "yessss, I have this already," moments that almost felt like I was shopping. You all know that 'new new' high that comes when you buy something. Satisfying but gone in a flash. This was decidedly better. My plan to "trick" myself may actually be working well. But, I did buy a few things also that I'll point out.
Fall fell into place after a cozy weekend at home after what felt like back to back travel. Ultimately, it's a return to classics. The makeup I know and love with a luxurious twist. A beauty wardrobe that will be reliable on sleepy mornings (it is so dark right now when my alarm goes off!) and also makes me feel really amazing on those nights I take myself out, as I plan on doing often the next several months. And, obviously, the kind of makeup that complements the prelude to cozy sweaters.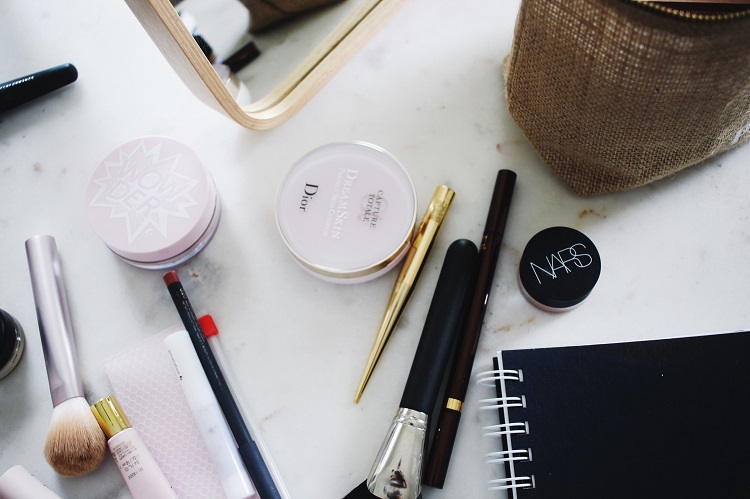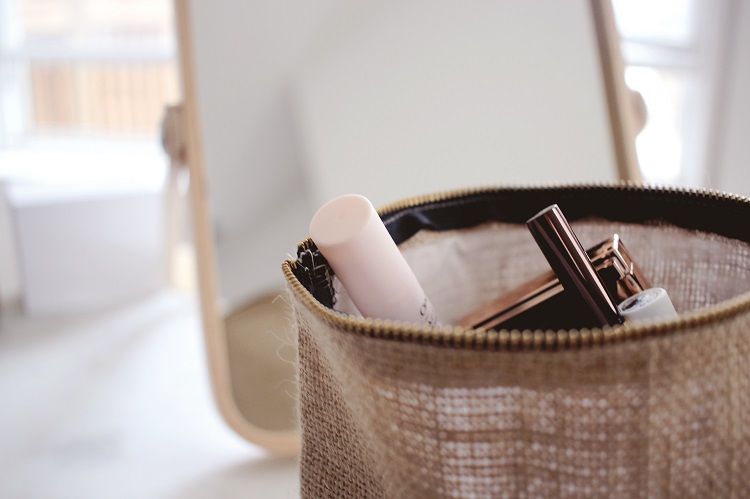 I decided organizing by product type was a capital B bore, so I'm filtering it by mood. This is what my fall beauty wardrobe looks like on my counter. A perfect balance of classic, autumnal and luxe.
CLASSICS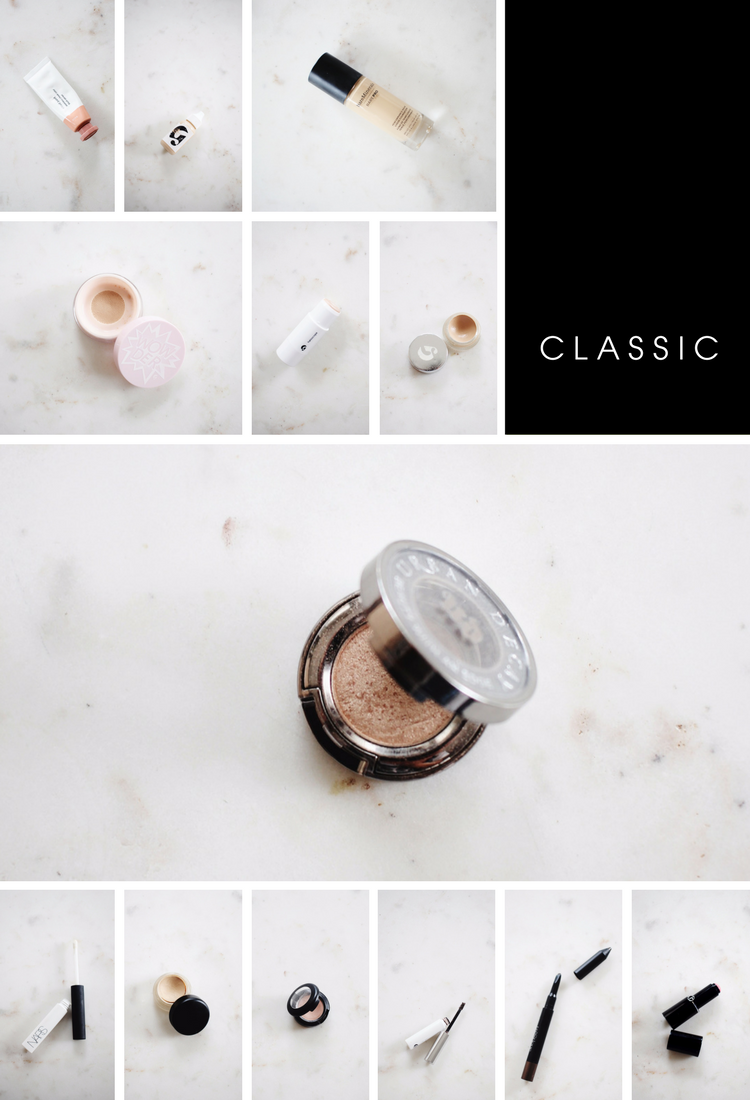 L-R, top to bottom:
Dusk / Skin Tint / barePro / Wowder / Haloscope / Stretch Concealer / Easy Baked Eyeshadow / Smudgeproof Eye Base / Paint Pot / Grain Eyeshadow / Boy Brow / Trestique / Sheer Lipstick
These are the workhorses of my makeup bag. My NARS smudgeproof eye primer, brows and wear everyday eyeshadows.
No surprise, there is also a ton of Glossier in here. Skin Tint and Wowder will be in every beauty wardrobe, as will Boy Brow and Haloscope. I also included Cloud Paint in Dusk—couldn't get enough of it in summer—and Stretch Concealer. These truly are my favorite beauty products, and I'm so not saying that just because I'm a Glossier rep.
I'm also testing out the new barePro Performance Wear Liquid – bareMinerals is an instant classic when it comes to complexion. This is a new launch and I'm so excited to see how it wears. I've tried it a few times and first impressions are positive.
I also have a tiny nub of one of my fav lip colors of all time: Armani Rouge Sheer in 502. I think I've been holding on to it but now is the time to use it. Why do I have a habit of using a lipstick almost all the way and then clinging to it for (not even joking) years. Candidly, this may be past the point of expiration but I'm not throwing it away. It doesn't have a funk sooooo… yeah.
I learned a lesson during the summer: I like a simple eye. No palettes in sight here. I'm planning on a heavy rotation of MAC's Soft Ochre Paint Pot, which is great on its own, and Urban Decay's best eyeshadow color, Easy Baked. You know Half Baked that is in so many of the Naked palettes? This is its less brassy sister shadow. Also carried over MAC Grain because it was a summer necessity.
FALL FALL FALL !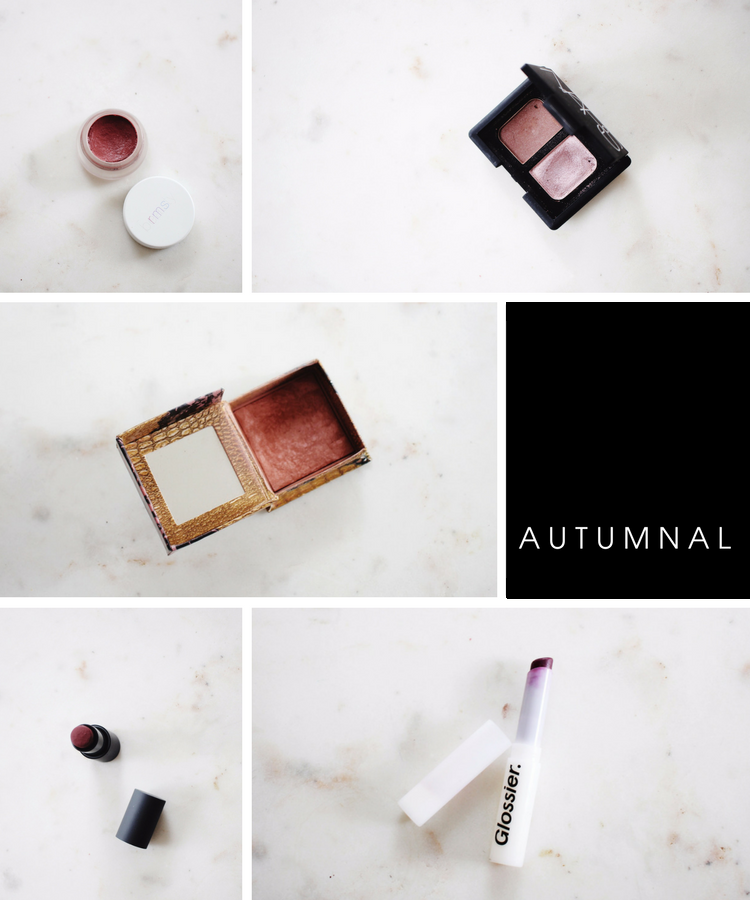 L-R, top to bottom:
RMS Content / NARS Dolomites / Rockateur / Multistick in Cerise / Gen G Jam
My color story for fall is quintessential fall. Berries all the way. Is there another way to be? I'm most excited about my RMS Lip Shine in Content. This was one of those "yesss" moments when I was looking through my beauty drawers. It flexes as a cheek color, too. Reminds me of a glass of wine. I also brought back a combo I loved a few years ago at this time of year: NARS Dolomite Eyeshadow Duo and Benefit Rockateur Blush. Sadly, Dolomite is limited edition so I don't think you can get it anywhere now. Also, I tossed all of my old Benefit blushes in the great purge of spring 2017 and this was the only one left standing. Here's to seeing if I still love it as much as I used to.
A LOT OF LUXE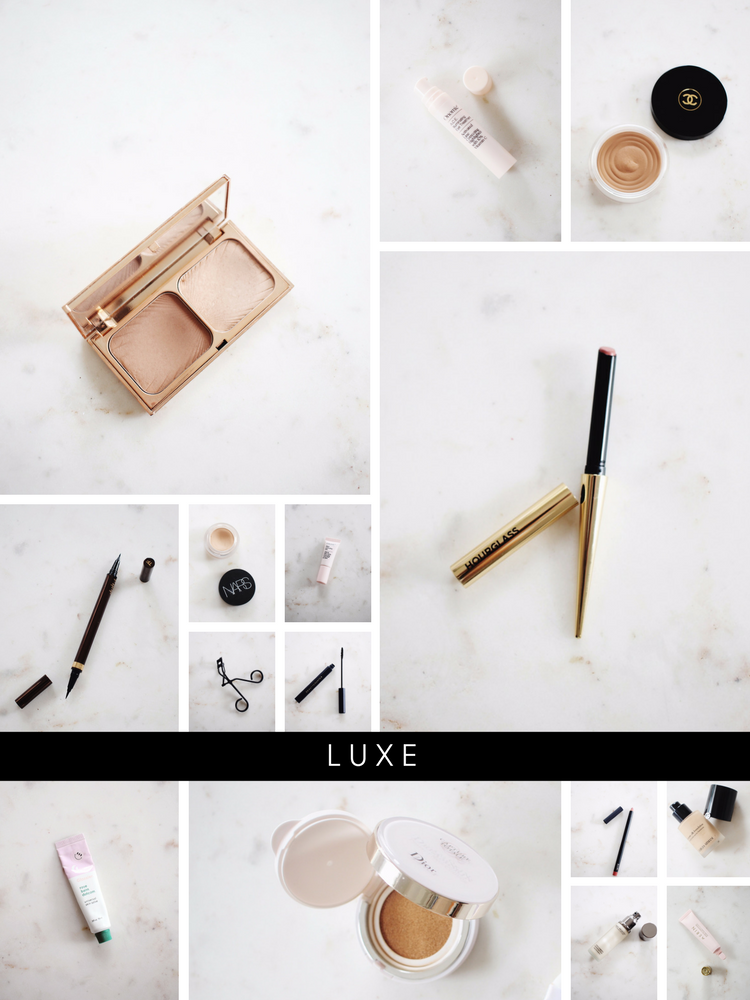 L-R, top to bottom:
Charlotte Tilbury Filmstar / Onomie A.C.E. / Chanel Bronzing Base / Tom Ford Eyeliner / Nars Soft Matte Concealer / Onomie Bright Concealing Elixir / Hourglass Confession Ultra Slim Lipstick / Surratt Eyelash Curler / Beautycounter Lengthening Mascara / Glossier Rose Balm dot Com / Dior Dreamskin Cushion / Bite Beauty The Lip Pencil / Luminous Silk Foundation / Juice Illuminating Serum  / Aerin Rose Lip Conditioner
Ahhh, a touch of luxury.  This is about 45% of my beauty wardrobe, so perhaps more than a touch. I've got quite a few complexion products in here. Allow me to explain, as it may seem counterintuitive to my less is more mantra. I have been intentionally wearing less face makeup but I like different options depending on my mood. This is entirely reasonable to me – sometimes I'm in the mood for a cushion compact and other times mixing up a liquid concoction. When Emily Ferber (darling beauty editor at Into The Gloss) shared her summer beauty routine, I was struck by how perfect her skin appeared and noted that she was using NARS Soft Matte Concealer (an early fav of mine this year) and Dior's Dreamskin Cushion. So, I picked up the Dior and have to say it is every bit as perfect with the NARS Soft Matte as she explained.  I'm also testing out, c/o the brand, Onomie's Bright Concealing Elixir and the A.C.E. Illuminating Treatment which is kind of a highlighter, kind of a concealer. In the short time I've been in my fall beauty wardrobe, I'm having so much fun playing with different combinations.
I included the Juice Illuminating Primer. I struggled to use this the summer because it felt like extra weight on the skin. It's not heavy by any means but I really didn't do any form of priming in the heat. Now, I use a flat foundation brush to apply before my makeup and I can't imagine not including in my routine. It really shines under that Dior compact, let me tell you.
I also included two rose scented lip balms because what is more luxurious than rose. Glossier's Rose Balm Dot Com makes me feel fancy. They pair particularly well with a bit of Bite Beauty's Lip Pencil in 10, which is just slightly mauvier than my natural lip color.
There's quite a few newbies making their debut. There's Chanel Soleil Tan Bronzing Makeup Base, which is as large as a compact disc. It's the only bronzer I included. I wanted a departure from my Laguna for fall since that felt so summery to me. Also, the reformulated Beautycounter Lengthening Mascara. I picked this up from my friend Lauren who is a Beautycounter rep. I really liked this when it launched the first time so am curious how this version will fare – supposedly less smudging, thought that was never a problem with me the first go around. And, the SEXIEST lipstick ever:  Hourglass Confession Ultra Slim High Intensity Refillable Lipstick. It has a vintage feel and I couldn't not try it in my favorite color: a rosey nude, obviously. And, last, for my return to black liquid liner I decided to reenter in the most over the top way: Tom Ford. Here's hoping it's as good as everyone says.
I'm so excited to keep experimenting and will share updates along the way. Anything you'd like to see more of?
I've been sharing all of my beauty wardrobes on Instagram – I would LOVE if you'd join with me. #FallBeautyWardrobe on Instagram is ours for the taking.  Show me your fall beauty!