I had a flurry of LinkedIn notifications yesterday congratulating me on my work anniversary. Work-aversary? It was sorta like people wishing me happy birthday on Facebook. I definitely felt the love and I also had no idea that I was celebrating seven years at my current job, so it was legitimately useful. Nothing like a trip down memory lane, career edition. To think, I used to be that girl who started her career in Washington, DC, carrying the world's largest bag filled with everything. To the point of back pain. I even had a kit from the Red Cross for emergencies – purse-sized edition, but still. You know, a whistle, bag of water, mask. It was a gift, eventually relegated to a desk drawer. Just think of all of the makeup I toted around. Note: too much. General PSA: if you are sore from carrying a purse, it's time to purge.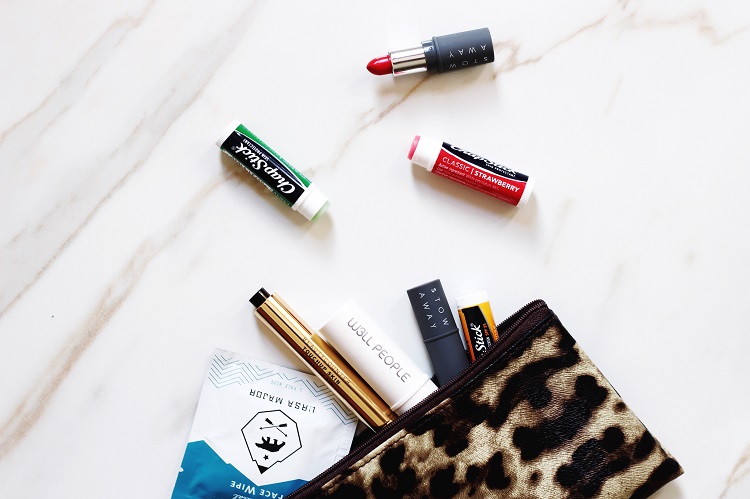 Now, I'm more of a tiny bag within a bag type person. I ask myself, am I actually going to use that during the day? Do I really need to carry mascara with me? When your primary mode of transportation to work is your own two feet, you ask yourself the hard questions.
Thought I'd give you a peek at my current bag within a bag. This bag is perfect – it was a Sephora sample bag filled with Laura Mercier minis. The products in here tend to change based on what I'm using but the categories stay the same. I stick to a few face products, some ChapStick® and lipstick.
Highlighter is a great on-the-go product. I used to pack blush and bronzer but find that I prefer to touch up my skin with highlighter. You can use it on your eyes, layer it over existing makeup without worrying if it's the same blush you put on that morning. A creamy formula like W3LL People Bio Brightener is key. I love the glow it leaves with just a few taps. Plus, no makeup brush required!
Concealer is so useful to have on hand. Preferably something that can cover redness, pimples and brighten up under eyes. Not too many do it all but Beautycounter's Touchup Concealer Pen fits the bill and is the better (eco-beauty version) of YSL Touche Eclat.
I carry a lot of lip products around. I'm honest with myself about that. There are more not even in this bag that stay in the side pocket. Hey, I like options and I try to rotate colors in and out. I have a few tubes ChapStick for under lipsticks or just to moisturize lips throughout the day. The classics are where it's at – Strawberry and Spearmint are my jam, for going on basically ever. The Classic range defends lips against the drying effects of wind and cold weather, which we're getting a blast of this week. Wearing ChapStick under lipstick doesn't change the texture, which I like. I also like to have the ChapStick® Sun Defense with me for times I'm out walking or know I'll be spending time in the sun. This one has to stay in the bag within the bag or I'll never remember.
I don't feel so bad about hoarding lip products since I discovered Stowaway. Their lipsticks are tiny, size of a pinky. Scarlet is maybe my favorite red – the founders spent a lot of time making sure this red was spot on and that effort is much appreciated. The Champagne is a really pretty pearly nude and all of the pinks and berries are very classy. The Scarlet is my fav to just keep in the bag because it – along with the highlighter – can take a no-makeup day to a very glam place in a minute.
It adds an extra ounce or two, but I like to carry face wipes. You just never know. The individual packaged Ursa Major wipes are incredible. They're made from bamboo, filled with essential oils and aloe to soothe skin and I feel so refreshed after using one. Pretty good at removing makeup but I keep it in my bag for more of a just in case.
You can make the bag smaller but you can't totally take the Red Cross level of preparedness out of the girl. Or so the saying goes…
Note: Pfizer Consumer Healthcare provided me with product so I could share my thoughts and about ChapStick. All opinions about being a bag lady are my own. Thanks for your continued support of 312 Beauty!