List of things ain't nobody got time for?
That.
OK, I actually saw that on Pinterest this week and it gave me a very near and dear chuckle. In that vein, let's wrap up this week with a quickie beauty update.  A "PrettyQuick" one, that is.  I'm thrilled to join the Chicago-based PrettyQuick team as their beauty editor. I'll be sharing all of my favorite spots around Chicago to get nails did, hair blown, muscles whacked and brows tweezed. Is this my favorite job ever? Perhaps. We share an ideology. PrettyQuick is the Uber of beauty services, helping the time-deprived women of Chicago book appointments at Chicago's best salons and spas. Instead of calling and hunting down services, book in just a few clicks at PrettyQuick. While it works for the planners getting their appointments lined up well in advance, you can also book with just a few hours' notice. You can narrow in by neighborhood, service and even actual location if you have a go-to. They house your payment info so when you leave your appointment, you are set and on your way. I appreciate that part so much because I am so bad at living the "cash only" life. Oh, and since I'm on the inside now, I have a little intel about a PrettyQuick app and rewards program in the works. Aww, yeah…
Now for the really fun part!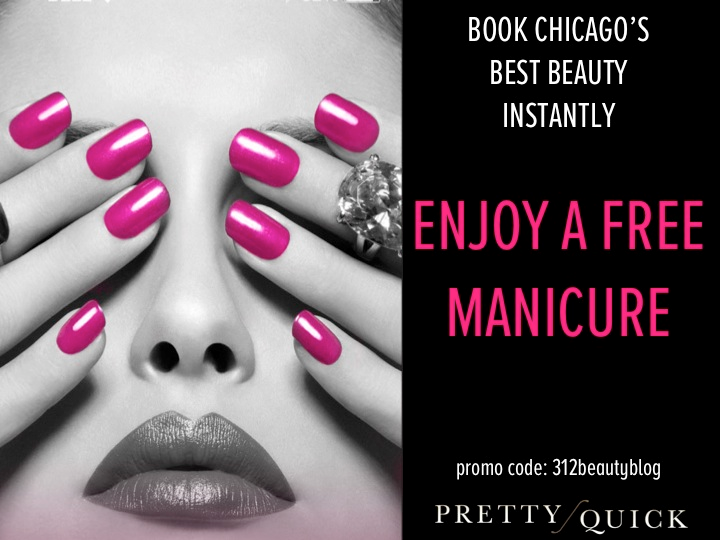 PrettyQuick is offering first time users a free mani! Just sign-up, enter the code 312beautyblog and you'll get a $15 credit in your PrettyQuick account. Chicago friends, seize the mani!
*NOTE: If you are redeeming the $15 credit please make sure to input "312BeautyBlog"