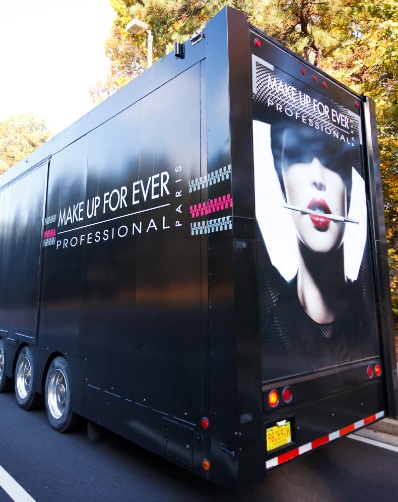 MAKE UP FOR EVER is currently on an epic road trip shaking up makeup bags throughout the country and they're headed to Chicago April 6 and 7. The Make Up Bag Remix tour is headlined by Make Up For Ever's team of professional makeup artists with a single goal of making your makeup bag work harder for you. It's simple: you bring your make up bag (filled with products from any brand) and artists will give you a 30-minute eval and consultation on how to create your most flattering look. Want to pull of a bright lip? Wear blue eyeshadow? Or just create a perfect complexion? They're up for it all. The remixing goes down in their mobile Make Up School and a photog is on hand to capture the "after" look and load on to MAKE UP FOR EVER on Facebook.
For those looking for some one-on-one time, you can book an appointment at MakeupBagRemix.com. The team will be at Michigan Ave. and Illinois on Saturday, April 6, from 12-8pm, and Sunday, April 7, from 11am-7pm.
I'll be there with my makeup bag and the brand's new Pro Finish Powder Foundation, which can be used wet or dry. I can't wait to get some tips on how to best use it — I trust Make Up For Ever wholeheartedly on matters of the complexion (hello, trusty HD Invisible Cover) For those on-the-go, they'll also have a special touch-up station with Pro Finish.
NOTE: LOCATION CHANGE — the event will actually be held at the Old Orchard mall in Skokie, near the Barnes & Noble entrance!