Phone tucked in my purse. Boots strapped on and ready to walk. Eyes wide open. Effortless in spirit and style. This is how I take in the city. This is how I clear my head. And, my gosh, do I freaking love the invigoration I feel as my eyes gaze up and across the skyline. Every one of us has a daily grind. I feel the stress of mine melt away when I'm going from A to B. Taking a moment to observe the details in everything — the faces of others around you, the curves of skyscrapers, the stop and go of traffic—I can't help but feel a sense of togetherness and pride. We all share a skyline. We all make this city great in our own way.
Chicago is filled with doers and makers.
Consider the doers. Like this group of teachers — Peggy, Amy and Jill — that have the patience and will to, well, teach in Chicago Public Schools. I admire their dedication, resilience and what they do for the little peoples. That can't be an easy job, right? Collectively, we strapped on our boots (mostly…Jill  be doing her fabulous thing in red pumps), took in the skyline and let the stress unwind with some good old fashioned silliness and girl time.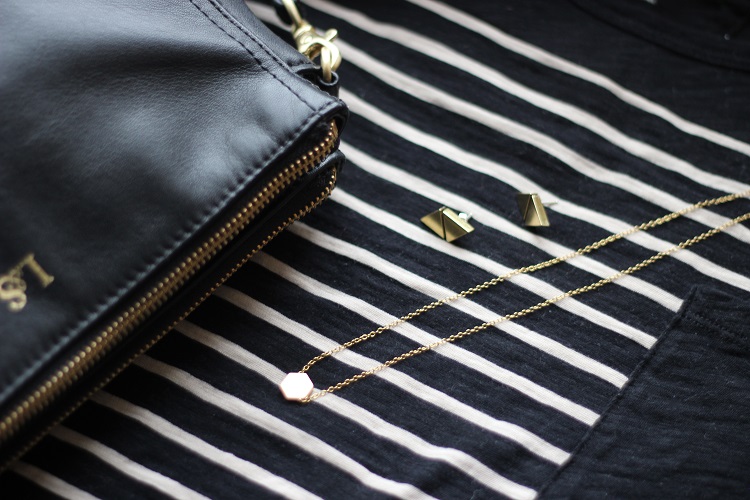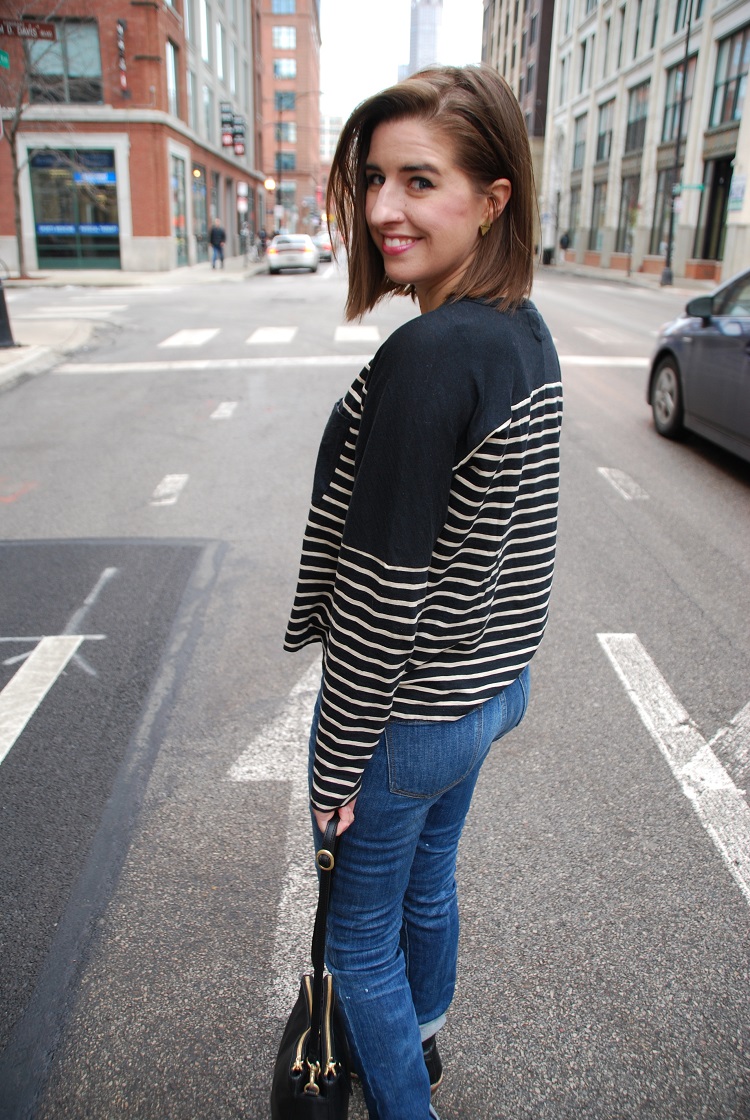 Consider the makers. We are all wearing one of Chicago's most talented jewelry designers – Michelle Starbuck Designs. Michelle is no stranger on my blog – I make my adoration of her known on the regular. Her ability to turn a vintage tile and a brass chain into something spectacular is incredible. Michelle's creations lend themselves to any wardrobe but especially to my effortless ways. I'm wearing the Parrallelogram Studs and Hexagon Chain to complement this look. You could say this is my uniform. I have this tee – aptly named the 'Effortless Tee' in three colors and wear these Madewell boyfriend jeans constantly. I love the cuffed look with boots in the winter months. And, I've been toting along the Lo & Sons The Pearl Crossbody Bag since Christmas. It has so many zippered compartments – pure organizational bliss!
Remember when I wrote a manifesto? A cheeky one, for sure, but one of my favorite lines is about loving your city. So put your phones down, go for a walk, take in the details and let it love you back.
I saved the BEST for last. Michelle Starbuck is offering you something special starting today through the entire month of February: 20% off with code MSD20. Just enter it at checkout on her website.
I can't possibly pick a favorite piece, but I wear the Super Chunky Chain 2.0 Bracelet almost every day and love her geometric stud earrings.
GET IT GIRLS.
Photos by Erin M. Bassett