This Is A Sea Salt Spray. This Is An Invisible Serum. This Is A Medium Hairspray. And THOSE are the actual names of three products in the new 16-piece Davines More Inside styling line. We've all been there. We've left the salon with products that we don't know what to do with when we get home. More Inside lets the product explain itself from the start. What's even better is that most of the styling products are hand-wrapped in graphic printed paper with a sweet and oh-so meta message + how-to tip.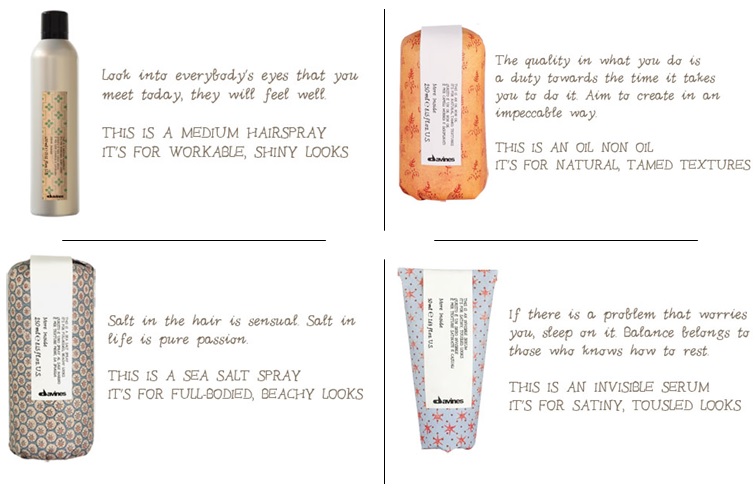 You guys, it's like a present in itself!  One you carefully want to unwrap so you can use the paper again. Didn't everyone's grandma teach them how to open gifts that way?
I previewed the line at salon blonde in Bucktown last week, which is participating in Davines third annual Sustainable Beauty Day, today, October 7. Each October, Davines enlists its salon partners to dedicate a Monday to help fundraise for The Fruit Tree Planting Foundation. The salons offer haircuts and blowouts free of charge, encouraging clients to make a make a donation. All proceeds are given directly to the cause and in the spring, Davines volunteer helps plant the trees. There really is More Inside and behind this brand, which I love.
More Inside will be launching in full later this month. A tip that I got from the team at salon blonde? Spritz This Is A Sea Salt Spray on dry hair before curling, section by section before you curl as you might do with a hair spray. It helps set the curl and gives it a nice texture.