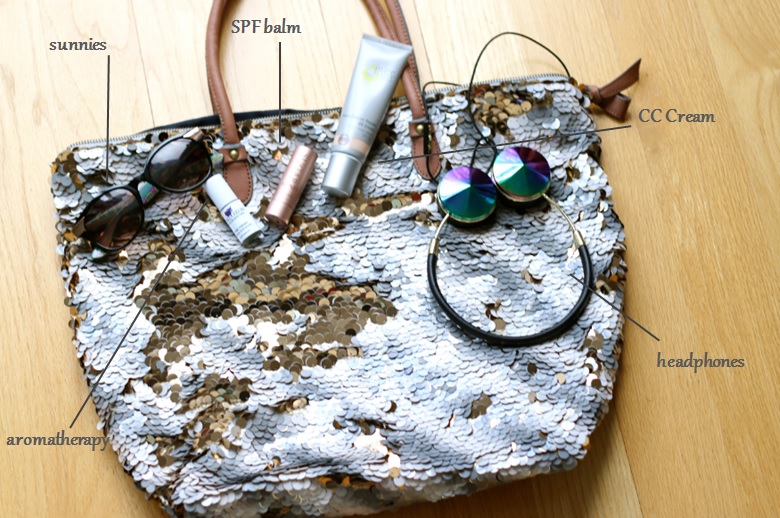 I've finally got this packing light thing down. All of my necessities for five days in Tulum came with me carry-on only. I'm prepared to blind everyone at the pool with this sequined tote. I was eyeing it up at Anthropologie before the holidays and spotted it again a few weeks ago for more than half off. Score! It fits a ton – even my laptop if I want it to. For Tulum, I've packed it with a new book, a stack of magazines, my iPad (JUST finished the first season of House of Cards) and a few other essentials.
The Frends headphones fold in half, which make them so travel-friendly. I love they are especially made for women so they don't feel or look ginormous. These sunglasses I snagged at Old Navy are another purchase I'm so happy about. I love the rose gold accent and patterned stems – and the fact that I only paid $15 for them. It's the little things, guys.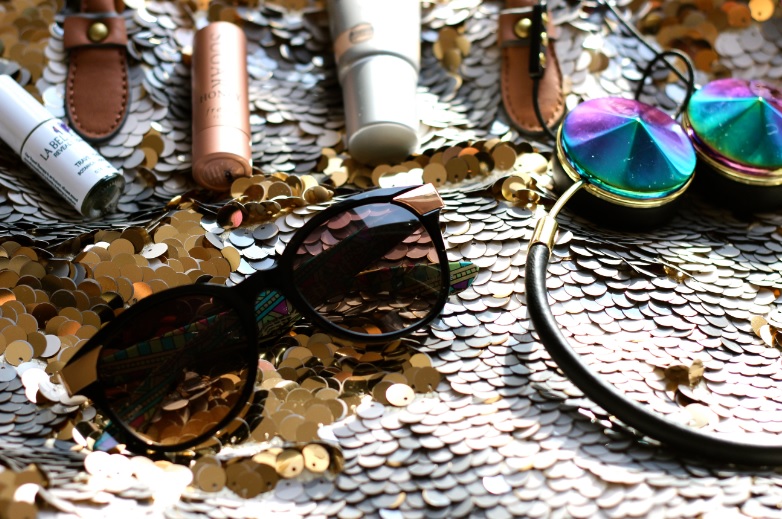 SPF is the name of the game on this trip. My quart-sized bag is packed to the brim with several tubes of Supergoop and I've brought along Juice Beauty CC Cream for another layer of SPF on the face. Gives enough coverage and also adds a dewy finish. Add a touch of this on the cheeks and and there's my two-step beauty routine in Tulum. There's Fresh Sugar Honey Balm so I don't forget to SPF my lips and I skipped the spritz in favor of La Bella Figura Travel Therapy. I always dab it on my wrists when I fly and it doubles as a perfume. A very sexy and relaxing one at that!
For more on Tulum, check out Insta. I keep promising to keep it light on the beach photos, because…ya know, 10 degrees back at home, but, it's all so pretty to photograph here!