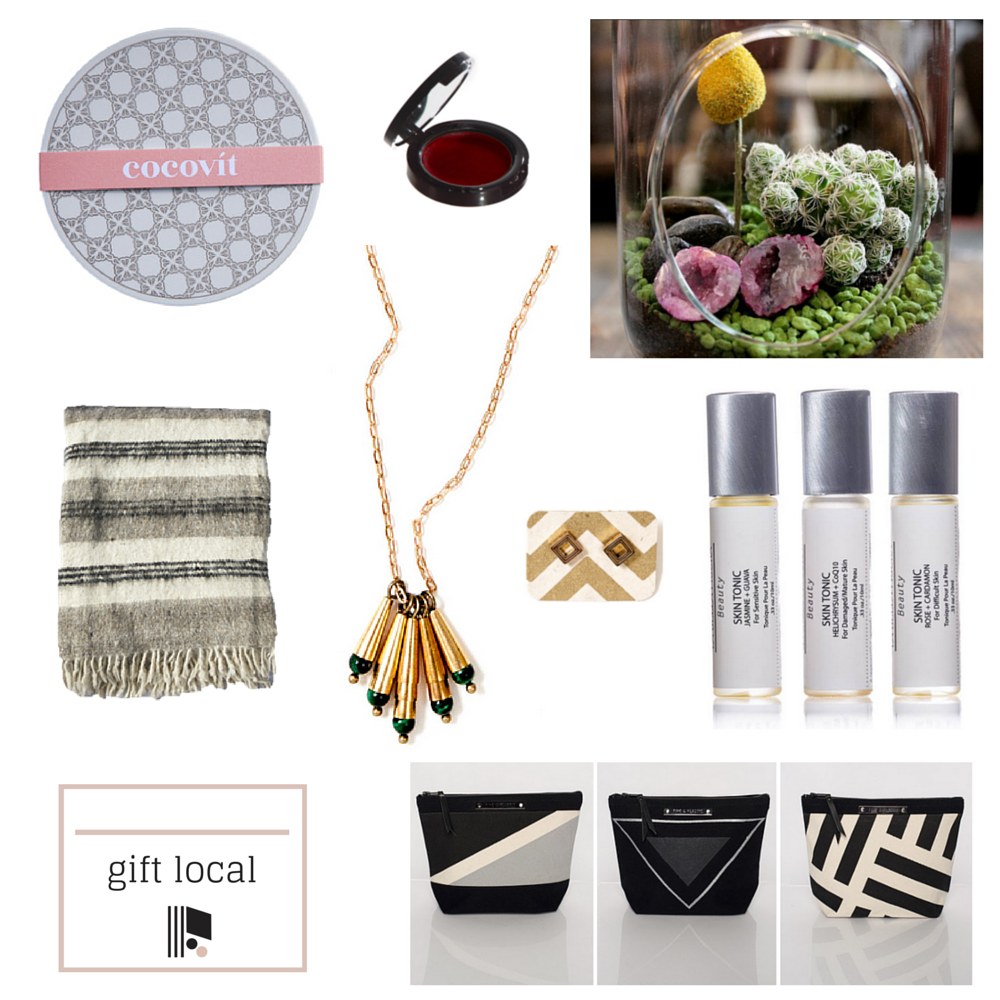 Black Friday on the internet is a scary place to be.  Anyone else get absolutely sucked in by all of the sale emails? Self-control is the name of the game. I'd give my BF performance a C+ this year, guys. While I did hit up some brick & mortar shops, most of the damage I did was online. In the process, though, I developed the ultimate gift guide to help you treat all the loves on your list. This year, I'm doing holiday gift guides the 312B way…local, feminine and bold. It's how I roll. First up, let's start with Chicago's finest.
I am a coco-oil devotee and often recommend others get on the bandwagon. But giving someone a giant tub of Nature's Way isn't exactly a "pretty" gift. Enter Cocovit, harvested from fair trade coconuts in South India and made in the 312. That packaging, tho…right? They even make a mini!
I deem La Bella Figura's Lisette La Coquette to be the perfect red lip tint for all. I've seen it on all complexions, from my shade of fair to THEE Lisette who has a deep olive complexion. It looks banging every time. I also recommend checking out the LBF Skin Tonics that are like vitamins for your skin, meant to be used before moisturizer and serums. I'm all about gifting for the complexion!
There's a great shop on Montrose and Winchester called Alapash, owned by the terrarium master of the USofA— seriously, no one does it better than Marco. He takes such care in his craft, calling the succulents his "little babies." His shop is filled with all sorts of unique treasures and he even has a pop-up at Gallery 19 until January 1.
One of the highlights of my year was discovering the talented Michelle Starbuck. I constantly wear her jewelry and am gifting it to just about everyone this holiday (spoiler alert). I love her stud earrings – especially these diamonds – and the malachite conical necklace!
Being the beauty gal that I am, I like to gift a makeup bag and fill it with a few beauty treats. I love the simple masculine aesthetic of Pine & Plastic designs – handmade, sewn and painted in Chicago by a young designer named Andrew Wayne.
Anyone living in the Midwest knows: blankets are ALWAYS a perfect gift. Maya Mueble (founded by Emily Prendergast and her brother Brian) discovers small family artisans in Latin America and brings their handcrafted creations to Chicago. This wool blanket is made in a small village of Guatemala with a foot on treadle loom and is the thickest coziest blanket I've ever felt!
And, if you are in Chicago and you prefer to do your gift-getting in person, there are a few great shows coming up. Renegade Market is back for the holidays on December 6 and 7 at the Bridgeport Art Center and Dose Market is December 14 in the West Loop.