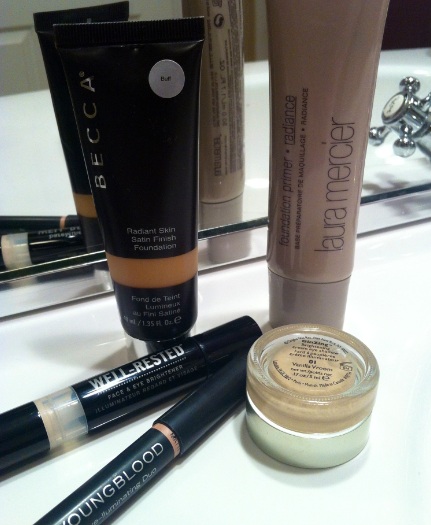 This week has served as a reminder of what winter in Chicago really means. Frigid cold with painful wind chills. I think I've softened over the years. While this weather is never welcome and just makes me all around sad for people and animals without homes, it is sort of expected. But it has given me a whole new beauty challenge to tackle. That is, how to not look pale and lifeless. The usual sweep of highlighter over tinted moisturizer just doesn't do the trick in subzero weather. For those of you feeling frustrated that nothing seems to look good in this weather, you are not alone. No, looking radiant actually takes some work. My approach is to layer brightening products a bit excessively. Overcompensation, if you will.
I like to mix Laura Mercier Radiance Foundation Primer with my moisturizer (the final layer — cause you know one ain't enough). This product is perfect for winter. The radiance is subtle and though a primer, can be used on top of makeup as a highlighter. One dose of radiance followed by another with BECCA Radiant Skin Satin Finish Foundation. This is like a souped-up tinted moisturizer. I like the extra boost of coverage it lends and the staying power is impressive, despite stubborn wind gusts. For under eyes and along cheekbones, I use a few clicks of  bareminerals Well-Rested Face & Eye Brightener. I consider this stuff to be straight magic. It's essentially clear yet works in place of concealer. To perk up eyes I pat Origins GinZing Brightening Cream Eyeshadow in Vanilla Vroom all over. It is the perfect match for my skin tone. Then, always, I take Youngblood Eye-Illuminating Duo and swipe the "matte" end along my lower waterline and the "shimmer" end in the inner corner.
Additional makeup is usually a swipe of mascara and a pat of blush. Anything more falls victim to teary eyes. Any tips to winter radiance?