We are a subscribing society. It's never been easier to access everything you need or want. Remember when I discovered LOLA?  Exactly. It's not totally wild and crazy to have a monthly subscription for blowouts. In fact, it's a pretty spectacular concept and one that pays off if you are a regular blow dry away from home girl. I met with Vive founder Alanna Gregory when she launched her blowout on-demand subscription service in Chicago last month. There's already 60+ Chicago salons signed on as part of the platform so great hair days are literally at your fingertips whenever – and as many times as you want each month – you need.
I knew it was going to be an awesome chat when I first sat down and commented on her shiny manicure and she says excitedly, "Oh, thanks. I usually do nail art, it's my thing – I want to be an Instagram nail art star!" Of course, she was joking but it made me laugh. And, to her credit, her creations (she loves NY's Paintbox!) are pretty awesome.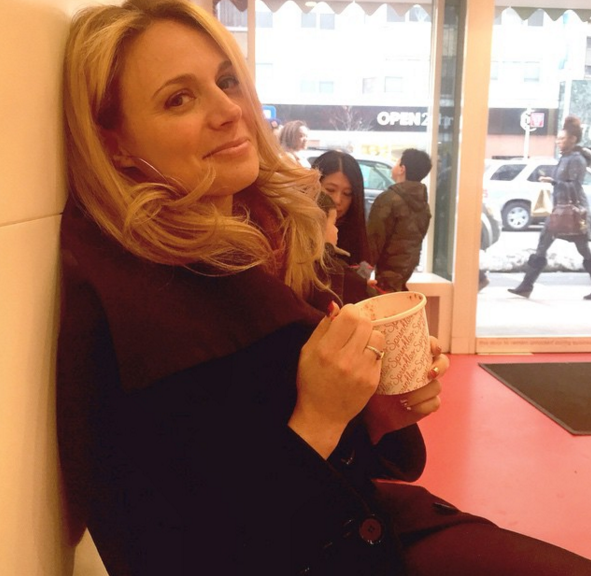 Where did the idea for Vive begin?
It was about two years ago. I was working on Wall Street and for me – for anyone really, beauty should be something really fun that you enjoy. It's supposed to add lightness to your day. And it wasn't that way for me. My job was super stressful and I just wanted to breathe that sigh of relief you feel when you sit down in a salon chair. I wasn't finding that, there were  too many stumbling blocks. Either booking-I really had no schedule, was always booking last minute and couldn't get an appointment –  and because it was so last minute, I'd be trolling through Yelp reviews. I never knew if I'd find a good place or come out looking like a poodle. I wanted to remove those stumbling blocks. That's where Vive started.
Was it always Vive?
It was always Vive but what I call vive 1.0 and 2.0. Vive 1.0 was bringing a stylist into you homes. I think there are a lot of companies in every city that now do that. We tried everything: men's and women's haircuts, blowouts, makeup. I think we tried men's shaving. Updos. The thing that actually stuck was men's haircuts – I think it was a great idea, but just not the business for me. I did it for about nine months and learned there were problems with it and, bottom line, not what our customers really wanted. You want someone washing your hair, to get out of your home for a specific reason because the salon experience can't really be replicated. So I decided to pivot the business at that point.
Why Chicago?
Right now, we have about 6,000 active users in New York. We started offering new plans so it's not just unlimited blowouts but also a 2 and 4 pack. We saw that people wanted options based on how they used the service. We're a startup so we're still testing. There were a couple of reasons for Chicago. We wanted a major market. We looked at dense environments and similarities to NY.  Chicago is similar in that regard. From a tech perspective, it made it applicable. Chicago is great, too, because of what we know about our early adopters. They're tech and startup enthusiasts. Women that are interested in media, work in advertising, PR. Chicago has a lot of that as well. It's a budding startup city. We call our users "Vivs" and we thought we'd find some "Vivs" in Chicago!
What is it like running a startup?
You work more, but you enjoy more of what you work on. I think you can control who you work with and your culture. That's a big thing at startups. It's really fun – I think everyone, even our developers, did a customer score ticket. And our sales team also does marketing. And everyone pitches in and rolls up their sleeves. We have our really amazing days and we celebrate those. And then we have a really hard day. It's about believing in the product you're building and it's something that people love. We're lucky – it's good for our customers and our salons.
How often do you get a blowout?
Uh, probably once a week! My hair is really curly.
Do you use other subscription services?
I'm obsessed with very few things. Netflix is one of them. And I am very inspired by Amazon. I think they are brilliant. I used to do Blue Apron. I know the founders – I think their company is awesome.  But once I started my company, there was no more cooking for me! There's Green Blender – basically, Blue Apron for smoothies. But again, I don't have time to make my own. I'm more on the go. I spend my money on beauty and transportation.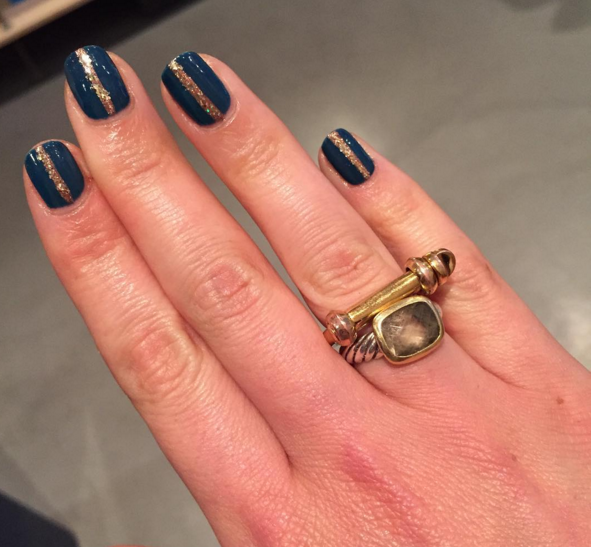 I knew it…the nail art aspirations were your tell! What are your beauty indulgences?
I'm obsessed with skin. I have a really embarrassing skincare regimen. There's a new thing called Skin Laundry in NY – it started in LA, I don't' know when they're coming to Chicago! But, basically, it's laser skin facials. And they are amazing. Like life-changing. I do skin masks a few times a week. Epicuren, I really like their seaweed masks. And Tula, they launched exclusively on QVC. They have a great mask!
What are your makeup staples?
I do wear makeup but I'm basic. My go tos are underye concealers, eyeliner and a little bit of cheek. I use OCC. Anything that is touching my eyes – I use organic. I'm transitioning to more natural makeup but I will make an exception with my lipstick.
What is your "power" lip?
I have five! NARS Orgasm Lip Gloss for everyday – always in my bag. It literally goes with everything.  There's also this Tarte color I just got (it's in my bag) – Elite. Bite's Lip Crayon in Leche is really good. I like nudes a lot. Unless I'm going red and I'll use MAC. I think it's Russian Red? I have another NARS hot pink one – Schiap. Both the lipstick and the gloss and if you do the two together, it stays really well.
Anything standout from your visit to Chicago?
I had sushi at Kaizan – it was amazing!
All pictures from Alanna Gregory