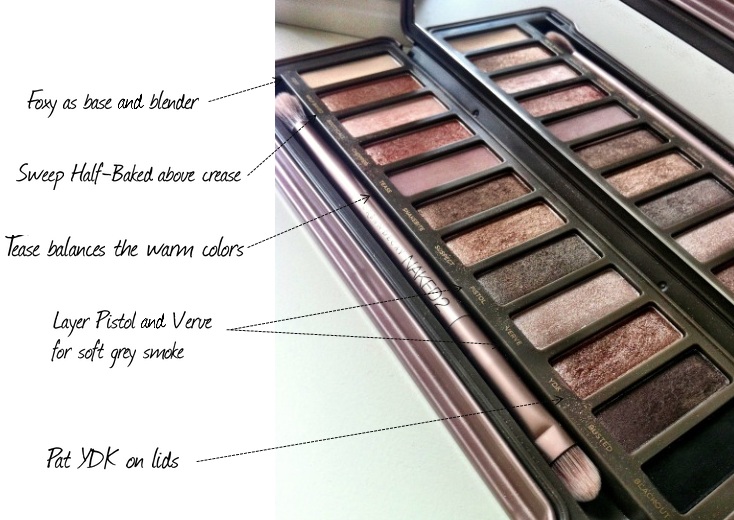 The Urban Decay Naked eyeshadow palettes are a beloved bunch. I get so much mileage from my Naked neutrals — they're some of my favorite shadows ever. I'm partial to the color mix in Urban Decay Naked2 and wanted to break down the shades and combos I gravitate towards most. There are 12 shadows in total and probably an infinite number of ways to work them.
I use the first color, Foxy, a pale buttery cream, for an all-over color and for blending out a smokey finish. It neutralizes redness and makes for a great base. Sometimes I mix it with Bootycall to soften the shimmer, and together the two make a great highlight color.
Half-Baked, which is also in the first Naked palette, is a copper gold that lights up eyes when blended above the crease. I learned this trick a few years ago to use a softer gold color just under the brow bone to make my eyes look more alert and brightened. It totally works and the shade is soft enough to look natural.
The inclusion of the matte mauve-brown Tease is genius in a palette of warm and shimmery tones. I blend this in the crease, as I tend to avoid too shimmery of colors in that area, to balance out the warm hues.
If you weren't convinced this is the most versatile neutral palette ever, Pistol and Verve show you it is. Pistol is one of my favorite grey colors and can be used all over the lid or in the crease. I like to cut it with a sweep of Verve, a nearly white silver, on the lid.
One of my other go-to lid shades is YDK. It's a brown with a rosy gold undertone, which it makes for an interesting lid color. I like to pat it on damp with a flat brush. Blending it out loses the magic a bit, so I almost always pat on a few layers over a primer to give it more intensity.
Worth noting, the double-ended brush in this palette is quite handy. The flat edge works well for patting on colors, like YDK, and the fluffy blends flawlessly. So often the brushes in these sets are forgotten, so it's nice when they actually work!
If you have this palette, how do you use it? Please share in the comments – I love trying new combinations!