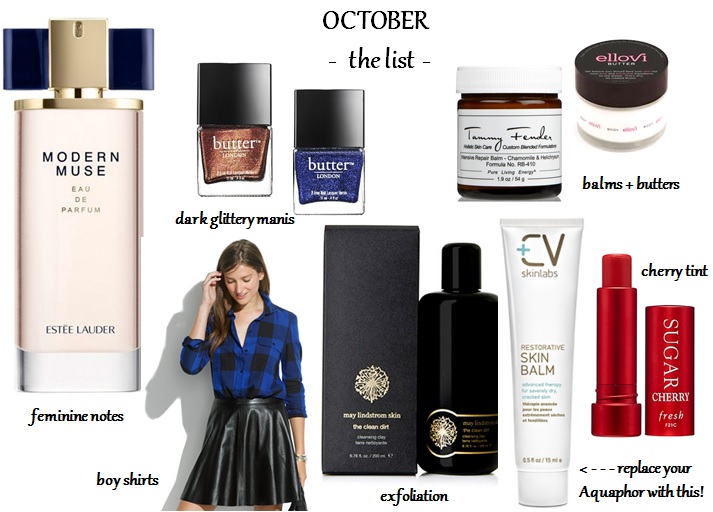 I think we're all pretty jazzed that it's October. I've seen this quote from the Anne of Green Gables author no fewer than a dozen times this week in my Instagram and Pinterest feeds. October is pretty magical, though. What's not to love about the first real chill of fall and leaves changing colors? Here's everything I'm loving for the month ahead!
Feminine fragrance. Once September wraps, it's time to retire my summer scent. I've been looking for an ultra-feminine fragrance for fall, in part to balance out the "boyfriend" style wardrobe I love in the fall. Oversized everything is just so cozy! When I was previewing the new beauty floor at Macy's a few weeks ago, I spritzed on the new Estee Lauder Modern Muse. The ladies at the counter explained to me how there are two different scent profiles that you may pick up, depending on your body chemistry. There's the woodsy vanilla and amber musk side or jasmine and dewy citrus. The jasmine hit me right away and I've been wearing it every day since.
Glittery nails. I'm obsessed with the butter LONDON "Rock Your Colour" glitters for fall, especially Indigo Punk and the rust-colored Brown Sugar. Just look at this color! When the sun hits them, they glisten like crazy.
Balms, butters and more balms. With the cooler temps, I'm all in with balms. After a steamy bath, I slather my entire body in them. Ellovi Butter, rich in coconut, macadamia, marula, hemp and shea (those are the only five ingredients!), melts into skin like, well…butter. It's not heavy at all, making it the perfect October balm. I've started to test the Tammy Fender Intensive Repair Balm and so far, it lives up to all the praise it has earned. And I've discovered the perfect alternative to Aquaphor with CV SkinLabs Restorative Balm. It's packed with anti-histamine, -oxidants and -inflammatories so it actually heals and soothes!
Cherry lips. Just a tint of red is what you'll get from Fresh Sugar Cherry. Add a messy bun and a chambray shirt and it's like you walked out of a J. Crew catalog.
Exfoliation. My cleansing ritual is getting a major upgrade this month. I've started to use May Lindstrom The Clean Dirt, a blend of cleansing clays, spices and salts that you blend with water to activate. It's like microderm at home but your skin is soft and plump afterward instead of "scrubbed."
Boy shirts. I love men's flannel shirts and am counting down the days until I can wear them on the regular. The more fem version from Madewell is majorly inspiring me. And, I spy a budget version of that skirt at Target. How cute would this outfit be with tights and boots?