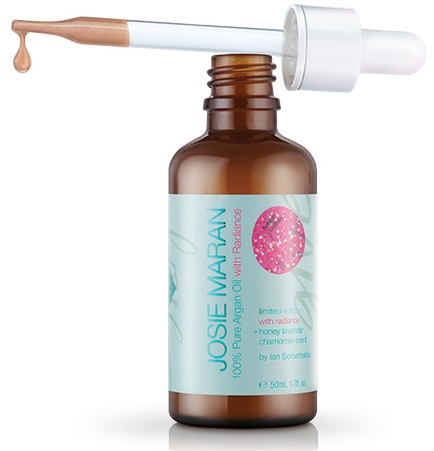 Puppies are to thank for me discovering Josie Maran's Argan Oil with Radiance. It's really the perfect storm of all things I love: puppies (clearly), facial oils and glowing skin.  Josie Maran teamed with the Ian Somerhalder Foundation on her 2013 "Model Citizen" collection, a trio of limited edition Argan products, and will donate ten percent of all sales to his Foundation. I haven't paid much attention to Ian since his days on Lost (Boone!), so I was surprised to find out that he's a major eco activist and is building a sustainable farm that will also serve as a shelter for neglected animals.  I lose sleep over the fact that there is an army of homeless cats (you may call them strays…but I see it differently) roaming my neighborhood. It's a good cause and one that tugs on my heart strings a bit. My pup has a loving home and I just want that for other animals, too.
Beyond the irresistible puppy cuteness and beauty of both Josie and Ian in the campaign images, the products are really the star.
(Right: what Argan with Radiance looks like out of the bottle. Left: slightly blended)
The 'with' Radiance is kind of blowing my mind.  I expected shimmer and highlight, but it's really a subtle glow that looks natural on the skin. I wore it to the gym the other day and it made me sweat prettier. I've also been using it in the morning as a moisturizer (over a serum, under my sunscreen) and it just gives skin a little something. It's just begging to be added in to concealer, tinted moisturizers, body lotion, etc. I get all mixologist with highlighters and foundations all the time but the subtle effect here makes this incredibly versatile.
I'm aware that this is available for a fleeting time, so now that I've tested it out, I'm pretty sure I need to get involved with the other two products in the collection. This time, it's not the puppies drawing me in. Though, I'll never say no to pictures like this.