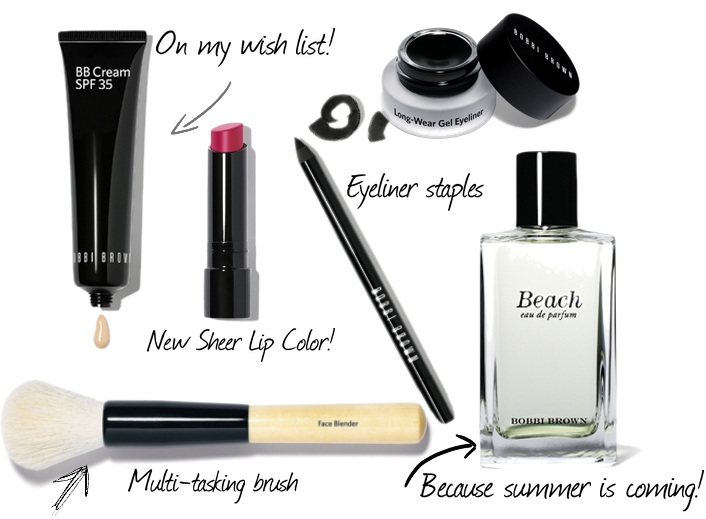 When it rains it pours. The beauty sales are plentiful this week! Sephora has 15% off for Beauty Insiders through next Monday, April 22, and Bobbi Brown has a special Friends & Family 20% off sale event April 15-18. It's like the universe is trying to take my money.  Since makeup so rarely goes on sale, I view these occasions as an opportunity to stock up on staples, gifts and maybe splurge on a fun treat (or two?!)
Here are my top picks for Bobbi's F&F event!
One of my favorites for years, the Face Blender Brush is perfect for buffing all kinds of powders. I use it mainly for bronzer and highlighters (it's perfect for Bobbi's famous Shimmer Bricks!)
Bobbi's Long-Wear Gel Eyeliner belongs in every makeup bag. It's the easiest eyeliner in the world to apply and lasts all day. The colors are all so fun, but basic black is a must. Bobbi now makes a pencil version of the gel liner as well – and it's as good!
I just spotted the Sheer Lip Color display while out and about this weekend. It's a new, more lightweight formula in the prettiest range of colors.  I'm tempted by the pinky-coral Passion Fruit.
Warm weather is coming soon (right?) and Bobbi's Beach Fragrance is everything I look for in a signature summer scent. I can't actually spend all summer living the beach life, so this fragrance helps capture those carefree moments soaking up sand and sun that are   good for the soul.
I have heard nothing but raves for Bobbi's BB Cream and it's just a matter of time before I splurge and try it out for myself. Any thoughts?
Happy shopping!  Or, if you're trying to save, good luck resisting all of the sales this week!