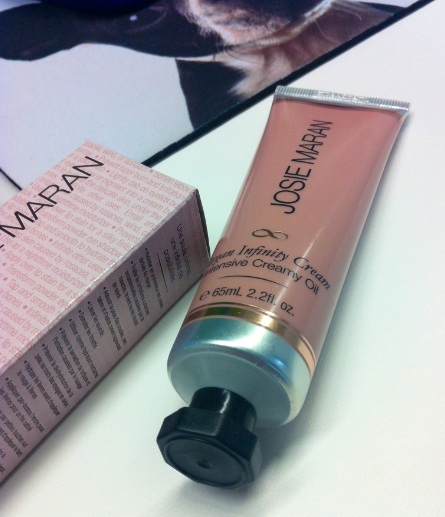 A few Fridays ago, QVC had a day of beauty. Being such a wild party girl and all, I DVR'd hours of it while I was at work so I could watch it when I got home. I don't know about you, but I can't get enough of Josie Maran telling the story of discovering argan oil (arrrrggon oil!) while on a modeling shoot. I seriously love me some Q. And any off-shoot of Josie's argan empire is usually a hit for me. When I saw her demo her new Argan Infinity Cream, it was in my shopping cart like yesterday. It contains more than just argan oil, but a blend of creamy butters, like shea and mango seed, and tons of other oils, including tangerine peel, avocado and coconut. I always have a need for a good (and good for you) multi-use moisturizer.
It looks like Vaseline but as soon as you blend it turns into a rich oil. Makes sense, since Josie's inspiration was to create a natural version of the Vaseline she used growing up that could be used infinitely – as a face mask, moisturizer, lip balm, mixed in with powder makeup for an insta cream shadow/foundation/luminizer, to revive concealer and even ease sunburns. On top of all of that, it smells like a clementine. I love to use this on my cuticles and tops of my hands (why does that area get SO dry?!) and also as a targeted moisturizer around my nose and on my elbows. But I recognize a good challenge when I see one. Josie printed 20 ways to put the Infinity Cream to use right on the packaging itself, but is putting out a call for new ideas. I will uncover a few, give me time. As for you, email infinity@josiemaran.com with any recommendations. But, please, do share here first!
Josie Maran Argan Infinity Cream is available at QVC for $28.