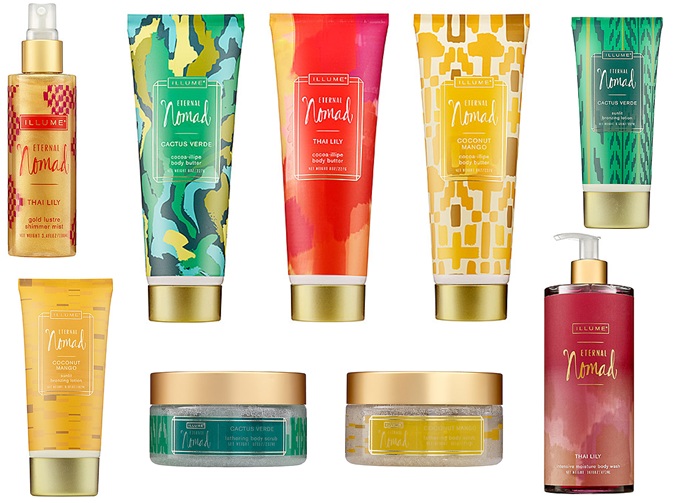 Scent has the power to bring us to another place or time. Like when I get a whiff of Love Spells randomly, I'm in high school again. Happens more than you'd think…  Currently, though, I'm interested in transporting directly to the places Illume drew inspiration from for its Spring 2013 Eternal Nomad collection.
Illume, best known for chic design and home fragrance, is expanding its travel-inspired Eternal Nomad bath and body care collection into more Sephora stores this spring (including Chicago's State Street and Northbridge locations!)  Look for Illume's signature Thai Lily and Coconut Mango fragrances as well as brand new scent Cactus Verde. There are five products in total, designed to be layered – Intensive Moisture Body Wash, Cocoa-Illipe Body Butter, Lathering Body Scrub, Gold Lustre Shimmer Mist and Sunlit Bronzing Lotion. The Lathering Body Scrub is a welcome add to the shower. It has a ton of tiny beads that, when wet, seem to transform into soft miniature sponges. This and the deliciously thick (and super moisturizing!) Cocoa-Illipe Body Butter might be my favorite products in the collection.
After slathering on the Cactus Verde, I felt summoned to a place where all I need is SPF and sunnies.  Likewise, the sweet and girly Thai Lily has me thinking of a colorburst sunset. Coconut Mango? That definitely has an easygoing tropical vibe. I imagine a different makeup bag accompanying each Eternal Nomad destination. To bring these personas (/wishlist vacations) to life – or just inspire a trip Sephora – I've selected some spring makeup bag essentials!
The scent: Cactus Verde, a bright blend of cassis, pink sea salt, aloe vera and wild geranium with a hint of avocado.
Makeup bag essentials: Tarte BB Tinted Treatment 12-Hour Primer, Josie Maran Argan Brightening Bronzer Sun Spot Corrector, NARS Duo Eyeshadow in Mad Mad World.
312 Beauty tips: Tarte offers the perfect mix of coverage and sun protection (SPF 30!) A sweep of bronzer – Josie's has argan oil and vitamin c! – along the hollows of cheeks, jawline and temples  is all you need to look desert-ready. I love layering the blue and emerald in Mad Mad World for a custom shadow.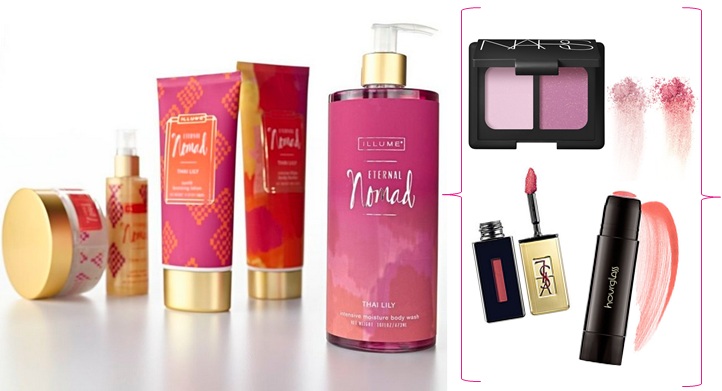 The scent: Thai Lily, a sensory ritual of Bali mango, blood orange and white nectarine – with Brazilian teak, Asiatic lily and a hint of musk.
Makeup bag essentials:  Hourglass Aura Cheek Stain in Petal, YSL Glossy Stain in #12 Coril Fauve, NARS Duo Eyeshadow in Bouthan.
312 Beauty Tips: This scent is sweet and girly, therefore you have permission to wear a lot of pink. Hourglass Aura Cheek Stain is like the cheek fountain of youth and layering NARS Bouthan on eyelids gives a soft and feminine effect. The light pink shade can even double as a highlighter on cheekbones.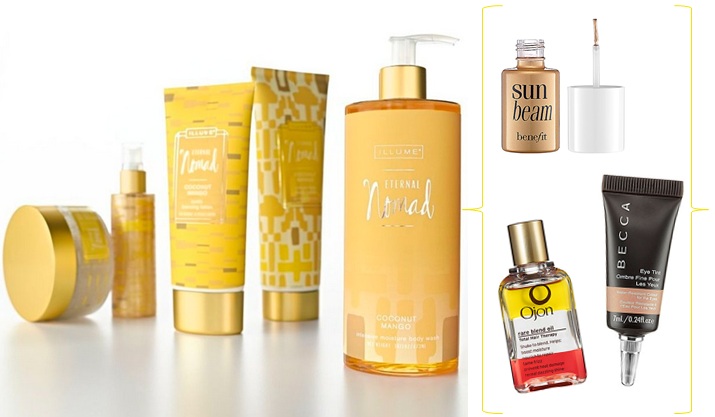 The scent: Coconut Mango, a tropical fusion of mango and coconut milk, infused with orange and eucalyptus oils.
Makeup bag essentials: Benefit Sun Beam, Becca Eye Tint in Vicuna and Ojon Rare Blend Total Hair Therapy.
312 Beauty Tips: Mix a little of the golden Sun Beam into your sunscreen or base for extra radiance, layer on Becca's Beach Tint in a creamy opal shade and make sure hair is protected with Ojon's Rare Blend mutli-tasking oil. Then proceed to soak up the sun all day long.
Now for the exciting news! Illume has teamed with 312 Beauty on our first ever giveaway! Tell me in the comments here which Eternal Nomad spring scent you'd most like to try. Do this by Saturday, March 23, and I'll pick one winner* to win the 5-piece Eternal Nomad collection of their choice!
*winner must reside within continental U.S.
note: Illume provided me with samples of the Eternal Nomad collection for review purposes

update: The giveaway is closed! Congrats to Lauren, who won the Illume Coconut Mango Eternal Nomad collection.